Description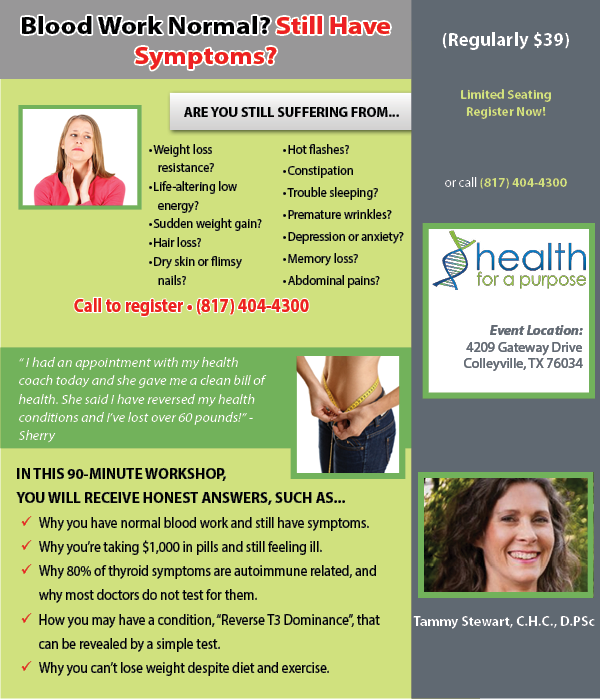 It's More Than Your Thyroid!
According to the American Association of Clinical Endocrinologists (AACE)
27 million suffer from a thyroid condition and 50% are undiagnosed.
90% of women over 40 suffer from subclinical hypothyroid.
Are you suffering?
• Have you gained weight and are unable to lose it without going to extremes?
• Is your hair brittle, skin flaky and nails flimsy?
• Is your hair falling out?
• Are you constantly cold?
• Do you have regular joint pain?
• Do you have regular headaches?
• Have you had IBS?
• Is it difficult to get consistent sleep?
• Are you aging prematurely?
• Do you have constant mood swings and irritability?
• Are you depressed?
• Do you have trouble concentrating?
• Do you have high blood pressure and cholesterol?
HOW DO THESE THINGS AFFECT YOUR LIFE?
• Is it affecting your relationship with your partner?
• Is it decreasing your ability to do the things you love to do?
• Are you unable to be kind to other people and are you isolating yourself from others?
• Is your performance at your job suffering leading to less compensation or advancement and lowered self-esteem?
• Do you feel less effective as a parent, spouse, and friend?
• Are you afraid that you may never find an answer?
• Are you afraid of being put on medication for the rest of your life or worse, needing surgery?
HOW DO THESE THINGS MAKE YOU FEEL?
• Depressed?
• Hopeless?
• Exhausted?
• Desperate?
• Crazy?
• Like nobody understands you?
• Inadequate?
• Old?
Are you ready to make a change?
Learn
• Why most women continue to suffer, get run in circles taking the wrong test, and put on multiple medications that only treat the symptoms.
• The latest research in thyroid, autoimmune, and inflammatory disease!
• Why you have never heard what the correct tests are!
• Why your inability to lose weight may not be your fault!
• The connection between weight loss, toxins, and hormone dysregulation.
• What chronic symptoms like weight gain, IBS, infertility, headaches, and fatigue have in common.
THE ANSWERS WILL SHOCK YOU!
• My simple yet comprehensive personalized 3 Step System that gets results safely and naturally!
• It's not in your head.
• You're not just getting old.
• It is not your genes. (There may be a genetic component triggered by certain things. We address that naturally. More on this at the seminar.)
• It might be your thyroid and the causes might surprise you.
YOU ARE WORTH IT!
• If you are ready to correct the cause of your problem, you are tired of treating the symptoms, and taking useless tests, this is the seminar for you.
YOU ARE WORTH IT!
• All you have to do is register today!
Remember, YOU ARE WORTH IT!