Discover the Strengths of ADHD!
Description
Discover the Strengths of ADHD workshop!
What could a positive approach to dealing with your ADHD Challenges give you?
Maybe up until now you have thought of ADHD as more of a weakness?

This interactive ADHD workshop provides a refreshing perspective on this complex and often misunderstood condition.

The morning is packed with solid evidence - based information, fun exercises to expand your current knowledge, and simple tips and strategies you can put into practice immediately.

Create a stunning visual of your Strengths to take home with you!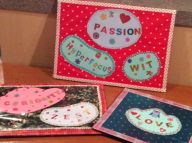 In this workshop you can expect to:
Explore why Strengths are crucial to ADHD
Focus in on several aspects of Strengths in the context of ADHD,
Learn ways to identify your own ADHD Strengths,
Gain an appreciation of how Strengths can be used to improve our lives and relationships.
Have fun!
You will be guided to create a stunning visual reminder of your discoveries during the session, that you can take home with you, as a reminder of the day, and to prompt you in living a life more fully oriented around your Strengths! All materials will be provided, and are included in the cost of the workshop.
Your facilitator for this event is Anna Schlapp, BA AAC, AACC, ADHD Coach, founder of Remarkable Difference ADHD Coaching.