Discover the Secrets to Creating Powerful and Personalized Follow Up Emails
Description
Lisa's Follow Up Like a Boss Seminar is extremely invaluable. She helps you to create a fool-proof follow up strategy AND "not leave money on the table". If you're struggling in your business or even if you're just looking to reconnect with past, current or future clients in a way that feels authentic, yet purposeful this is a seminar that will easily pay for itself a hundred times over using Lisa Shaughnessy's follow up strategies!
~ Ali Boone, Owner, Nourished Abundance
---
Unlock Your Hidden Revenue!
Discover what successful small businesses do differently to gain clients, build relationships, and increase repeat buyers.
Following up is critical to building a successful business. Take a look at these eye-opening stats from HubSpot, a leading sales and marketing company, and tell me you can afford to ignore this essential skill:
44% of salespeople give up after one follow-up.

80% of sales require five follow-ups.

If you follow up with web leads within 5 minutes, you're 9 times more likely to convert them.

It costs 5 times as much to attract a new customer than to keep an existing one.
I've talked to many small business owners and team members over the years about following up effectively with potential, current, and past clients. And have been there myself.
Can you relate to one or more of these?
Your sales are dropping and you need them to ramp back up.
People are coming to you from networking, social media, and strategy calls, but they're not becoming clients.
You want to send an email or make that call to start building the relationship, but you're stuck on what to say.
You don't want to be spammy or feel salesy, but you don't know what to say past "Hi".
You feel like you're bothering someone if you email them - even if it's part of something you've already been discussing.
This is a natural fear for many women entrepreneurs. However, most people you email won't feel like that, and will actually be glad you emailed them if you do it right.
You're afraid to hear the word "no" or it feels like a personal rejection.
Getting over this fear will make a huge impact on your business.
You want to ask previous clients for referrasl, reviews or repeat business.
Reconnecting can be difficult if it's been awhile, but not impossible when done right.

Or maybe following up doesn't bother you, but you wish it were easier. You can probably relate to these:
I wish I had a template for a variety of situations where I could just spend a few minutes editing and quickly send them.

I struggle with not knowing where to find the information I need to make the follow up message more personal or add more value for that one person.

I don't mind following up, but I'm not a sales person so I don't always know what words or phrases will catch their attention.
Don't worry, we've all felt this way at some point! At least until we learn how to follow up correctly.
You're in the right place (AKA what this seminar will do for you)
By the time the Follow Up Like a Boss Seminar is over you'll have all information and tools you'll need to follow up in a way that gets the results you want.
Because it is an art where you'll need to be creative and compelling in your messaging. It's also a science where you can use a formula and hard data to create messages that speak directly to the recipient.
This Seminar is designed especially for you if you're responsible for sales or customer support at a B2B-focused small business (as the owner or team member). It's a perfect fit if you want to:
learn how to convert more leads to sales in less time with a higher conversion rate.
keep in contact with current clients without awkward "just checking in" emails.
figure out how to rekindle the relationship with a previous client without looking like it's a money grab.
walk away with real, tangible solutions for your real, pressing follow up challenges.
Whether you need to create a follow up strategy from scratch or improve on what you're already doing, this highly focused Seminar will set you up to gain new clients and build relationships.
What You'll Get in the Seminar
Knowledge to Drive Your Business Forward
We'll dig into how you can follow up in different situations that make it easy for them to respond - some you probably haven't heard of or tried before.
You'll learn how to find the right information and use it to make following up a snap and a natural extension of a conversation you've already been having. No more feeling like awkward or icky! You'll learn:
How to write follow up messages that nurture existing relationships.

How to show your potential clients exactly why they should work with you.

How following up positively affects the health and success of your business.

How to gather, store and use information to craft the perfect follow up message.

Tips for creating effective follow up messages.

Examples of effective follow up messages for potential clients, current clients, and previous clients.
4 Bonuses so you can follow up like a boss!
A PDF that focuses on each type of follow up that's covered in the Seminar, including rules and guidelines for each so you can create the exact message that appeals to whoever receives it.
15 Email Templates with formulas for a variety of scenarios that you can easily edit so you can start implementing your follow ups immediately after the Seminar.
Detailed examples and ideas on how to follow up a second time. This is perfect for anyone who is afraid of "bothering" people. Remember this stat? 80% of sales require five follow-ups. I'll show you exactly what to say to take away your anxiety and make the other person want to respond to you.
33 Personal, Conversational, and Invitational Phrases to build relationships and keep the conversations going.

Expertise, Guidance, and Benefit of My Fine Tuning
Until a few years ago I was in your shoes. I'm not salesy at all and have always been uncomfortable when I've had to be in sales mode. I'm 3rd down in a family of 4 brothers and 1 sister and have what I call "middle child syndrome", which means I usually default to helping people and finding solutions to problems without expectation of anything in return.
Professionally, until I took a Customer Account Management position with a small tech company a few years ago, I'd spent 20 years working with customers in a non-sales capacity. That gave me a lot of experience following up in many situations, but never in a sales role.
I didn't realize until after I'd taken the position how much of my time would be spent in sales mode - even though I wasn't a sales person. Boy did I learn quickly! As an Account Manager, I handled all new client onboarding plus cancelations, saves, and upsells to existing customers.
Roughly 90% of my time involved creating and delivering some variation of follow up messages through email and phone calls. Although I was stressed the first few weeks, I decided to dive in and embrace this crash course in following up.
I didn't get a good response or conversion rate at first because I literally had no idea what I was doing. I was determined to conquer this so I read every sales article I could find and a few books on the topic.
I continually tweaked and refined the messages based on feedback and responses until each one was having the desired effect. I'm a process person so I created formulas and templates to make each follow up email or phone call a breeze!
I couldn't believe how much I dreaded following up at the beginning. With my formulas and templates in hand, now I was finding it really easy and was actually looking forward to getting my follow up messages out there. Sure, I still got some people saying "no", but the number was a lot smaller and they were letting me know why, which helped me refine my responses even further.
Fast forward to a few weeks ago, at one of my Simplified Workflows for Business Success Workshops when yet another person asked me how to follow up effectively. I always get at least one person asking at my Marketing Process and Sales Process workshops because it naturally fits into those processes, but it wasn't a topic I was covering.
I could no longer ignore this obvious opportunity to help other small businesses create the right messages to close the sale or nurture relationships – a lot less painfully than I learned!
Seminar Format
The Follow Up Like a Boss Seminar will be presented in-person with 1.5 hours of content followed by 30 minutes Q&A.
FAQs
I'd still feel anxious about following up even after learning how to create effective follow up messages. Will this seminar help me with that?
Yes! You'll learn how to gather and use all the information you need to crate the messages so it will feel less like following up and more like the easy conversation that it is. While it won't take away all of your anxiety at once, you'll find that it lessens with each positive response you get.
Will this seminar still work for me if I want to follow up with a type of business contact that isn't covered during the presentation?

Yes! The beauty about follow up messages is that they're more about gathering the right information and knowing what outcome you want. We cover that extensively in the seminar so you can adapt the process to any situation.
Will I get some examples to help me write my follow up messages?
Absolutely! One of the bonuses you'll get after the semnar ends is a packet of email templates that has 3 easily customizable situational examples for each type of follow up we cover: potential clients, current clients, and prior clients. You'll be able to quickly create and send emails for sales, ongoing client projects, past due invoices, relationship nurturing, and more!
What is the refund policy?
This is a non-refundable ticket and isn't transferrable to another seminar or workshop.
Your Investment
With the benefit of my 25+ years of experience, knowledge and practical application, you would expect to pay $300 for 1:1 coaching to get just the information I've included in the seminar. You'll also get 4 bonuses worth a total of $550.
PDF for each type of follow up with rules and guidelines for each so you can create the exact message that appeals to whoever receives it.

15 bonus email templates, that you can easily customize for any follow up situation.

How to reach back out if you don't get an answer the first time - without feeling awkward.

33 Personal, Conversational, and Invitational Phrases to take your follow up strategy to new heights!
But you're not going to pay anything close to that. Instead your investment is just $87. That's a $550 value for just $87. This includes all of the Seminar content plus the detailed bonuses.
If you get even one sale using what you learned plus the bonus templates, you would have more than made your money back. One good follow up will more than pay for this seminar. Everything after that is money in your pocket!
This sounds too good to be true - what's the catch?
If you're like me, you're wondering why I would offer all of this training and material for a fraction of its value. If you know me, you already know why :). If you don't know me yet, you'll soon find out that my mission is to help women business owners succeed. I offer many other programs and services where I charge full value and have no problem doing so.
However, I've seen too many small business owners have to go back to work full time (myself included), or not take the vacation they and their family deserve because they weren't reaching revenue goals needed to sustain their business. When I was creating this seminar I was thinking that if this topic had been offered when I was struggling with my first business back in 2012, things may have turned out differently for me. So, offering a discounted seminar is my way of helping more people who can benefit from business growth strategies.
Quick Action 25% off Discount
Get your quick action 25% discount if you register by June 30, 2017. After that the price increases to $87.
Click the Tickets button at the top right to lock in your seat now and save $21.75!
Testimonials from the previous Discover the Secrets to Creating Powerful and Personalized Follow Up Emails seminar: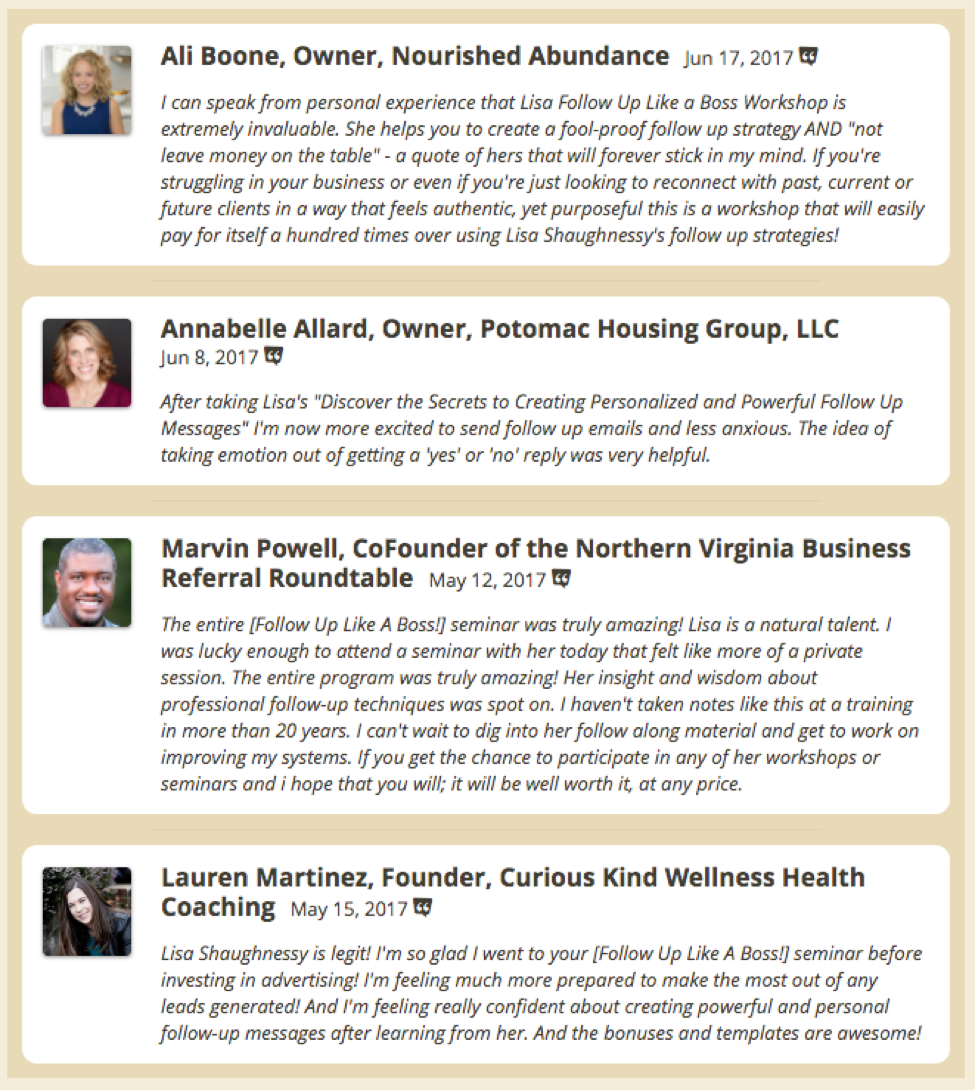 ---
ABOUT LISA SHAUGHNESSY
Lisa Shaughnessy has over 25 years' experience as a Strategic Account Management profesional in government agencies, corporate offices, and small businesses. She has a long record of creating follow up messages that get the intended results in the shortest amount of time. After working for others for many years, she started her own consultancy helping small businesses increase growth and revenue. Through her Simplified Workflows for Business Success™ workshops and consulting services, Lisa's clients successfully get business activities out of their heads and into written, repeatable processes, enabling them to easily hand off tasks to others, open more time for clients, and prevent costly mistakes. She is also a speaker and writer on a variety of small business topics. When she's not helping small businesses reach their full potential, Lisa loves to travel, golf, and hang out with her husband Rob, family, and friends.