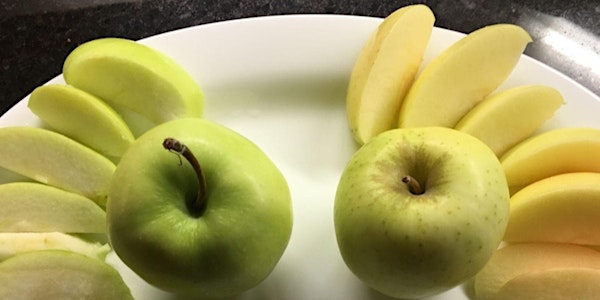 Discover the Next Great Apple - Virtual Apple Tasting in Toronto
Better than Honeycrisp? Discover 6 NEW apple varieties and learn to evaluate them like a pro! Apple pickup in Toronto. Tasting event on Zoom
Refund Policy
Refunds up to 7 days before event
Eventbrite's fee is nonrefundable.
About this event
Only 50 tickets are available due to limited numbers of these NEW apple varieties. Buy your ticket TODAY to guarantee your spot! Sales close on Wednesday, Nov 2, 2022 at 1pm EST.
All proceeds from this event go to the Ben Nobleman Park Community Orchard in Toronto to pay for compost, new plants for the pollinator garden and for tools. Learn more about us at communityorchard.ca.
In most grocery stores, you'll see just a handful of common varieties like Honeycrisp, Red Delicious and Granny Smith. But there are thousands of different apple varieties.
At this Apple Tasting, you will taste 6 NEW apple varieties developed by Vineland Research and Innovation in Ontario. And you'll learn how to evaluate flavours, acidity, texture and more.
For $20 (plus a small Eventbrite fee) you receive:
• A bag with 6 NEW apple varieties. You must pick up your bag in Ben Nobleman Park (1075 Eglinton Ave W. at Everden Road across from Eglinton West TTC station) on Monday, November 7, 2022 from 5pm-7pm. Our tasting varieties are so new that they do not yet have commercial names!
• An invitation to our Zoom apple tasting. The online event takes place live on Wednesday, November 9, from 7pm to 8.15pm.
The experts on the Zoom event are:
• Dr Amy Bowen, who is the director of the Consumer Insights Group at Vineland Research and Innovation who will teach you how to evaluate apples.
• Rachael LeBlanc, apple breeder and research scientist at the Vineland Research and Innovation Centre who will explain how new apple varieties are developed.
• The moderator will be Susan Poizner of the award-winning fruit tree education website OrchardPeople.com. Susan is also the coordinator of The Ben Nobleman Park Community Orchard.
Photos below in order:
Apple tasting expert Dr Amy Bowen.
Apple breeder Rachael LeBlanc
Vineland's newly bred varieties are so new that they are still unnamed!
Vineland Apple Orchard
Some of the volunteers of the Ben Nobleman Park Community Orchard. Learn more about us at communityorchard.ca.