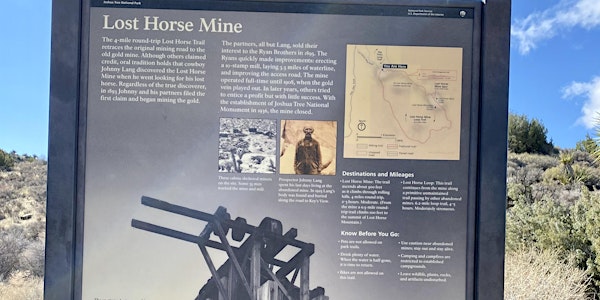 Discover the Lost Horse Mine Fall 2022
Join us for trip back to the California Gold Rush, Joshua Tree style.
When and where
Location
Park Headquarters in 29 Palms 74485 National Park Dr Twentynine Palms, CA 92277
About this event
Join us for trip back to the California Gold Rush, Joshua Tree style. In this class we will explore the Lost Horse Mine, a classic Western mill and mining site. The moderate 3.8 mile out and back hike follows an old freighter road to the remains of the wooden structure that once housed a 10-stamp mill. Our instructors will discuss the geologic forces that formed the area and we'll find out how that gold got deposited there in the first place. We will learn about the history of the Lost Horse mine, some of the colorful characters associated with it and we'll learn about gold mining and processing as it was typically done in the American West.
The area that now comprises Joshua Tree National Park attracted cattle ranchers in the mid 1800's as a place to graze cattle. Mining activity began in the region around the 1870's reaching it's peak during the 1920's and 1930's. Gold was the main objective but quantities of silver, copper, lead and other metals were also mined. A few active claims lingered into the 1970's before mining activity ceased. Approximately 288 mining sites are located within the current park boundaries. Some consist of small exploratory digs while other sites still have extensive shafts, abandoned mining and milling equipment, tanks, concrete, wood and stone structures.
Please download the course outline: Discover the Lost Horse Mine Fall 2022
Hike Level: Moderate  (Fitness Levels)
If you are a member of JTNPA you will get a $10 discount off every Desert Institute class. If you are not a member you can become one here.
Please print and fill out the PARTICIPANT AGREEMENT. You can bring the completed form to the class.
Cancellation Policy: If you need to cancel, notify us at least seven days prior to the start of the course and we will process your request minus a $25 cancellation fee. No refunds, transfers, or credits will be granted if cancellation occurs within the seven day period. Please note that we cannot make any exceptions to this refund policy for any reason, including but not limited to medical reasons, illness, travel delays, personal situations, emergencies, or weather. This program depends on registration for its funding. While inconvenient, please understand that this policy enables us to sustain our programs even with last minute cancellations.