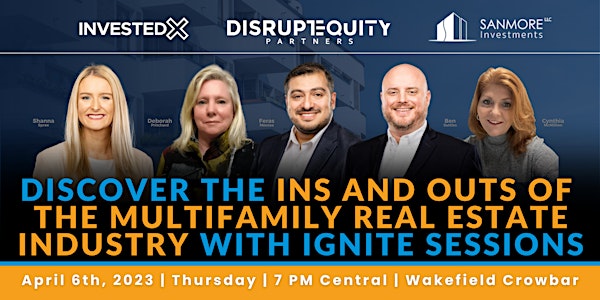 Discover the Ins and Outs of the Multifamily Real Estate Industry
Discover the Ins and Outs of the Multifamily Real Estate Industry with Ignite Sessions
Date and time
Thursday, April 6 · 7 - 10pm CDT
Location
Wakefield Crowbar 954 Wakefield Drive Houston, TX 77018
About this event
We are excited to announce that we will be hosting a Meet Up event in Houston on April 6th, 2023 at Wakefield Crowbar. This event will bring together some of the most influential professionals from various industries, who will share their expertise through Ignite Sessions.
Our speakers for the event are industry leaders who will provide insights and knowledge on topics such as business development, digital marketing, entrepreneurship, and much more. You will have the opportunity to interact with these experts, learn from their experiences, and network with like-minded individuals.
This event will be an excellent opportunity for you to expand your knowledge, develop new connections, and exchange ideas with other professionals.
In these sessions, the following industry professionals will cover topics such as:
Shanna Spree | Branding and Marketing Your Real Estate Business
Feras Moussa | Art of Networking and Evaluating Assets
Ben Suttles | How to Double Your Retirement Account in 5 Years
Deborah Pritchard | The Role of K-1 Structures in Successful Multifamily Real Estate Investing
Cynthia McMillion | Creating a Sustainable Multifamily Property Management Plan for Long-Term Success
The details for the event are as follows:
Date and Time:
April 6th, 2023 | Thursday
7 PM Central
Venue:
Wakefield Crowbar is located at 954 Wakefield Dr, Houston, TX 77018. We will have a private bar and event space towards the back of the venue. There is free parking onsite and free street parking on Wakefield Dr. There is a paid parking lot approximately to the right of Wakefield Crowbar for overflow parking.
The Agenda Will Be:
7:30 – 8:00 pm | Discover the Ins and Outs of the Multifamily Real Estate Industry with Ignite Sessions and Q&A
8:00 – 8:45 pm | Networking
This meetup is a great opportunity for you to connect with others in the industry, learn from experts, and get inspired to take your brand to the next level.
Register here and show your ticket at the registration!
Remember, no sales pitch and no gimmicks. Come to network and learn from other real estate investors in the Houston area! So feel free to join, learn, and ask questions!
#multifamily #multifamilyinvesting #realestateinvestor #realestateinvesting #apartmentinvestor #realestate #realestatehouston #houstonrealestate #propertymanagement #property #businessowner #business #hustle #entrepreneur #entrepreneurlife #entrepreneurmindset #houstontx #apartmentinvesting #ignite #disruptequity
About the organizer
 Disrupt Equity's mission is to provide valuable educational content to help empower individuals to build their net worth by strategically investing their capital. 
As a company, our primary focus is providing our investors with strong passive investing opportunities by utilizing multifamily real estate syndications. 
 To learn more about Disrupt Equity, our investment opportunites, or to connect with us further please reach out to us on our website: https://www.disruptequity.com/