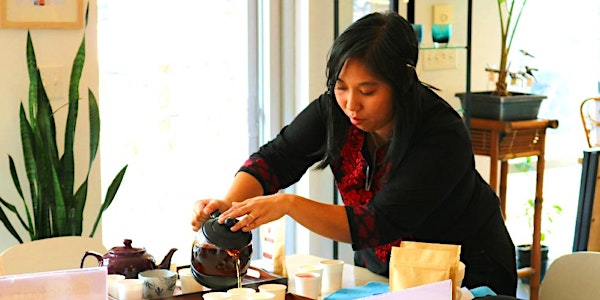 Discover Teas Virtual Wu Wo Tea Ceremony 2023: Connection!
3rd annual Virtual Wu Wo Tea Ceremony! This year's theme: Bring a tea that evokes CONNECTION for you! Register early for more free gifts!
About this event
Join us on Zoom for a virtual afternoon of tea and community! This year's theme for our Virtual Wu Wo tea ceremony is: Connection.
Wu Wo (without self) is a modern, easy-to-learn Taiwanese tea ceremony that YOU can join! As always, our Wu Wo ceremony is completely FREE to participate in as a steeper or to observe. NO prior experience necessary—1st-time steepers are welcome!
Standard Wu Wo ceremonies involve each steeper pouring tea for the other participants and observers. Our long-distance twist on this is for each steeper to share a story or memory of the tea they choose to brew. For this year's theme, Connection, please select a tea to brew that evokes thoughts and feelings of connection for you—that can be connection to your culture or community, connection to specific people or events in your life, or simply a tea that helps you connect with your body or your self, and be prepared to share that Connection with us!
This year, to help us tune in to these connections, we're pleased to open and close the ceremony with an intention-setting and accessible movement activity for all attendees, featuring Monetta Wilson
All registered attendees (steepers and observers) will receive a free digital poster of quick and easy yoga routines in a printable format from Yoga with Mo.
Steepers only: Register by 11:59pm EST January 16th to get a FREE tea-brewing magnet, recycled paper coaster, Wu Wo reference card, and sample of brew glitter to add sparkle to your tea! Please check your Spam folder for e-mails from @discoverteas.com so we can get your address information in time to ship before the event! Unfortunately, international attendees will not receive their physical bonus before the tea ceremony, and may have to pay a portion of shipping fees depending on location. We ship to countries and regions served by USPS.
We will take turns sharing stories before we all steep our teas and drink in old and new memories in silent community. If there are others in your steeping location who would like to observe, please feel free to pour tea for them as well. You do NOT have to be a tea expert or ceremonial expert to participate as a steeper—just make your tea of choice in the manner you feel most connected to!
We request that steepers keep their video and mic on and find a space with minimal background noise. Observers are welcome and may leave video and mic off if desired (we request that observers use a space with minimal background noise if leaving your mic on).
You are free and welcome to steep whatever tea speaks to you, even if it's not from Discover Teas!
All you need to join as a steeper:
Zoom-ready technology (including video and mutable microphone)
A tea that makes you think of Connection (enough to steep for you and anyone else in your physical location you will be sharing tea with)
Your favorite way to make said tea
If you like, you can also add tea décor and display your setup on-camera! (optional)
We'll be hosting the ceremony over Zoom on Sunday, January 29th, starting at 3:00pm EST. Joining information will be e-mailed to your inbox by Eventbrite!
Read more about the intent and in-person format of the Wu Wo ceremony here: https://www.discoverteas.com/journal/wu-wo-tea-ceremony-sharing-the-art-of-tea
Timeline of Events (event end time is not definite)
Entry/introduction
Explanation of ceremony process
Intention-setting and body connection movement with Monetta Wilson
Sharing of tea, stories of tea & connection, and (optional) description of setup
Silent steeping
-As you sip your tea, reflect on the stories and memories that were shared by each person
-If there are others steeping/observing the ceremonyin your physical location, please share tea with them as well in rounds of 3
-Save some tea to toast the camera for the group photo!
Body connection reprise and closing intention
Group screenshot photo
Mingling and closing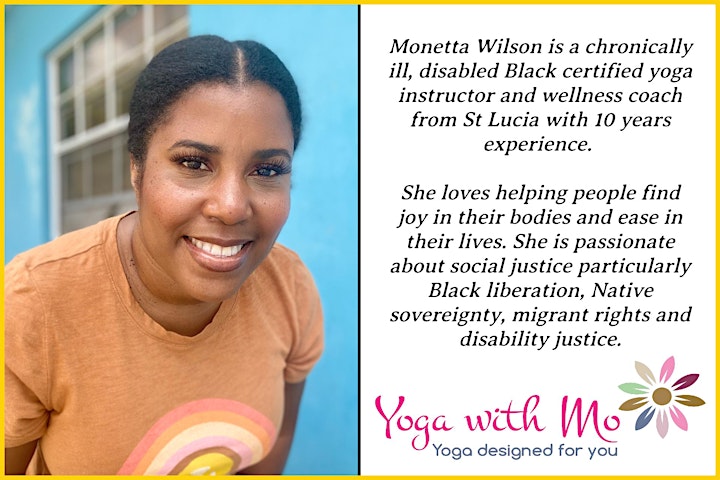 Monetta Wilson is a chronically ill, disabled Black, certified yoga instructor and wellness coach from St Lucia with 10 years experience. She loves helping people find joy in their bodies and ease in their lives. She is passionate about social justice particularly Black liberation, Native sovereignty, migrant rights and disability justice.
You can find Monetta on the following social media platforms:
Twitter: @StLuciaYoga
Instagram: @yoga_withmo
Facebook: https://facebook.com/SayanaYogaslu/
You can support her work on Ko-fi at https://ko-fi.com/monetta