About this Event
Our hand-rolled Ivan Chai is made in Chazhaevka, an eco-village located in the Altai region of Siberia. You will have the opportunity to learn about the preparation and uses of many herbs, which you will collect yourself in the valley of Chazhaevka.
The herbs include fireweed (Ivan Chai), meadowsweet, currant, meadow geranium, bergenia, meadowsweet, ziziphora and raspberry. We will dedicate time to each herb to learn in depth about it. In the end you will have plenty of knowledge and herbs which you can bring back home to share. In addition, there will be many chances to learn and experience life in a Siberian eco-village.
Wish to get more information personally? Come to a weekly free event, 'Connect over an Ivan Chai Ceremony' in Amsterdam. It's every Tuesday at 3:30pm at 409 Overtoom. There we will have plenty of time to talk and discuss our trip to the Altai this summer.
Otherwise, feel free to read on.
The Experience:
Tea Master Andrey Nikitin lives in Chazhaevka and has been in the tea business for over 20 years. He has been producing Ivan Chai and other herbs for 8 years, and makes biannual trips to China to continue his learning of tea culture.
I personally love the fact that he innovates with herbal tea, applying traditional methods from Chinese tea production to Siberian herbs and fermenting herbs that have most likely never been fermented before for a wide audience of tasters. He will be an invaluable resource on tea culture, herbal infusion preparation, and insight on Russian culture in general. His English is excellent, and his Chinese is not bad either.
Every summer Andrey recruits Russian, mostly Siberians, to help with the herbal tea production. They are generally 5-10 Russian people at any given time, between 20-30 years old, and very curious to exchange with foreigners. There will be plenty of opportunities and free time to get to know each other.
See the video we made in the summer of 2018 when I myself discovered Siberian herbs for the first time.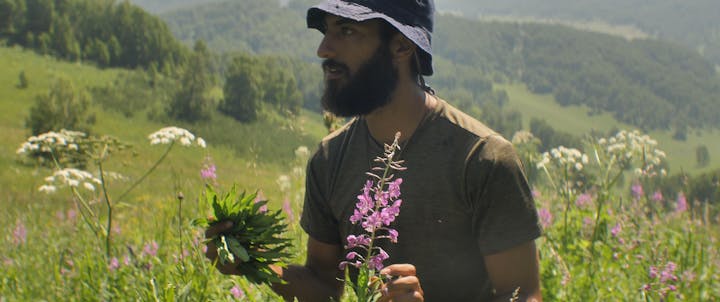 Day to day activities:
The working day starts with 9 am breakfast. We generally work 3-6 hours a day, and some days not at all if there is rain and the herbs are wet. The organisation and schedule of herbal activities is primarily dictated by the weather and Andrey's direction. We take turns in cooking breakfast, lunch, and dinner.
The organisation of all other activities is an open format based on your own expressed desires, energy, and motivation. Any initiative with the locals is always welcome. Planned activities are as follows:
Program:
1st week
- Molding teaware with clay with your own hands— with clay master Rustam (3 days)
- Baking bread by hand in a fire oven — with Natasha (1 day)
2nd week
- Making Halloumi and Brienze cheese from a real cow — with cheese master Katya (2 days)
- Carving your own wooden tea spoon — with woodworker Sergey (1 day)
Life in the ecovillage:
It's good to state up front that the eco-village is quite rural. This concretely means - there is no cell reception, water is fetched from the spring fed river, and there is limited solar electricity for charging electronic devices (enough for laptops though).
There are currently four families, including Andrey's, permanently living in the there year round in a valley. In the summer there are many friends arriving to visit the local families. In the evenings we sometimes convene to play guitar, drink tea, and sing songs while we bake dinner in the big oven, or otherwise for traditional folk festivals. My personal favourite is the weekly, but usually more often, Russian banya experience (Traditional Russian steam bath).
Costs for participation:
- The price for participation is 700 Euros used to cover our food and transportation costs. Pay to reserve your spot (Group of 8 maximum). Fully refundable up to a month before event start date, 80% refundable thereafter.
- You pay for your own flight to Barnaul Airport (BAX) - Round trip cost from Amsterdam or Zürich is around 700 Euros (fluctuates).
- A tourist visa (this is your responsibility to arrange) is required to travel to the Russian Federation and costs about 100-200 euros, depending on your nationality. Visa can take 1-3 weeks — please plan accordingly. Write us and we'll be happy to advise on the best services for you for the Russian Visa.
- Food and lodging is provided.
How to get there and back:
Michael will be at the Barnaul airport (BAX) on July 17, 2019 for those arriving from Moscow on the Aeroflot SU1430 flight arriving 5:55 am Barnaul time. Transport from Barnaul airport all the way to Chazhaevka will be arranged (approximately 5 hours of bus time).
Transport will be arranged for leaving on the morning of July 31, 2019 from 3 am to 10 am, depending on your further travel requirements. Transportation from Chazhaeka to Altayskoye to Barnaul airport (BAX) is included. Many connections possible from Barnaul or Altayskoye.
For other transportation needs or arrangements, please take up direct contact with Michael and he'll be happy to advise. He has been to other regions in Siberia, including Ascat, Novosibirsk, Tomsk, and Belukha Mountain for rafting and mountaineering experiences, among others.
What to bring:
- sleeping bag
- mosquitos repellant (there are some, but much much less than in other parts of Siberia)
- shoes appropriate for walking in wet marches
- clothes, hygiene items, and a towel
- anything which serves as an activity that you wish to share with the Chazhaevka locals and other volunteers!
For any other question or concerns - please don't hesitate to write Michael, founder of Ivan's Herbs:
Michael@ivansherbs.com
We can arrange a personal Ivan Chai Ceremony for you in Amsterdam, to answer your questions/concerns over our Discover Siberian Herbs event.