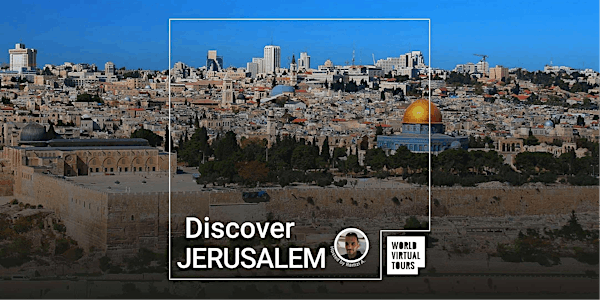 Discover Jerusalem Virtual Tour
A virtual tour of the 4 districts of the Old City of Jerusalem
About this event
👷🏻‍♂️ Build this project with us:
Our Tours are FREE TO JOIN
the Event is TIP-SUPPORTED (read below ⭐)
⏰ Time (in this page) is listed as Eastern Time (US/New York)
Language: English
Live stream event from Bethlehem, hosted by RAMZI A.: Graduated Licensed Tour Guide with 12 years of experience.
Summary
Jaffa Gate
The Christian Quarter
The Muslim Quarter
The Jewish Quarter
The Armenian Quarter
Live Q&A
Contents suitable for children
Description
Jerusalem has been known for thousands of years as the most sacred city for the three main monotheistic religions.
We will start with the old city of Jerusalem with its 4 quarters: Jewish, Christian, Muslim and Armenian quarter and learn about each one of them.
We will see the Jaffa Gate, one of the 7 accessible gates of the old city of Jerusalem; the Christian quarter; the church of the Holy Sepulcher and the via dolorosa (the way of the cross); the Muslim Quarter with the Al Aqsa mosque and the dome of the Rock; the Jewish Quarter and the Western Wall; the Armenian quarter and St. James Cathedral.
We will continue to walk inside the old city markets between the different neighborhoods to experience modern life in Jerusalem today.
*****************
How to JOIN:
Click on Register button, and get your ticket here on Eventbrite
- You will receive the Zoom code by email (attention to spam folder!)
- Join some minutes before the event start time
*****************
Special Instructions and Requirements
PC, laptop, tablet or smartphone
Stable internet connection
This experience will use Zoom
PLEASE NOTE: since is a Free Event with high demand, if you don't connect on first 10 mins from tour start, we reserve the rights to assign your reserved seat to someone else
Read Carefully Our TOS here:
https://worldvirtualtours.online/terms.html
You can TIP Ramzi here:
https://worldvirtualtours.online/tiptheguide.html?guide=Ramzi
⭐ Why donate to your Tour Guide
Our project is solely funded by your donations.
All our virtual tours are made possible only thanks to your support as part of our Community.
The majority of your tip supports the Guide, the rest lets our group continue to carry out our initiative.
THANK YOU!
#monument #history #travel #art #immersiveexperience #virtualtour #virtualtrip #arthistory #culturalheritage #artandculture #culture #archeology #jerusalem #holysepulchre #stjameschurch #quarter #holycity #tellHIST #worldvirtualtours