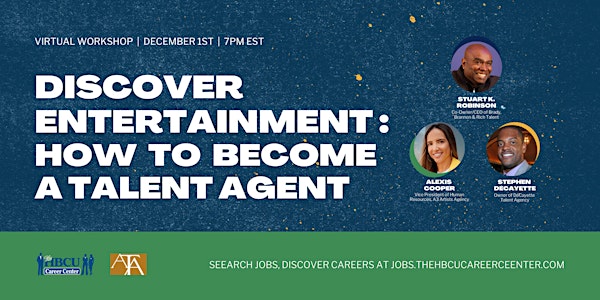 Discover Entertainment: How to Become a Talent Agent
Learn how you can succeed in the entertainment industry as a talent agent.
About this event
There are many misconceptions about working in the world of talent agencies. You've seen the movies where the "hot-shot-get it done at all costs agent" does whatever it takes to land their client the deal. It is true that talent agents are the key to connecting talent to all aspects of the Entertainment Industry, but what you see on the screen is a dramatization. The reality is that there are many different skill sets needed to be a great agent and there are a wide range of positions within a talent agency.
In this workshop attendees will learn:
The role and mission of the Association of Talent Agencies (ATA)
The fundamentals, culture, work environment and exciting challenges that come with working in the talent agency business.
The experience and transferrable skills that talent agencies are looking for when filling openings.
Useful resources and best practices to find opportunities.
How candidates can best position themselves to stand out when applying to and interviewing for positions with a talent agency.
ABOUT THE SPEAKERS:
Alexis Cooper (she/her/hers), Vice President of Human Resources at A3 Artists Agency
Alexis Cooper has more than 17 years of experience across all facets of human resources affairs, including conflict resolution, recruitment and retention, policy development, and, most important to her, diversity and inclusion. As Head of HR at A3 Artists Agency, a full-service entertainment talent agency in Los Angeles and New York City, Cooper has implemented new company policies that promote these values while fostering trusting and engaging relationships with employees. Cooper was instrumental in revamping the agency's internship program with a focus on diversity and creating a pipeline for students from underrepresented communities and HBCUs directly to A3. Additionally, Cooper founded and co-chairs A3's aptly branded Inclusion, Diversity, Equity & Awareness Committee (IDEA), which provides ongoing educational and cultural programming for staff.
Stephen DéCayette, Owner of DéCayette Talent Agency
As the owner of DéCayette Talent Agency in Beverly Hills for the past 5 years, Stephen DéCayette has honed his skills in the Entertainment business for over 14 years, specifically in the representation sector. He got his start as an intern with the House of Representatives Talent Agency. As he's moved up in the ranks of the Entertainment Industry, he advanced from working in Guest Services at Live Nation Entertainment to a managerial position at The Directors Guild of America. He then went on to work at the Coast to Coast Talent group and most recently worked as Head of the Commercial Department at Prestige Talent Agency. He is a two-time Seymour Heller Award nominee for Commercial Agent of the year and 2015 winner! Apart from these endeavors, he is active in a variety of civic and cultural organizations including the ATA (Association of Talent Agents) as member of their Board, ISES (International Special Events Society), and the Gloria Gemma Breast Cancer Foundation, to name a few.
Stuart K Robinson, Co-Owner/CEO of Brady, Brannon & Rich Talent
Stuart K Robinson has built a 50-year career in the Entertainment Industry including his current role as Co-Owner/CEO of Brady, Brannon & Rich Talent, one of the nation's most successful agencies representing commercial actors. An elected member of The Association of Talent Agents' Board of Directors, he is a highly coveted motivational speaker with a specific focus on Inclusion and Implicit Bias. He is also considered one of the nation's top educators regarding the Entertainment Industry and its inner-workings.
About The HBCU Career Center
The HBCU Career Center was founded in 2007 for students and professionals underrepresented and left out of the expensive career management market. We educate around job search skills, workplace realities and employment equity and support the career and professional goals of students, alumni and the broad HBCU community. Our offerings include career and job search resources, as well as a job and internship board to connect employers with talent. Our focus is to keep Historically Black Colleges and Universities respected, resilient and relevant.