Description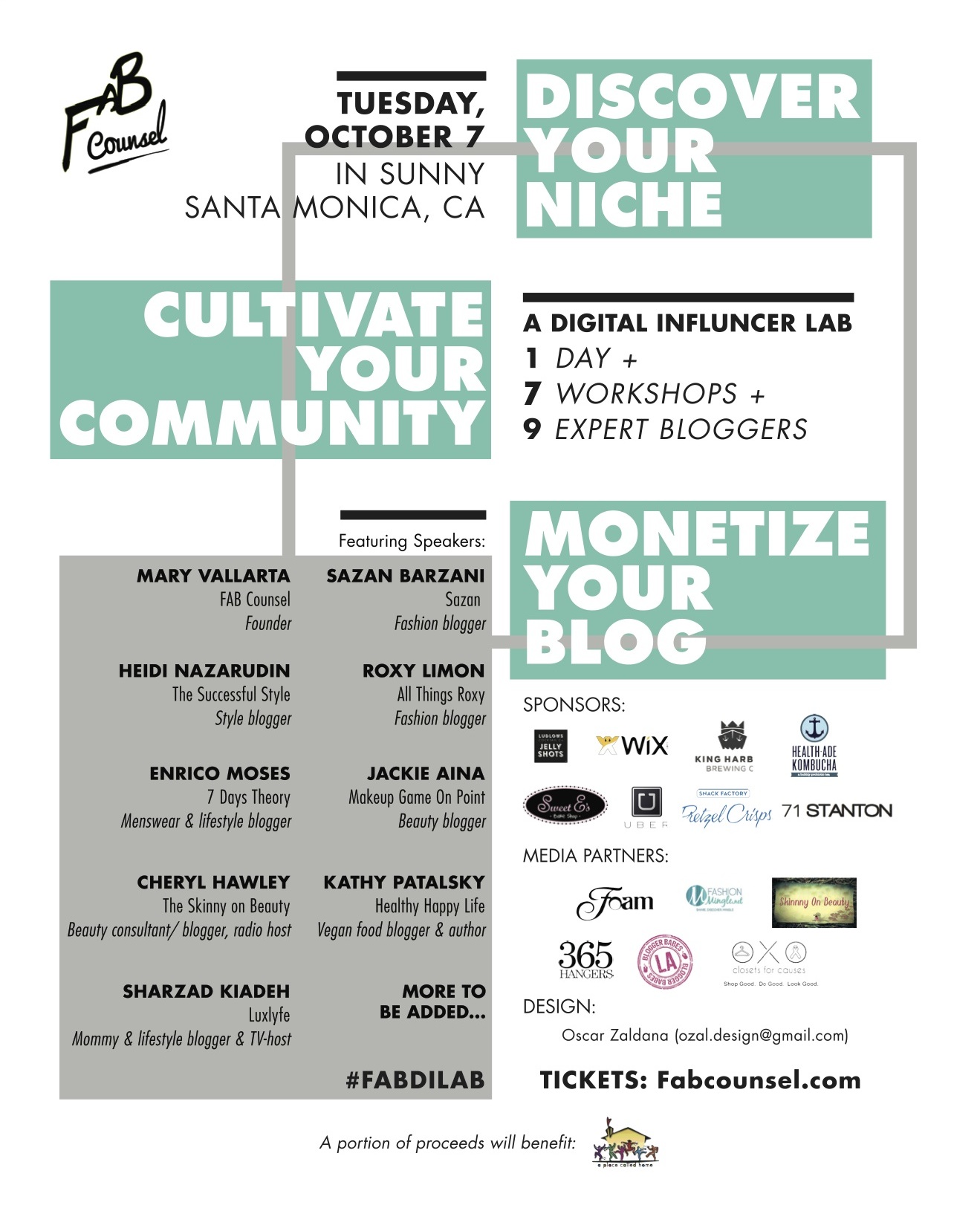 Problem #1: With the number of blogs that are currently out there, many bloggers are struggling to differentiate themselves from their counterparts.
In fact, there over 6.5 million blogs just on blogging sites alone!
So how do bloggers get noticed?
But a more important question, where will they go to access information that will explain how to discover voice & niche, cultivate their audience or community, and monetize their blog?
Problem #2: Navigating through the millions of blogs out there can be a time-consuming job for any company.
Isn't there a more convenient way to meet with digital influencers and learn more about how to effectively work them!
Look no further!
We at FAB Counsel have teamed up with the experienced members of the fashion, beauty, and lifestyle blogging community to produce and host DISCOVER. CULTIVATE. MONETIZE: A Digital Influencer Lab or #FABDILab for short!
This is a day-long highly intensive training that is designed for 2 things:
To teach digital influencers (aka bloggers) how to DISCOVER their voice, CULTIVATE their community, & MONETIZE their blog.

To educate companies on how to work with bloggers & to provide a time & space to meet with them! Network with digital influencers in 1 roof!
The workshops will be led by industry experts and successful influencers (aka bloggers), themselves. In addition to the workshops, there will be a panel discussion made up of some of the top bloggers in the nation.
To close thing up with a bang, we've got a Shop & Mingle – Closing Party in store for you! Sip on cocktails, network, enjoy the music, and do a little shopping. Use this time to get to know the brands as they are looking for bloggers to partner with!
And the best part: 10% of our proceeds will benefit the non-profit organization, A Place Called Home. They provide a safe haven in South Central Los Angeles where underserved youth are empowered to take ownership of the quality and direction of their lives through programs in education, arts, and well-being; and are inspired to make a meaningful difference in their community and the world. You can rest assured that your ticket purchases will go to a great cause!
This is event is for:
Individuals looking to start a blog within the fashion, beauty, and lifestyle space.

New & current bloggers who are now ready to kick things in full gear – meaning you want to turn that blogging hobby into a business!

Companies looking to connect with bloggers. * Companies who want to learn the best ways to work with bloggers.
Check-in will begin at 8:15 AM followed by the morning reception, which includes a light breakfast. Introductions & the keynote address will begin at 9AM. See below for the complete agenda:
Discovering Your Niche & Engaging Your Audience Led by Heidi Nazarudin of The Successful Style // 9:15 AM Calling yourself a fashion blogger, beauty blogger, or food blogger is not enough. You've got to have a unique message & personality that will appeal to a group of people. That group of people will be your niche and it is your job to find out how to convert them into loyal fans of your blog! Heidi will be walking you through that process by sharing how she found & engaged her niche of career-driven stylish women that inspired her blog, The Successful Style.
How To Easily Create A Blog Or Website With Wix // 9:55 AM Creating a blog or any kind of website can be a daunting & expensive task. Thankfully, you've got a quick & free solution with Wix! They'll be walking you through how you can easily create your own independently run blog without the need for developers or complicated do-it-yourself coding.
The Different Ways To Monetize Your Blog led by Enrico Moses of 7 Days Theory // 10:25 AM There's more than one way to make money from your blog and this is what Enrico will be discussing. He'll share how he managed to make thousands of dollars before his blog turned 6 months old, along with other methods that are online and offline based. Get ready to monetize!
Break: 10:55 AM
What Brands Need To Know About Working With Digital Influencers led by Mary Vallarta of FAB Counsel // 11:10 AM Not all bloggers are created equal and not all blogger campaigns equate to instant massive sales for your company! Therefore, you've got to know what you're doing when it comes to partnering with the right digital influencer and with creating an effective campaign. We've heard too many horror stories of blogger-brand collaborations gone wrong and we want to prevent that from happening to you! Mary Vallarta, founder of FAB Counsel, works with many companies to provide services in blogger outreach. She will share her knowledge about what you need to know when it comes to working with digital influencers!
How To Use Social Media To Cultivate An Audience & Promote Your Blog led by Cheryl Hawley of The Skinny on Beauty // 11:50 AM Social media is a blogger's best friend. But if you don't know how to use it properly, it can prove to be a frustrating burden. Social media expert, Cheryl Hawley, will be showing you how to most effectively use social media to further promote your blog.
Lunch // 12:20 PM
Why Vlog & How To Crack YouTube led by Jackie Aina of Makeup Game On Point // 12:50 PM YouTube is the 2nd most widely used search engine in the world. That's why so many digital influencers and brands are trying to figure out how to build a YouTube following. Jackie will be sharing her own secrets that led her to acquire her 1st 100,000 subscribers and 7 million views! Find out what practices made her a YouTube sensation!
Legal Talk with Manoj Shah of The Fashion Law Group // 2:40 PM Being a full-time blogger means you are a full-blown entrepreneur with legal responsibilities. You've got a business to register and contracts and agreements to create & abide by with the brands you're working with. Manoj will walk you through the legal issues you need to know!
The Work Ethic of Successful Bloggers – led by Sazan Barzani of Sazan.me // 3:10 PM Being a recognized blogger requires more than just taking photos & creating blog posts. You need to know how to market your blog and how to keep improving your content so that you can continue to engage & grow your audience. One of the best ways to learn all this is by modeling the behavior of a successful blogger. That's why we got Sazan Barzani, a renowned style expert and fashion blogger who has appeared on numerous TV networks and magazines like KTLA, CBS, Marie Claire, People Style Watch, & Lucky, on top of working with brands & retailers like Bebe & Nordstroms, to walk you through the work ethic of successful bloggers like her. She will be sharing the practices & behaviors that led to her accomplishments, from content creation, to marketing, to networking, to entrepreneurial discipline. Know what top bloggers are made of!
Energy Break // 3:50 PM
How To Start Working With Brands & Get Paid For It! Feat. Kathy Patalsky of Finding Vegan, Sharzad Kiadeh of LuxLyfe, Enrico Moses of 7 Days Theory, & Roxy Limon of All Things Roxy // 4:10 PM Every blogger wants to work with a brand that they believe in and their readers will appreciate. The hard part is how to get started. How do you approach brands? How do you work with them? And how do you bring up the dreaded question, "how much can you afford to pay me?" These experienced panel of bloggers who have worked with both small & big companies will answer all your questions about how to start working brands & get paid for doing it!
The Closing Party // 5:30 PM (Drinks, snacks, music, & photography will be provided!)
To learn about the speakers, click here.
Are you a blogger who wants to get an additional discount on tickets? Then ask us about our affiliate program where you can get 50% off registration & even more perks! Email info (at) fabcounsel.com
Organizer of DISCOVER. CULTIVATE. MONETIZE: A Digital Influencer Lab
FAB Counsel stands for Fashion and Business Counsel. Our mission is to provide you with the knowledge and tools you need to create a profitable fashion business that you also happen to love! We believe that everyone has the ability to live the life they want to live and it's our job to help you get there. We do this by providing events, online courses, consulting, and free blog and video resources designed to help you create a profitable and rewarding fashion business!