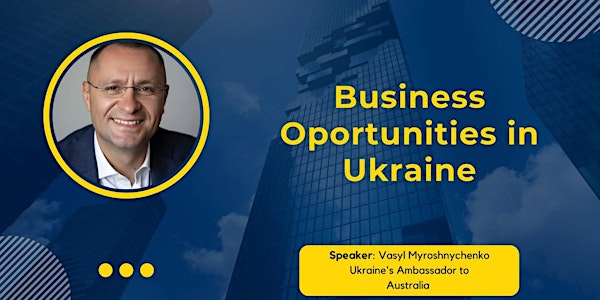 Discover Business Opportunities in Ukraine
Location
Brisbane Business Hub
155 Queen Street
#Level 2
Brisbane City, QLD 4000
Australia
Refund policy
Contact the organiser to request a refund.
Eventbrite's fee is nonrefundable.
Business lunch about opportunities in Ukraine with Mr. Vasyl Myroshnychenko, Ukrainian Ambassador to Australia.
About this event
This is a unique opportunity to meet in an informal setting with the Ukrainian Ambassador to Australia, His Excellency Mr. Vasyl Myroshnychenko, to find out about business opportunities in Ukraine and understand what Ukraine can offer in return. Before the war Ukraine's economy was mostly resource focused, with agriculture and metals making up the bulk of exports. Of Ukraine's $49.5 billion exports of goods, 63% comes from raw materials or low-processed and consumable resources products, such as corn and wheat, semi-finished iron, and forested logs or saw-milled lumber. 42% of Ukraine's exports of goods are food and agricultural products.
Ukraine is home to companies operating in around 20 major industries, namely power generation, fuel, ferrous and non-ferrous metallurgy, chemical and petrochemical, gas, machine building and metal-working, timber and paper, and construction. It is rich in iron ore, manganese, titanium, graphite, uranium, neon gas and krypton.
But a new generation of small and medium enterprises (SMEs) have found ways to make Ukraine excel in a number of hi-tech and added value exports. These hidden champions are exporting e-bikes, drones, jewellery, and more. Whilst the war has currently diminished the industrial base in Ukraine, we are confident that the war will end with Ukraine prevailing and Ukraine embarking on the path of reconstruction of its economy. Australia has been exporting wine, wool and some electronics to Ukraine, while importing rigid hull inflatable boats, sunflower oil and some products of the metallurgic industry.
Who is this for?
Ties between Ukraine and Australia have been developing since 1992, and whilst not yet major trading partners there have been positive developments. Both Ukraine and Australia are rich in natural resources, have advanced agriculture and strong democratic institutions that provide a stable environment for business. This business lunch will enable numerous opportunities for farsighted investors in mining, logistics, construction, agriculture, banking, insurance and services sectors.Ukraine has a large state-owned industrial sector with plans for privatisation underway. A favourable climate for business investment is being cultivated through different means, which may include the creation of free trade zones You will have an opportunity to discuss these and many other opportunities directly with the Ukrainian Ambassador to Australia – there is no more direct a source to understand what the Ukrainian Government is planning!
The Rundown:
12.00 pm - Event Begins
12.15 pm - Current trade relationship between Australia and Ukraine
12.30 pm - Potential after war initiatives and restoration activities
13.30 pm - Q&A with audience
14.00 pm - Event Ends
Speakers:
Ukrainian Ambassador of Ukraine, His Excellency Mr Vasyl Myroshnychenko.
Mr Myroshnychenko was appointed as Ambassador of Ukraine to Australia on 1 April 2022. He has over 20 years of experience in strategic communications and government relations. Vasyl has advised many multinational companies and domestic industry leaders across different sectors. He sat on the board of the Ukrainian-British City Club – a London-based organisation that promotes UK-Ukraine trade and investment relations – for 15 years.
Vasyl Myroshnychenko attended the prestigious leadership program at the German Marshall Fund of the United States. He obtained an MSc in Politics of the World Economy from the London School of Economics. Vasyl is also a graduate of the Global Village for Future Leaders of Business and Industry program at Lehigh University in the United States and the Swedish Institute Management Program.
Facebook
https://www.facebook.com/vasyl.myroshnychenko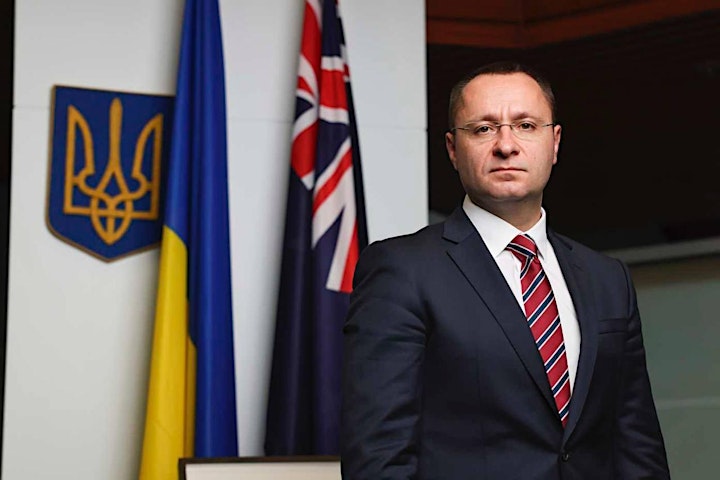 Organisers:
Brisbane Business Hub is a place for businesses in Queensland's capital to come together and connect. It's a physical and digital space where you'll find the advice and inspiration you need to sustain and grow your business – no matter what industry you're in.

The Australia-Ukraine Chamber of Commerce has a goal the advancement of the broader Australia-Ukraine business relationship through the effective representation of its members. AUCC aims to achieve this through delivery of effective advocacy programs and provision of information and insights through our business events and online platform.
https://www.aucc.biz/

The Ukrainian Community of Queensland Inc. (UCQ) is the peak body representing Ukrainians in Queensland. The UCQ works to assist all Ukrainians in Queensland and endeavors to maintain Ukrainian culture within the Ukrainian community and to showcase Ukrainian culture to the wider community.
https://www.ukrqld.com.au/