An event to educate and inspire collaboration around innovative science, technology, and medicine at Brigham and Women's Hospital.
About this event
Join us virtually as we celebrate and promote the work of the Brigham research, discovery and innovation community at the 10th annual Discover Brigham.
You can find more information by going to our website: www.discoverbrigham.org.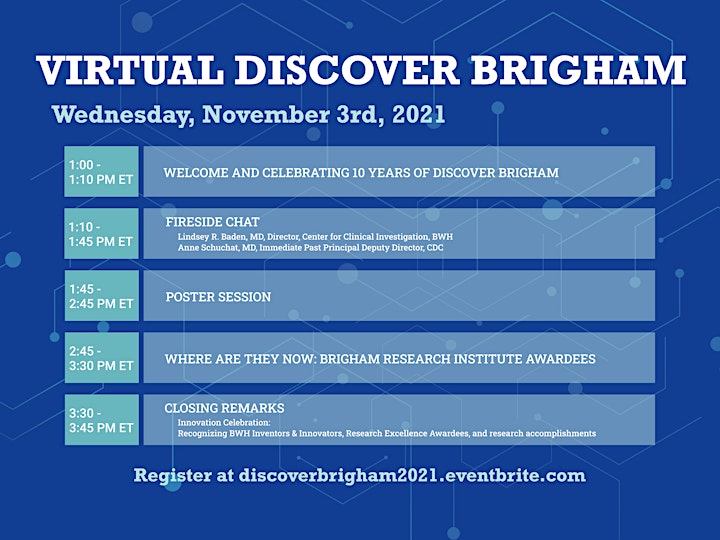 Go behind the scenes of discovery to find out how Brigham investigators are pursuing some of the most pressing questions in science in medicine. Discover Brigham gives the public an opportunity to learn about groundbreaking research and meet the expert investigators who make it all possible. And this year, you can do it all from the comfort and convenience of a computer or smartphone.
This year, Discover Brigham will feature a fireside chat with Lindsey Baden, MD, an infectious diseases specialist at the Brigham with expertise in vaccine development for viral diseases who led COVID-19 vaccination research efforts, and Anne Schuchat, MD, Immediate Past Principal Deputy Director of the Centers for Disease Control and Prevention (CDC) who in her 30+ years at CDC was involved in many infectious disease outbreak responses including COVID-19, H1N1, Ebola and Zika. Additionally, selected Brigham Research Institute (BRI) funded researchers will discuss their projects and how BRI funding supported their continued discovery and innovation. The event will also include a virtual poster session with 100 posters to celebrate the work of our junior faculty members, trainees and staff.
We are inviting the Brigham research community and beyond to mark their calendars, and join us in this celebratory event on November 3rd!
You can reach out to discoverbrigham@bwh.harvard.edu if you have any questions.
Lead Organizer: Brigham Research Institute
Discover Brigham Partners:
Brigham Care Redesign Incubator Start Up Program (BCRISP)
Brigham Digital Innovation Hub (iHub)
Brigham Research Education (BRE)
Center for Diversity and Inclusion (CDI)