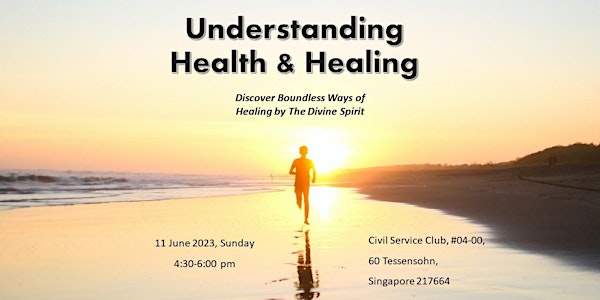 Discover Boundless Ways of Healing by The Divine Spirit
Understanding Health & Healing- Discover Boundless Ways of healing by The Divine Spirit
By Eckankar Satsang Singapore
Date and time
Sun, 11 Jun 2023 16:30 - 18:00 +08
Location
Civil Service Club @ Tessensohn 60 Tessensohn Road Level 4-01 Singapore, 217664 Singapore
About this event
1 hour 30 minutes

Mobile eTicket
Understanding Health & Healing
Discover Boundless Ways of healing by The Divine Spirit
'The greatest unfoldment occurs when our feet are put to the fire. What is ill health? It is the result of a deliberate or else unconscious violation of laws for a period of time. The ignorance of karmic laws reflects imperfection. Healing, then, means doing something in a new way to regain health. The old ways, at least for the moment, are put on shelf as attempts begin to restore the individual's vitality. Healing means doing something different, if not, new'.
Sri Harold Klemp, A Modern Prophet Book 2,Page 97
Healing comes not from any outer source. Any true, humble doctor knows that healing does not come through pills, herbs, or anything else . It comes through the divine power-through the power of God getting through in some way to one individual to help bring about a healing. The individual is only a channel for this healing power that knows better than anyone else what you need. Divine Spirit often heals through the field of medicine and guides you to the doctor who is right for your condition. Yet the ways of healing by Divine Spirit are truly endless.
All the help that comes to us is from the Holy Spirit, whether it comes in a dream or through the help of a friend or a doctor. The trick is the discrimination you need: to tell what's good for you and what's not good for you. This comes by listening to your heart.
In this session, we will share with you:
An understanding of why we suffer from ill health and its' relationship to our spiritual unfoldment.
A spiritual exercise to experience the Healing Power of HU.
ECK Light and Sound Service is a special occasion to experience the Light and Sound, the twin aspects of the Holy Spirit or the ECK. It offers you the chance to explore your own direct connection with the Divine. Free Event and we welcome all faiths and backgrounds.
This event is sponsored by ECKANKAR Satsang Singapore.
For more information about Eckankar, The Path of Spiritual Freedom, please visit: https://www.eckankar.org/