Discipleship and Mission Workshop

Tuesday, December 13, 2011 at 2:00 PM

-

Thursday, December 15, 2011 at 11:30 AM (EST)
Event Details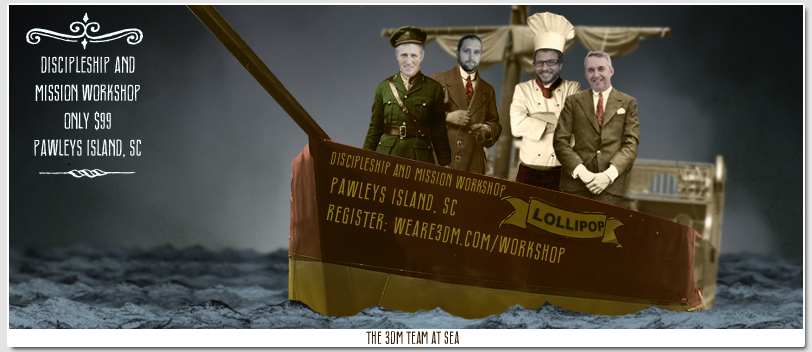 More and more, people are realizing we are in the midst of a discipleship crisis in the United States which is largely responsible for the state of the American church. At the same time, there is a wave of excitement about the current missional movement that has been bubbling up in the last 10-15 years that many people are hoping will stop the bleeding. The fundamental issue, however, is that unless we are able to disciple people well like Jesus did, any missional movement is unsustainable.

Our general experience is that people are quite intrigued to hear how we've used things like Huddles (a discipleship vehicle) and Missional Communities (a missional vehicle) to see discipleship and mission come alive in their church communities, looking more and more like the churches we see in the New Testament. This workshop is a time to look at some of the things we've learned in the past 30 years, dealing with post-Christian contexts where as little as 1% of people attend church. It'll have teaching, discussion, breakout time with your team, a chance to actually experience Huddles and Missional Communities, worship and even time at the beach. We are intentionally capping the attendance for the workshop at 200 so you have a large amount of access to 3DM's team and whatever expertise/experience we bring to the table.

If you're interested in seeing some different approaches to discipleship and mission, this workshop would be great place to enter into that discussion for you and your team.
Details
December 13-15
Starting @ 2pm on Tuesday and ending @ 1.30pm on Thursday
Cost
$99 -The cost of the event will cover the expense of the dinners for the two nights of the workshop and attendees pick up the cost of their lunches.
FAQs
Who will lead the workshop?
The 3DM team will share the teaching and are all experienced practitioners in discipling, planting, leading, and multiplying Missional Communities and Huddles. Though our resources and models were initially explored in a European situation, the 3DM team have adapted the tools and methodologies in the United States over the last 10 years.

What will the workshop be like?
You will have a chance to hear teachings about discipleship and mission and how we are practically seeing those things worked out in local church contexts. You'll get to experience Huddles and Missional Communities (rather than simply hear the theory). There will be large amounts of Q&A, consultations for your team with our team. Worship. Down time at the beach. It's really a great mixture of work, rest, practice, theory and team time.
 
Who is the workshop for?
Anyone who would like to come, but by-and-large, we strongly encourage you to come with at least one other person, and if possible, a team from your church community. If at all possible, it'd be great to have the senior leader there so the whole team is exposed to these ideas.
 
What does the $99 cover?
Your registration covers your time with us, your materials and the two dinner meals on Tuesday and Wednesday night. Accomodation is not included but we have arranged a discounted rate at Litchefield by the Sea, please contact them directly at 1-(888)-766-4633
Where is it located?
The workshop will be in Pawleys Island, SC, which is a beach town about 45 minutes south of Myrtle Beach. The actual event will be at Pawleys Island Community Church.
Have questions about Discipleship and Mission Workshop?
Contact 3DM
When & Where

Pawleys Island Community Church
10304 Ocean Hwy
Pawleys Island, SC 29585-650


Tuesday, December 13, 2011 at 2:00 PM

-

Thursday, December 15, 2011 at 11:30 AM (EST)
Add to my calendar
Discipleship and Mission Workshop