Description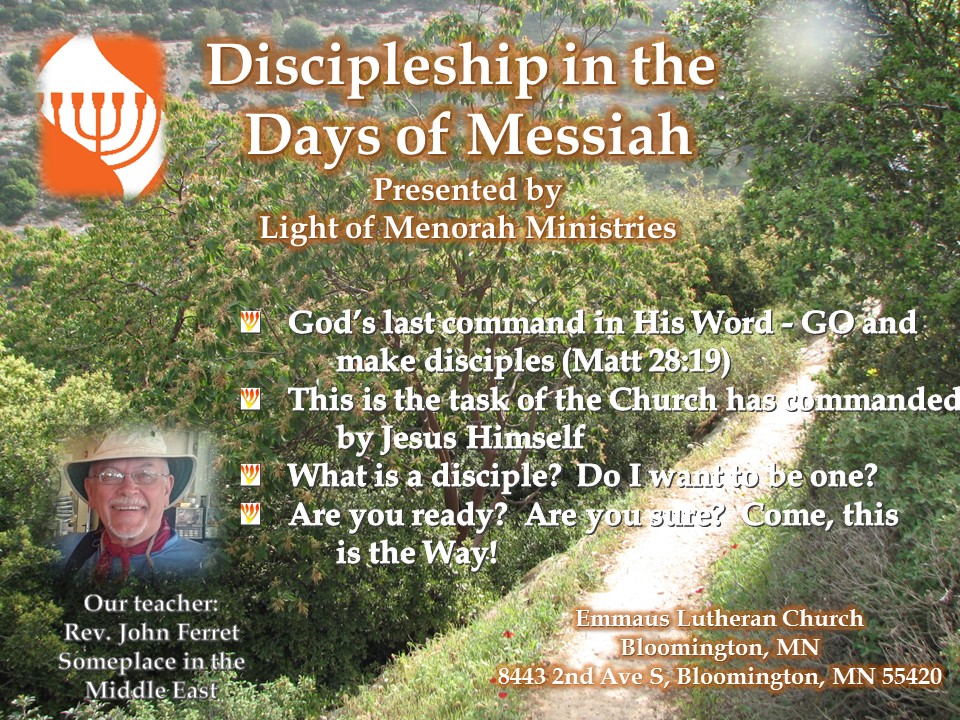 REGISTRATION REQUIRED - this class is provided at no cost unless you want the Light of Menorah class book. This book is filled with the complete course content, pictures and maps in full color, plus, and most important, the complete bibliography of Rev. Ferret's research and backup on all the course content. Many who have taken Light of Menorah classes have said the class books are an excellent personal resource for further study since it contains more than what Rev. Ferret can present in class.
The book is $50. You may purchase the book when you register. Book orders MUST be paid prior to Sept. 1. Under tickets you can register and also select the option to purchase the class book. Again, please note - books MUST be ordered now and payment received to Light of Menorah by Sept. 1st.
One starts reading the gospels and almost immediately one comes across the word "DISCIPLE." The Hebrew for disciple is "TALMID," pronounced tal – meed (plural is tal-meh-deem). This Bible study will try and reconnect us to our Hebrew Heritage to learn what was a talmid or disciple. Jesus commands us to go and make disciples or talmidim. 21st century churches have evangelism and discipleship programs. But, are these programs making disciples as understood in the 1st century A.D.? What did Jesus mean? What did the people of Israel in the 1st century understand when they heard the Great Commission? What effect would it have on us in the church if we knew what a disciple really was, a talmid of Rabbi Yeshua?
Ray Vander Laan, my first teacher of Bible history and our Jewish roots and founder of the ministry, That the World May Know, teaches what a disciple (talmid) was then and what a disciple must "look like" today. In his article, "Rabbi and Talmidim" he states ...
... the present day talmid (disciple) must be no less focused on the rabbi. We must be with him in his Word, we must follow him even if we are not sure of the final destination, we must live by his teaching (which means we must know those teachings well), and we must imitate him whenever we can. In other words everything becomes secondary in life to being like him. When they had observed and learned for a time they were sent out to begin to practice being like the teacher (Luke 9:1-6; 10:1-24). The amazement of the talmidim in discovering they could be like their teacher is delightful (10:17). It is very understandable to anyone who has seen the deep attachment of talmidim to his or her rabbi even today. It is most affirming when a student discovers that being like the teacher is possible. The teachers joy is no less as he discovers his students have learned well and are gifted and empowered by God to act as the rabbi does (Luke 10:21; see also John 17:16, 18). ("Rabbi and Talmidim," Ray Vander Laan, www.thattheworldmayknow.com/rabbi-and-talmidim).
This Bible study will try and help us understand what a disciple is, and, more importantly, the relationship of a rabbi and his talmidim. Today, Yeshua wants talmidim related to Him. Come, let us return to follow Him. Come and let us "sit at the feet of Rabbi Jesus" to be His talmidim. Come let's begin to really obey God's last command to Go and make disciples. Let us also become His disciples, to be like HIM 24-7, and to fill the earth with the "image of Rabbi Jesus." Are you ready? Are you sure? Come, this is the Way.
Class dates (Fireside Room at Emmaus from 6:30 pm to 8:30 pm) - 9/14, 9/28, 10/5, 10/19, 11/9, 11/30, 12/7, 12/21, 1/18, 2/1, 2/15, 3/8, 3/22, 4/12, 4/26, 5/10
Date and Time
Location
Emmaus Lutheran Church (Fireside Room)
8443 Second Ave S
Bloomington, Minnesota 55420
Refund Policy