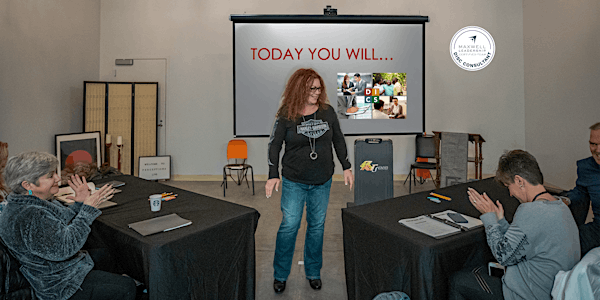 DISC Leadership Workshop
Unlock your leadership potential with our DISC Leadership workshop. Discover your personality style, leadership strengths and more!
By Shelly Bays Training and Coaching
Date and time
Friday, June 9 · 1 - 4:30pm EDT
Location
MatchBOX Coworking Studio 17 South 6th Street Lafayette, IN 47901
About this event
DISC Leadership Workshop
Join us on Fri Jun 09 2023 at 13:00:00 GMT-0400 (Eastern Daylight Time) for an in-person event at 17 South 6th Street, Lafayette, IN 47901 to learn about DISC leadership.
Discover your leadership style and how to effectively communicate with others based on their personality traits. This workshop will provide you with practical tools and strategies to become a more effective leader in your personal and professional life.
Don't miss this opportunity to enhance your leadership skills and network with like-minded individuals. Register now to secure your spot! This workshop is limited to 10 participants.
What's included?
Online Maxwell Method of DISC Personality and Behavioral assessment with 30-page individualized report. (Key code and instructions sent in separate email.)
30-minute individual debrief with Certified DISC Consultant Shelly Bays of your individual report. (Scheduling link sent with DISC key code and instructions.)
All workshop materials, exercises, etc.
Snacks and beverages at the workshop.
30-minute post workshop clarity session with Shelly Bays to discuss how you can apply your new skills in your business and life and begin to create a PDP (Personalized Development Plan).
30-day 30-minute post workshop follow up call /mini coaching session with Shelly to discuss how you are utilizing the information, answer questions you may have and check in on your PDP.
Frequently asked questions
What room will the workshop be held in?
What happens if I cannot attend?
About the organizer
Welcome to Shelly BaysTraining & Coaching, where we provide expert guidance and support to help you unlock your true potential. With a focus on leadership, communication, and sales, our services are designed to empower individuals and businesses to reach new heights of success.
Whether you're an aspiring leader looking to enhance your skills, a team in need of effective communication strategies, or a business aiming to improve performance, we have you covered. Through personalized coaching, training workshops, and strategic consulting, we help you clarify complex challenges and seize opportunities with confidence.
Shelly Bays brings over 35 years of experience, backed by certifications and accolades, to ensure you receive top-notch expertise. Our approach is practical, results-oriented, and tailored to your unique needs. We believe in fostering trust, enhancing connections, and aligning values to create impactful brand stories that resonate with your audience.
Let us guide you on the path to success, joy, and growth. Together, we'll equip you with the self-leadership skills necessary to thrive, create lasting impact, and cultivate a new generation of leaders. Get ready to unlock your full potential with Shelly Bays Training & Coaching.