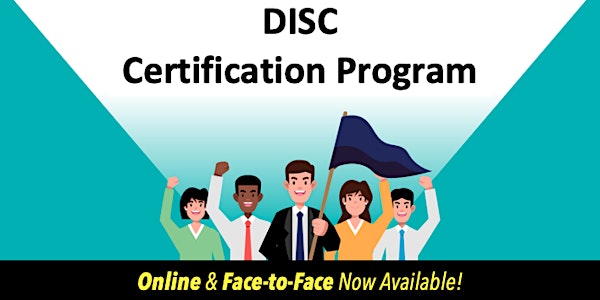 DISC Certification Program - 21 & 28 March 2023
Become a DISC Certified Trainer (Regional Program - 21 & 28 March 2023)
Date and time
March 20 · 5:30pm - March 19, 2024 · 10pm PDT
Refund Policy
Contact the organizer to request a refund.
About this event
365 days 4 hours

Mobile eTicket
Approved International Coaching Federation (ICF) Program
Our DISC Certification Program is approved by the International Coaching Federation (ICF) for Continuing Coach Education (CCE).
On completing the DISC Certification Program, you have earned the following units recognised by the International Coach Federation (ICF):
Core Competencies – 4.5 Hours
Resource Development – 3.0 Hours
DISC Flow Malaysia website & online store is 𝗡𝗢𝗪 𝗟𝗜𝗩𝗘!
...𝙛𝙤𝙧 𝘼𝙇𝙇𝙔𝙤𝙪𝙧 𝘿𝙄𝙎𝘾 𝘾𝙚𝙧𝙩𝙞𝙛𝙞𝙘𝙖𝙩𝙞𝙤𝙣, 𝘼𝙨𝙨𝙚𝙨𝙨𝙢𝙚𝙣𝙩𝙨 & 𝙍𝙚𝙥𝙤𝙧𝙩𝙨 𝙍𝙚𝙦𝙪𝙞𝙧𝙚𝙢𝙚𝙣𝙩𝙨.
HRD Corp Claimable
This Programme is an approved HRD Corp (Malaysia) Claimable course. HRD Corp Training Programme Approval No:10001158115.
Become a DISC Certified Trainer
Online (Asia Pacific - Regional)
February 2023:
Tuesday 21 March 2023
Thursday 28 March 2023
Both sessions 8:30am-1pm HK/MY/SG Time . Attendance at both sessions required for certification.
Face-to-Face (Malaysia)
Quarter 2, 2023 - Enquire for details
8:30am-5:30pm. Venue TBC
Contact your local DISC Flow Master Trainers for Face-to-Face details:
Enhance Your Professional Skills
You will receive comprehensive training that will equip you with the knowledge and resources to be confident in your ability to apply DISC "practically" in any individual or team intervention.
Importantly, the certification will provide you with the versatility to craft solutions to meet a wide variety of organisational needs.
Deliver Real Benefits to the Organisation
DISC is a powerful and highly effective tool which, when used proficiently, can produce spectacular results.
As more and more organisations experience the benefits of bringing DISC to their employees, they are also recognising the importance of having certified professionals who can keep DISC alive within the company's culture.
Completing a DISC certification course signals a proven level of capability and knowledge — giving you the ability to tie DISC solutions directly to individual, team, and organisational goals.
Make Change Stick — For Good
For any business to develop and thrive, employee engagement and satisfaction is the key!
As a DISC Certified Trainer you will be the go-to person to drive and embed lasting changes in positive behaviour and communication at an individual, team and organisational level.
Following accreditation you will have at your disposal a suite of world class tools that will allow you to craft training solutions that include, Leadership, Management, Sales, Conflict and Team development.
DISC + Emotional Intelligence — A Powerful Combination
The DISC Flow® model has been purposely designed to be simple to understand and easy to apply. We've taken the tried-and-tested DISC model and combined it with the power of Emotional Intelligence to help people tap into their strengths and build better, stronger and more productive relationships.
What's involved?
Our DISC Trainer Certification is an online intensive training course where you will become confident and competent in the interpretation and practical application of the DISC model.
STEP 1
On completion of the course, delegates are equipped with the knowledge and a whole host of support resources to be confident in their ability to apply DISC "practically" in any coaching, consulting or training situation in the workplace.
STEP 2
Importantly, the certification will provide you with the versatility to craft solutions to meet a wide variety of organisational needs.
STEP 3
Upon successful completion of an examination you will be designated as a DISC Certiied Trainer.
STEP 4
DISC certification gives you a thorough understanding of the DISC behavioural model - the history of its development, validity and reliability, the administration process for creating and managing online profiles, and how to interpret the results of the various reports.
STEP 5
We teach the DISC Flow® model holistically, giving you a deep understanding of how it can be used to increase emotional intelligence and behavioural adaptability in the workplace.
STEP 6
DISC Flow® profiles are among the most scientifically valid and reliable DISC based products on the market. Our reports provide powerful insights and meaningful data to help people make more informed decisions and reach their true potential.
What's included...
To enable accredited trainers to introduce the DiSC Flow® model we make it simple and easy. Our Introduction to DISC Flow® Presentation, included within the certification package, provides you with everything you might need to confidently lead a training session on your own. The presentation is comprehensive and comes with power-point presentation, exercises and activities, fully scripted trainers guide and delegates workbook.
You also receive...
Your own personlised detailed DISC Profile
e-workbook and classroom materials
Access to an online Resource Pack full of useful tools and information
Option for Online Account for management of your "company branded" on-line DISC Profiles & Assessement for clients
Final Examination
DISC Accredited Trainer Certificate
Our professionally facilitated courses are fun, intuitive and you will learn all there is to know about the widely acclaimed range of DISC behavioural instrument.
Already DISC Accredited or a frequent user? We have something amazing for you too!
If you are a already frequent user of DISC assessments in the workplace or already an Accredited DISC Trainer, you may find that DISC Flow will offer a newer, more economical option, with personalised service and support from your very own DISC Flow Country Managers and Master Trainers in your own country in Asia Pacific, with access to free supplementary training resources and upgrades from basic DISC Flow assessments to higher level reports at marginal costs. We also offer refresher/up-skill programs for Accredited DISC Trainers who would like to use DISC Flow.
For more information, please contact your Master Trainers below.
Leona Wan
Leona is a passionate coach and facilitator. Her mission is to promote and sustain her clients' successes. She specializes in inspiring her clients to deliver their personal best. In her most recent appointments with MNCs, she supported her clients to excel in their leadership competencies and to engage their teams to deliver higher performance.
Leona is a Professional Certified Coach (PCC) with the International Coaching Federation (ICF), American Board of NLP Master Coach and a Certified Practising Accountant (CPA) Australia.
Leona believes that awareness and flexibility makes you the most influential person.
Leona draws from a corporate experience of over 30 years including senior leadership roles in frontline operations, financial services and external consultancy. Her philosophy is that people are the most valuable resources of an organization and leaders get result via their people. Her success is based on building positive relationship by focusing on resourcefulness and creativity of human potential.
Eric Toh
Eric is a seasoned executive coach, facilitator and business consultant with over 25 years' professional experience in Asia, Europe, USA and Australia.
Eric is a Professional Certified Coach (PCC) with the International Coaching Federation (ICF). He has been appopinted onto ICF Global D&I Committee (2022 - 2024). Eric has an MBA, USA and a BSc (Honours), Australia and started his career with KPMG Consulting in Australia.
With extensive experience with training and coaching assessments, Eric is a DISC Master Trainer with DISC Flow® and Master Trainer for Genos® International Emotional Intelligence (EI) Practitioner Accreditation programmes.
He is accredited in MBTI® Step II™, LEA360™ (Leadership Analysis Effectiveness) and official authorised trainer for Country Navigator™, Culture Wizard™ (both cultural and diversity profile assessments) and Implicitly® (Harvard University's Unconscious Bias Assessment). Eric is also a Human Resources Development Fund (HRDF) Accredited Train the Trainer (TTT) in Malaysia.
For more Information, we would love to hear from you:
HONG KONG: leona@discasiapacific.com (+852-9273 5058)
MALAYSIA: eric@discasiapacific.com (+60-17 644 6032)
SINGAPORE: eve@discaisapacific.com (+65-9236 8486)
DISC: Highly Regarded in the Global Workplace & Leadership
What does the package cost?
Regional Online Program Option 1:
MYR5,000 Online - Pay by Invoice (Direct Bank Transfer)
Registration Form (Malaysian Ringgit MYR)
Regional Online Program Option 2:
USD1,300 - Pay here on Eventbrite (Paypal or Credit Card)
Face-to-Face Program Option 3:
MYR6,000 In Person - Pay by Invoice (Direct Bank Transfer)
Contact your local DISC Flow Master Trainers for Face-to-Face details
Discounts:
15% Early Bird Discount (Two weeks before program commencement)
20% Discount for ICF Members & Certified/Trainers/HR Practitioners
For above discounts, use Eventbrite Promo Code on CheckOut:
Early Bird = Early-Bird
ICF, HR & Trainers = ICF-Trainers
(Discounts cannot be combined)
All attendees will also receive and complete a DISC Flow assessment before the program.
For Registration, Payment and/or Face-to-Face Program details, contact:
HONG KONG: leona@discasiapacific.com (+852-9273 5058)
SINGAPORE: eve@discaisapacific.com (+65-9236 8486)
MALAYSIA: eric@discasiapacific.com (+60-17 644 6032)