DISC Behavioral Studies - Level 1 Train-The-Trainer Certification, in Minneapolis/Saint Paul, MN

Monday, October 21, 2019 at 8:00 AM

-

Tuesday, October 22, 2019 at 5:00 PM (CDT)
Event Details
DISC Behavioral Studies - Level 1 Train-The-Trainer Certification Program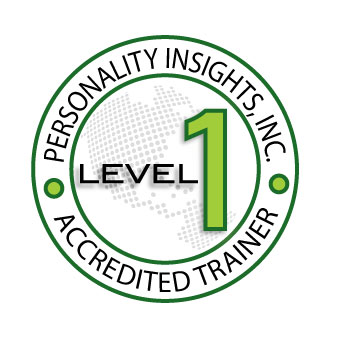 "Without a doubt, the best human behavior training I have ever experienced: high quality, concise and on target. This was an excellent return on my investment." 

Robert "Boomer" Brown, PhD, Miller-Motte College


Why you should be in the room for this program... If you ever looking for any of these;
Faster results

Better relationships

Higher levels of understanding

Quality of life
Have you ever found yourself in any of these situations?
Frustrated with people at work or at home?

Wondering what people around you are thinking? or

Scratching you head in confusion about the way people around you behave?

Felt unappreciated and stressed around others?
Chances are your answer to at least one of these questions is yes. Humans are described as "individuals" for a reason. We're all wired in different ways. So, it's not surprising that we behave in different ways. Figuring out what makes others tick can be challenging. Figuring out what makes you tick can be equally difficult.


"I wish I did this 6 years ago, because two days of training could have saved me 6 years of headache!"

S. Snyder MI (Principal)


What if you could use a human GPS as a guide to connect with and build relationships with others — by design rather than chance? What if you could gain insights into your own behavior and then modify it to get along better in different situations? Wouldn't life be better and easier? If, the answer to any of these questions is yes, the unique DISC Behavioral Studies - Level 1 Train-The-Trainer Certification Program is for you.
This unique program will give you the tools and insights you need to deal with others effectively and to heighten your own self-awareness. In the space of two days, you'll learn how to:
Cut to the core of human actions and interactions and draw conclusions

Use your conclusions to gain true understanding and

Build on understanding to achieve positive, productive COMMUNICATION.

"This program exceeded my expectations. It provided incredible insights that I can use not only in business, but in all aspects of my life."

Kathy Marcio


The objective of the Behavioral Studies Level 1 training modules is to enable participants to DISCOVER, EXPERIENCE and APPLY the four temperament DISC Model of Human Behavior in order to enhance and positively impact their success both personally and professionally.
In this interactive training program, you will:
Receive a Comprehensive Training Resource Notebook/Manual and Gift Package

Learn how to get better results in your personal and professional life

Enjoy a fun and interactive atmosphere of learning

Develop communication skills that will enhance any relationship

Discover practical tools that are proven, effective and easily applied

Enhance your team dynamics and client relationships

Learn how to administer and use a Discovery Report online personality test

Learn about topics such as communication skills, strengths and relationship development

Become a Certified Human Behavioral Consultant in Association with Personality Insights, Inc.

And you will also meet Robert Rohm, the President of Personality Insights
You will Discover more than you ever thought …
You will Experience a wonderful two days of learning and "aha" moments
You will be able to Apply what you learn right away for more success in your professional and personal life!
If you want more information, keep reading or just click to attend. We have limited seating, first come first served.

---
Equip yourself for success in all of your relationships, business and personal
You'll start your DISC training by learning why people often behave the way they do. Then, you'll learn how to apply key behavioral insights to understand and deal with human behavior. The final result? You'll walk away equipped to make a positive impact on your relationships, whether they are professional or personal.
During Level 1, you'll cover the DISC Model of Human Behavior. This framework is based on the work of William Marston, a psychologist and inventor who developed DISC theory in the early 20th century. Marston argued that people largely behave in predictable patterns. He illustrated his theory with a chart that showed basic personality profiles divided among four quadrants. Today, people still rely on Marston's ideas to understand themselves as well as to analyze and respond to how others think, feel and act.
What will you get from this program, what will be your take away?
Both your business and personal relationships will benefit
At the end of the training, you'll be equipped to discover, experience and apply key behavioral insights into how and why people often behave the way they do. More specifically, this program is designed to empower and equip you to:

Achieve better results and more effective communication in your personal and professional life 

Develop communications skills that will enhance your relationships

Apply proven practical tools

Increase your understanding of your priorities, strengths and the strengths of others.

Improve interactions and develop a common language

Administer and use a Discovery Report (an online personality assessment)

Understand yourself and others at a deeper level

Get better results when interacting with family (teens and in-laws included) and friends

Experience fun and excitement in all of your relationships

Achieve greater peace and harmony at work and at home

Increase your business or professional clientele through greater connection and communication

Enhance team dynamics and client relationships

Build on your effectiveness as a team leader or manager

And much more...
Plus, you'll qualify as a DISC Level 1 Accredited Trainer in association with Personality Insights. (See Disc Certification for  more information about this accreditation.)
Who Should Attend? 
Anyone who wants to become a more effective communicator in both their professional and professional lives. People who have attended in the past include project officers, project managers, team leaders, CEO's, pilots, entrepreneurs, teachers, human resource managers, parents, trainers and coaches.

"What my staff needed was to communicate, what I found out was I needed to do it too. I was very excited to find out the strengths in others and myself. I was able to put the right person where they worked best. Time and money were saved. With better understanding, less stress. I recommend this training for everybody that interacts with any people."

Sue Koehne (Administrator, Northland Orthopedics Association)


What will happen during the course?
This is a fast-paced, interactive program that combines instruction, practical exercises and in-depth discussions. However, the material you cover will be far from dry. You and your fellow participants can expect to combine serious learning with fun as you complete the course work.

Who will lead the program?
Your instructor is Robert Sjoberg, born in Sweden, a seasoned around-the-world Airline pilot, Thought Leader and Master Trainer with Personality Insights,Certified Human Behavior Specialist, with a plethora of life experience. He will show; how to communicate across cultures when connecting matters. Robert started as a coach/instructor in 1977 at the age of 15! and never stopped. Whether it was Martial Arts, Swimming or Flight instructing, he has been involved with Personality Insights for over 14 years, he loves to teach and it shows! He's a natural!
Combining his unique application of the DISC Model of Human Behavior and his expertise in people's behavior, Robert provides the keys to recognizing what certain behaviors indicate and how to interpret and respond to the information. And as a bonus… you will have fun!

"Mr. Sjoberg has a winning personality and really lightens up the class room. It was a pleasure having him here. He is by far one of the most interesting and entertaining Consultants that I have had the pleasure to work with during my 8 years in this business."

Carl Smith (Personality Insights Inc. Atlanta GA)


---
Follow-on Training
As you apply your DISC Behavioral Studies Training, you may develop even greater interest in understanding the implications and applications of the DISC Model of Human Behavior. If so, you will be eligible to attend the two-day Advanced Behavioral Studies Training Program. This course focuses on team building, leadership and conflict resolution.
Why us?
Personality Insights Inc., offers training that is unlike anything you have ever experienced when it comes to the DISC Model of Human Behavior. When it comes to Discovering, Experiencing and Applying the DISC Model of Human Behavior people often share with us that our unique approach to training provides more depth and real time application in their professional and personal life than any other training they have every experienced in their life! We think you will agree!
Final words on this program's great value
Take advantage of this unique opportunity to discover, experience and apply behavioral insights to build positive, effective personal and professional relationships. The regular investment tuition is $2,997.00. But, consider the positive impact of improving the way you relate and communicate with others on the job and in your personal life, and the value is PRICELESS!
Still have questions about the DISC Behavioral Studies - Level 1 Train-The-Trainer Certification Program? If so, don't hesitate to contact me.
Be Great!
Robert
Do Life Better
(901)-210-4656
robertasjoberg@gmail.com
---
---
---
FAQs
Are there any prerequisites?
Yes. You must be able to read, write and speak English. Plus, you must be 18 years old or older.
What are my transportation/parking options for getting to and from the event?
If you drive, the hotel has plenty of parking. If you fly in, they have a shuttle service to and from the airport, call 952-876-0100 for shuttle service when you land at Minneapolis, Saint Paul International airport. (MSP)
What's the refund and Cancellation Policy?
Occasionally unforeseen events interrupt even the best-laid plans. If something happens that requires you to change your schedule, you may cancel your registration and sign up for a future training event. However, the following restrictions apply:
There is no refund for Early Bird Rate registrations, but there might be a chance to rebook, please ask if need be.

There is a charge of $597 for Regular Rate, Executive Rate and Refresher Rate registrations.
If you must cancel, please feel free to contact Robert to discuss the Cancellation Policy.
Do I have to bring my printed ticket to the event?
No, but if you don't, just bring an ID, so we know you are you. ;) 
What do I need to bring to the event?
Not much, but something to write and take notes on. (Notpad, tablet etc) and something to write with (Pen, stylus, finger etc.) We recommend to bring a sweater or something, sometimes these rooms tend to be a little cold.
How can I contact the organizer with any questions?
robertasjoberg@gmail.com Subject line: Event October 2019
or text/call (901)-210-4656
Save This Event
When & Where

Courtyard by Marriott Bloomington by Mall of America
7800 Bloomington Avenue South
Bloomington, MN 55425


Monday, October 21, 2019 at 8:00 AM

-

Tuesday, October 22, 2019 at 5:00 PM (CDT)
Add to my calendar