Description
The DISC profile includes four components, devised by psychologist Dr. William Moulton Marston as a tool to measure behavioral styles. It is a personal assessment tool used by individuals to analyze their behavioral patterns and how they could influence their overall personality at work and at different levels in the career ladder. It helps manage productivity, stress and other behavioral patterns to be assessed based on few traits of individuals. It helps an individual understand his/her own motivations better, what level of stress is constructive for them, what are the conflict resolution styles and problem-solving techniques that fit well. It also helps one understand the behavioral patterns of those whom we deal with in business world in day to day life.
DISC profile includes following components:
1. Dominance (DISC)
Confidence is the key trait in such a person falling into this category. A strong emphasis on achievement of results and goal orientation are the common practices of these individuals. They can be straightforward and blunt, open towards diversity, and adventurous by nature accepting any challenging situation coming their way with aplomb.
2. Influence (DISC)
These individuals are said to be great leaders. They influence others and take charge of situations but they take along everyone with them. Relationship-oriented and persuasive by nature, these people are very collaborative and see the brighter picture in any situation.
3. Steadiness (DISC)
Individuals falling in this category are persistent in behavior. They don't like to be rushed or pushed beyond limits as they exhibit a calm demeanor. They emphasize on cooperation, and to a certain extent, they do adjust to unusual circumstances, dealing with things in a subtle manner. They are very supportive of their colleagues and subordinates and are humble and down to earth.
4. Conscientiousness (DISC)
The name says it all; these individuals are focused on accuracy and quality of work produced along with emphases on their competencies. They enjoy being trusted and given responsibility as it means for them independence and also they are detail-oriented individuals with sound reasoning and expertise. They are perfectionists who dread being wrong.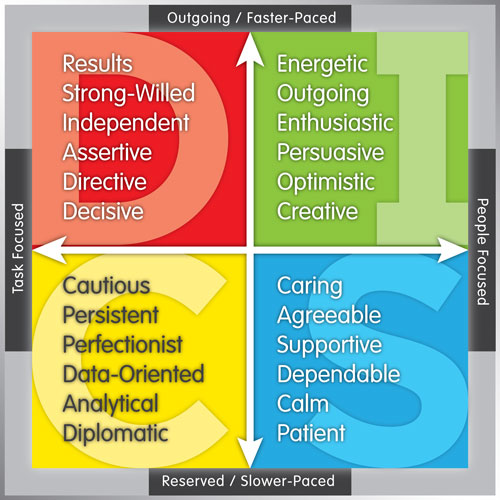 Each person is a unique mixture of these 4. Usually, 1 or 2 of the characteristics are more obvious.
How can DISC be used?
Change Management - Learn behaviors for transforming resistance into receptivity.
Coaching & Mentoring - Discover how to help others consistently achieve their potential.
Conflict Resolution - Bring clarity and understanding to otherwise disparate behavioral styles.

Customer Service - Teach administrative and customer support teams how to dependably provide stellar service and interaction regardless of behavioral style.
Hiring & Selection/Benchmarking & Comparison - Empower business owners, managers and HR professionals with the ability to compare new applicants to desirable job-performance benchmarks.
Leadership & Management Skill building - Empower your organization's leaders with the ability to get the most out of their teams by dependably and genuinely motivating their staff.
Sales Training - Drive revenue by teaching even the most novice or experienced sales professionals the keys to identifying and harnessing identifiable behaviors in their prospects.
Teambuilding - Create your teams based on compatible skills and traits, not just generic ideas of balance.
Productivity

- Plan meetings and projects with differing behavioral styles in mind to ensure best outcomes.
Here's how DISC Behavioral Profiling can help your business….
►You can be more effective when you understand how and why you react in certain ways in different circumstances.
►By understanding the needs of others and what motivates them you can be a more effective leader, team player or salesperson.
►When you maximize the strengths and compensate for the weaknesses in individuals you can create a more productive team.
►If you hire the right people for the right job based on the behavioral style required for that job, you will reduce employment and training costs.
►When you communicate with others on their 'wavelength' you will create a harmonious work environment with less stress.
Using DISC coaching to develop people in business situations:
BEHAVIOURAL COACHING
The Standard DISC Behavioral Profile is a powerful tool which helps you understand your own behavior and that of others. The initial procedure is simple and takes about 10 to 15 minutes. First you complete a Questionnaire containing 24 questions. From this we produce a 7 to 10 page profile report. One of our experienced and certified coaches will then talk you through your report, explaining your % mix of the 4 different styles that make up your natural behavior as well as the behavior that you adopt in your work place. They will explain your general style and your management style, advantages and disadvantages of your communication style, what motivates you, how you make decisions, organize and plan. Most importantly our coaches will teach you how to use your DISC knowledge to improve yourself as managers and leaders, your team, your salespeople, your relationships, your confidence, and your recruitment process.
TEAM COACHING
Get Standard DISC Profiles produced for each of your team members. We then combine the results to produce a Team Report which will allow you to understand the dynamics of your Team. We will provide a motivational group coaching session so your team learn how to use DISC, maximizing your team's potential.
SALES COACHING
Through understanding their own DISC style salespeople can learn to communicate better and improve their sales relationships. We will teach you the psychology a buyer goes through dependent on their DISC styles and how to adapt your DISC sales style to build quick effective trust and rapport, identify your customer's needs and close the sale.
WORKPLACE RELATIONSHIP COACHING
Relationship Reports are a textual description of the specific relationship between two individuals. It emphasizes the areas of agreement, as well as areas of divergence and coaching, then allows the pair to form a positive working relationship.
JOB PROFILE COACHING
Did you know that 80% of people are hired on the basis of their skill and fired on the basis of their behavior? Job Profile Coaching provides you with a report and the knowledge to understand what kind of person is required for a particular job before you hire anyone. The goal is to reduce cost, reduce stress, reduce staff turnover, and end up with a harmonious and productive work environment.
The key to success is actually understanding your own behavior, its effect on others and how and when to change your own behavior to get the best from others...
We offer DISC profile reports associated to each category above and a range of associated training, group or one-on-one coaching to help you and your team get the best out of your DISC knowledge and newfound leadership, sales or recruitment tool...
If you would like ActionCOACH Business Coach Ted Hair to help you DISCover the team you have always wanted and how YOU can get much more out of your professional and even personal relationships input your details below and one of our team will get back to you within 48hours to arrange your free telephone consultation. Alternatively, contact Danielle Senyk at (832)401-8403.