Description
HELP WITH DISASTER RELIEF IN PUERTO RICO
Our fellow U.S. citizens in the Caribbean desperately need help. Hurricanes Irma and Maria recently tore through Puerto Rico, leaving behind tremendous devastation. In what's being called a humanitarian crisis, almost the entire island is without electricity, and most people have limited access to drinking water and food. Our hope is to bring as much help as we can—as soon as we can—so Puerto Ricans can get back on their feet.
Two upcoming recovery trips will bring healing and hope to our fellow U.S. citizens in need. Teams will travel to Cayey from October 28 through November 4 and from November 4 to 11 to help rebuild, bring recovery, and show compassion to people who've lost nearly everything.
The cost for the trip is $899 per person and does not include airfare. This price covers lodging, ground transportation, and the materials needed to do the rebuilding work. A thorough supply and packing list will be provided prior to your departure.
How You'll Serve
On our recovery trips, you might be involved with these types of projects (subject to change):
Help rebuild homes and other structures.

Clear debris.

Provide help to families and individuals impacted by the hurricanes.

Assist in other ways as needed.
Safety
The safety of your group is a top priority for us, as we're sure it is for you. In all the areas we serve, we take extra precautions to make sure you or your group is as safe as possible. Guided by our local, experienced ministry staff partners, we avoid situations that are inherently dangerous. We're also proactive by choosing lodging facilities and transportation that are safe and reliable. We're available to answer further safety questions.
Our Partners
For the past 10 years, our partners, Group Missions International, has worked with the city municipalities of Cayey and Ponce, sending hundreds of people to help elderly and disabled people with home repair.
Pricing
The mission trip fees are $899 per person.
Payment 1: A non-refundable deposit of $100 per person is required to reserve your space.
Payment 2: Balances are due ASAP.
Prices do not include airfare or trip cancellation insurance.
Fees are in U.S. dollars and can be paid by check, money order, or credit card.
Sample Itinerary
Saturday—Arrive at San Juan International Airport (SJU); transport to lodging facility.
Sunday—Begin recovery projects.
Monday–Friday—Provide recovery services as needed.
Saturday—Depart for the airport; fly home.
Need to Know
Because Puerto Rico is a U.S. territory, a passport is not required to travel there if you're a U.S. citizen.

Be up to date on all standard vaccines, such as tetanus, mumps, measles, and rubella. Hepatitis A vaccine is also recommended. Be sure to bring bug spray (at least 25% DEET) as there are mosquito-borne illnesses present in Puerto Rico, including Dengue Fever, Chikungunya, and the Zika virus.

Fly into the San Juan Luis Muñoz Marin International Airport (SJU).

Ground transportation costs (including tolls and gas) are included. Meals and lodging are included and will be provided by a local church.

Spanish and English are the primary languages.

Bring additional money for donations.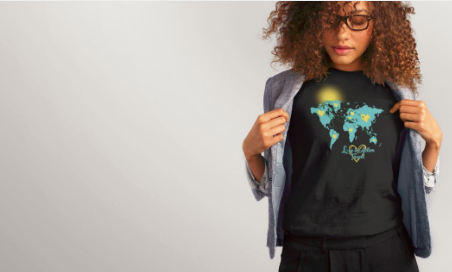 Support Putting #LoveInAction
$21.99
We partnered with Teespring to create some awesome merchandise to help raise funds for this trip. Show your support for Love in Action Travel and look good wearing it.
*Love in Action Travel, LLC reserves the right to cancel any trip because of inadequate enrollment or legitimate concerns with respect to safety, health, or welfare of participants. If we cancel a trip prior to departure, or if we cancel the trip in progress, you will receive a pro-rated refund based on the number of days not completed. Love in Action Travel, LLC will not be responsible for any refund for non-refundable airline tickets or for any airline tickets purchased by the passenger.