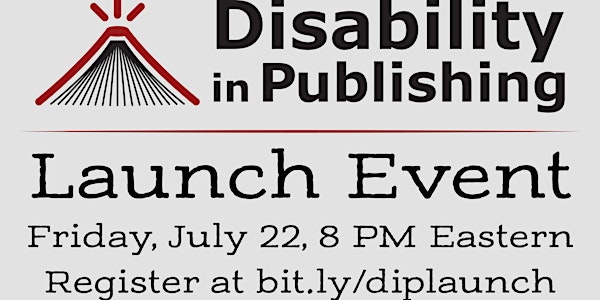 Disability in Publishing - Virtual Town Hall Launch Event
Learn about Disability in Publishing's goals, meet the founders, and ask questions.
About this event
A new organization run by, and for, disabled publishing professionals is set to officially launch with a virtual Town Hall. The event, coinciding with Disability Pride Month, will also introduce its founding members, who will be present to discuss the organization's goals and mission, and to respond to questions from the community. The founding members are comprised of industry professionals from various facets of publishing, including literary agencies and 'Big 5' publishers.
Members who will be present for discussion during the event include Ismita Hussain (Agent at Great Dog Literary and DiP's External Relations Lead), Sarah Fisk (Assistant Agent at Tobias Literary Agency and DiP's Programming Lead), Erin Madison (Marketing Manager at Penguin and DiP Communications Team), Victoria Henderson (Subsidiary Rights and DiP Operations Lead), Emily S. Keyes (Literary Agent at Keyes Agency and DiP Communications Team), Madison Parrotta (Editor & Sensitivity Reader and DiP Communications Team), and Crystal Turnau (Marketing Professional and DiP Communications Team)
Watch live on YouTube or register here for reminder emails.
ASL Interpretation sponsored by Free Expressions Seminars and Literary Services (https://www.free-expressions.com/)