Join a conversation with Emily Ladau, author of the soon-to-be-released book Demystifying Disability
About this event
**MORE TICKETS ADDED - no longer sold out**
The Disability Book Series is back! We're kicking things off with Emily Ladau, Editor-in-Chief of Rooted in Rights and author of the soon-to-be-released book Demystifying Disability: What to Know, What to Say, and How to be an Ally.
How to Join
This event is free and will be on Zoom. We will send the Zoom access link to everyone who registers in advance for this program. Registration closes on 10/7 at 4 pm.
About Emily Ladau
Emily Ladau is an internationally known disability rights activist, writer, and speaker. She is the editor in chief of the Rooted in Rights blog, a platform dedicated to amplifying authentic narratives of the intersectional disability experience. She also co-hosts The Accessible Stall, a podcast about disability issues. Ladau's writing has been published in outlets including the New York Times, HuffPost, CNN, Self, Salon, Vice, The Daily Beast, Variety, and Marie Claire Australia. Her work is also included in the Criptiques Anthology and About Us: Essays from the Disability Series of the New York Times. She has served as an expert source on disability issues for outlets including NPR, Vox, Washington Post, and Teen Vogue, and has been featured in a range of press outlets including Newsday, BuzzFeed, CBS news, and US News & World Report. Her book, Demystifying Disability, can be pre-ordered here: https://bookshop.org/books/demystifying-disability-what-to-know-what-to-say-and-how-to-be-an-ally/9781984858979
More about Demystifying Disability
The book is an approachable guide to being a thoughtful, informed ally to disabled people, with actionable steps for what to say and do (and what not to do) and how you can help make the world a more accessible, inclusive place.
People with disabilities are the world's largest minority, an estimated 15 percent of the global population. But many of us--disabled and nondisabled alike--don't know how to act, what to say, or how to be an ally to the disability community. Demystifying Disability is a friendly handbook on the important disability issues you need to know about, including:
How to appropriately think, talk, and ask about disability
Recognizing and avoiding ableism (discrimination toward disabled people)
Practicing good disability etiquette
Ensuring accessibility becomes your standard practice, from everyday communication to planning special events
Appreciating disability history and identity
Identifying and speaking up about disability stereotypes in media
Authored by celebrated disability rights advocate, speaker, and writer Emily Ladau, this practical, intersectional guide offers all readers a welcoming place to understand disability as part of the human experience.
Accessibility
This event will have both ASL interpreters and live CART captioning services.
For any additional accessibility needs, please contact us at DisabilityBookSeries@gmail.com or call (415) 546-1333 and leave a message for Peter at extension *309.
About the Disability Book Series
The intent of this book reading series is to highlight authors with disabilities, disabled writers, and to interrogate ableism and societal conceptions of disability. We welcome any and all suggestions for future authors, free venues in the Bay Area, and feedback as to how our events can be more accessible, inclusive, or generally better.
IMAGE DESCRIPTION (TOP IMAGE):
At the top of the page, a banner image split between an image of the cover of Demystifying Disability on the left and a headshot of the book's author, Emily Ladau, on the right. First, the description of the book cover image: A teal background with 6 rows of illustrated people of diverse races, gender identities, body types, and visible/non-apparent disabilities. In the center of the cover is a dark blue box with cream colored text that reads: "Demystifying Disability: What to Know, What to Say, and How to be an Ally." At the bottom in dark blue text is the author's name, Emily Ladau. Click here for descriptions of each row.
Second, the description of Emily's headshot: A smiling white woman with curly brown hair resting on her shoulders. She is sitting in a power wheelchair. She is wearing glasses, silver flower earrings, a silver bracelet, a silver ring with a green stone, and a black dress with a red and green floral pattern. A peacock feather tattoo is visible on her wrist, which is resting on the joystick of her wheelchair.
IMAGE DESCRIPTION (BOTTOM IMAGE):
At the bottom of the page, there is a banner image that is solely the cover of Demystifying Disability.
Image Descriptions courtesy of the author, Emily Ladau, and Kaye Publicity.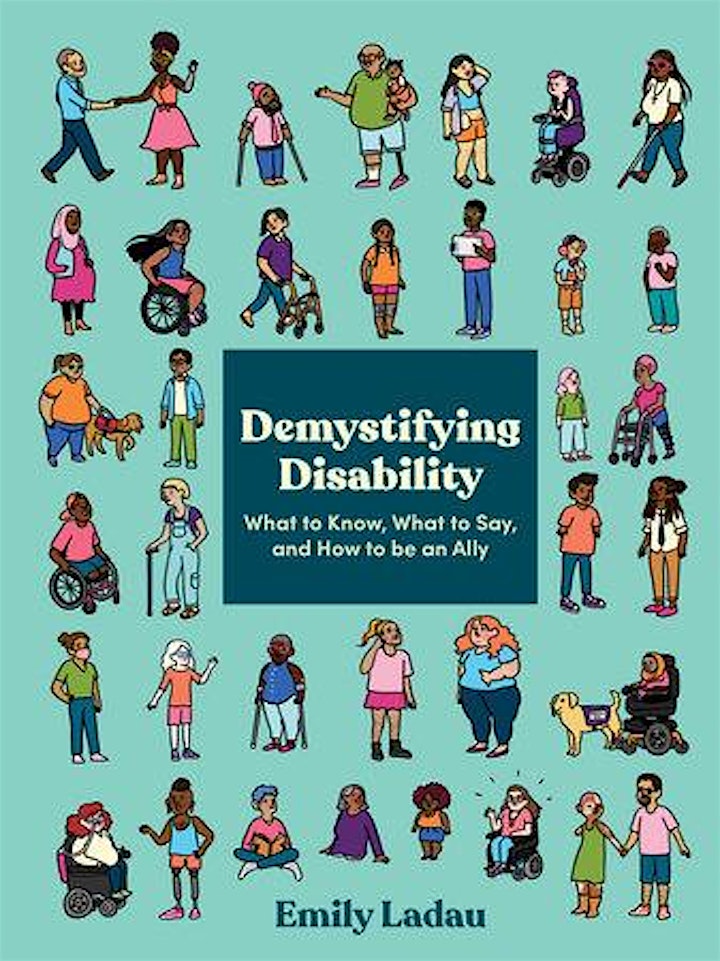 Organizer of Disability Book Series: Demystifying Disability with Emily Ladau
San Francisco Senior and Disability Action mobilizes and educates seniors and people with disabilities to fight for individual rights and social justice. Through individual support and collective action, we work together to create a city and world in which seniors and people with disabilities can live well and safely.