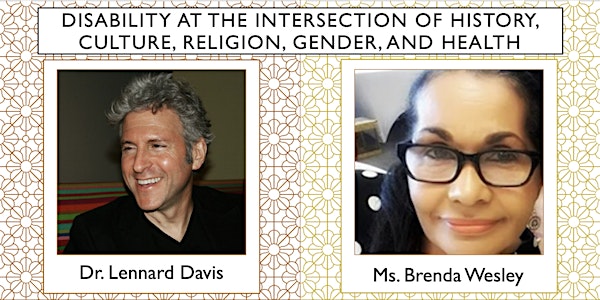 Disability at the Intersection of Hist., Culture, Rel., Gender, and Health
Location
Marquette University
1355 West Wisconsin Avenue
Milwaukee, WI 53233
Refund policy
Contact the organizer to request a refund.
Eventbrite's fee is nonrefundable.
This conference aims to encourage open discussion and better understanding to break down the stigma associated with disabilities.
About this event
March 3, 8:30 AM - 7:00 PM (in-person)
March 4, 10:00 AM - 5:45 PM (online)
Disability is a living human experience. It is not merely a medical or biological phenomenon, and it is not only the subject of physical sciences. Perspectives on disability have evolved historically, theologically, and medically. Academics and disability activists have increasingly come to view disability as more than an individual medical diagnosis, often highlighting it as an issue of social justice and equity. As such, there is a need for further collaboration between the sciences and the humanities to deepen our understanding of disability in all of its complexities. Using interdisciplinary approaches to examine disability as a fluid and dynamic condition can help us understand it as an identity and as a social construct.
This conference aims to generate inclusive dialogues and interdisciplinary interactions between academia, community organizers, social and legal activists, health care service/providers, and religious leaders. The conference will serve as a platform to foster collaboration between various groups engaged in understanding and improving disability conditions.
Our conference is headlined by keynote speakers Dr. Lennard Davis and Ms. Brena Wesley.
Dr. Lennard Davis is a Distinguished Professor of English, Professor of Disability and Human Development, and Professor of Medical Education at the University of Illinois at Chicago. Additionally, Dr. Davis is the director of Project Biocultures, a think-tank devoted to studying the intersection of culture, medicine, biotechnology, the biosphere, and disability. Dr. Davis has spoken on his experience of childhood in a deaf household and has written extensively on issues of disability and human rights. His current research focuses on issues of disability, literary and cultural theory, genetics, race, identity, and biocultural issues.
Ms. Brenda Wesley served as the Director of Education and Outreach for the National Alliance on Mental Illness of Greater Milwaukee for 14 years before leaving to start her own mental health consulting agency. In response to troubling signs of growing mental health challenges in the African American community, in 2007 she developed an African American Outreach Program; ASK (Access, Support & Knowledge). She has received numerous awards including the first Andy Werlein Advocate of the Year Award from Mental Health America of Wisconsin, the 2013 Multi-Cultural Outreach Award from the National Alliance on Mental Illness, and the 2016 Public Service Award from the National Association of Social Workers. She was recognized by the State Assembly and received the 2015-16 Hometown Hero Award in addition to being recognized with a proclamation from Congresswoman Gwen Moore in 2015-2016. In addition, Brenda is the playwright and director of Pieces: In My Own Voice, a theatrical production that depicts what it is like to live with a mental health diagnosis.