Description
"Top 10 Shows To See" — TimeOut Los Angeles
"Best Events" — DoLA
"Awesome" — WeLikeLA
The New Bad Boys of Magic have never performed on America's Got Talent or Penn & Teller: Fool Us. They're too badass. But...they know lots of magicians who have!
Join the Bad Boys for a night with the world's best performers. It's magic, comedy, drinking, and definitely NSFW.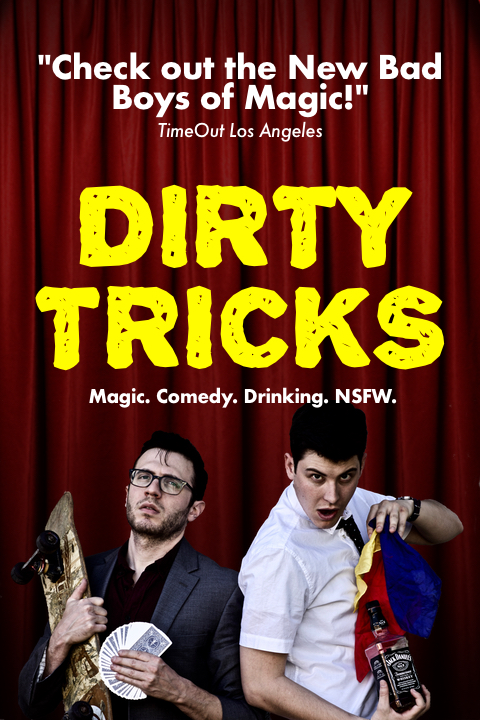 EVERYTHING YOU NEED TO KNOW
Age: 21-and-over only. (Your kids are welcome to drink at home, though.)

Drinks: To ensure everyone is on the same level as us, we enforce a strict 12-drinks-per-person minimum. (Seriously, though, Three Clubs wants you to buy a couple drinks while you're there. Help this awesome venue stay in business, why don't ya?)
Parking: There is limited meter parking up and down Vine, but remember: you can get way drunker if you take Uber or Lyft. (Use whichever one you're not banned from.)
Doors: Doors open at 7pm. Get there then. An amazing Magic Castle magician will perform miracles right at your table. They're much classier than us.
Show: The stage show starts at 8pm and goes until about 9:30. Prepare to have your mind blown.
Contact: Send an email to info@badboysmagic.com, and we'll answer your question—if you're lucky.
SEPTEMBER 15TH LINEUP

POP HAYDN (7-time Magic Castle Magician of the Year)

NICK PAUL (Netflix's Magic For Humans)
Puppety by PAM SEVERNS (Jim Henson Company)
Comedy singer/songwriter KIRA MORRISON
Bagpipe-playing unicyclist COLIN CAMPBELL
Close-up magic by LAURA CASTILLO (Magic Castle Strolling Magic Champion)
Hosted by THE NEW BAD BOYS OF MAGIC
Thank you for supporting us, unlike our fathers.
Date and Time
Location
Refund Policy