Description
"Top 10 Shows To See" — TimeOut Los Angeles
"Best Events" — DoLA
"Awesome" — WeLikeLA
The New Bad Boys of Magic have never performed on America's Got Talent or Penn & Teller: Fool Us. They're too badass. But...they know lots of magicians who have!
Join the Bad Boys for a night with the world's best performers. It's magic, comedy, drinking, and definitely NSFW.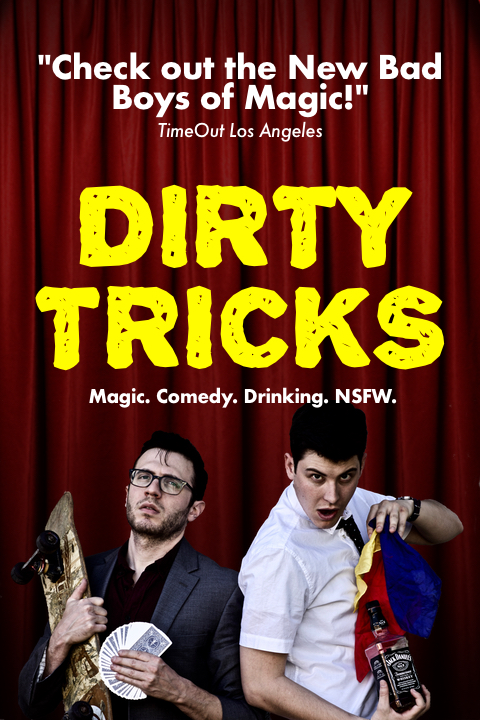 JULY 21 LINEUP
Michael Rayner (The Late Late Show With James Corden)
Eric Buss (Jimmy Kimmel Live!)
Simon Coronel (Penn & Teller: Fool Us)
Madeline Wager (UCB)
Pre-show magic by Frankie Foti (Magic Castle)
Hosted by The New Bad Boys of Magic
EVERYTHING YOU NEED TO KNOW
Age: 21-and-over only. (Your kids are welcome to drink at home, though.)

Drinks: To ensure everyone is on the same level as us, we enforce a strict 12-drinks-per-person minimum. (Seriously, though, your ticket is cheap...buy a drink or two.)
Parking: Park for FREE at Wild Card Boxing behind the Three Clubs. Or pay for parking. We don't care.
Doors: Doors open at 7pm. Get there then. An amazing Magic Castle magician will perform miracles right at your table. They're much classier than us.
Show: The stage show starts at 8pm and goes until about 9:15. Prepare to have your mind blown.
Contact: Send an email to info@badboysmagic.com, and we'll answer your question—if you're lucky.
Thank you for supporting us, unlike our fathers.