Description
"Best Events" — DoLA
The New Bad Boys of Magic have never performed on America's Got Talent or Penn & Teller's Fool Us. They're too badass. But...they know lots of magicians who have!
Join the Bad Boys for a night with the world's best performers. It's magic, comedy, drinking, and definitely NSFW.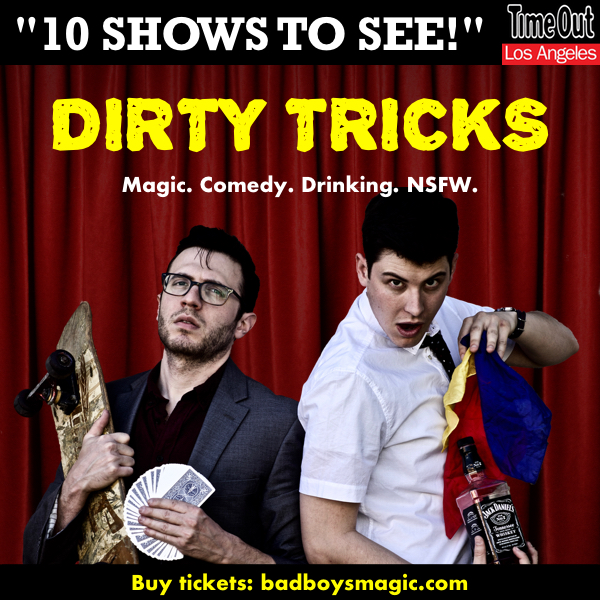 Age: This is a 21 and over show. We aren't allowed near kids ever since the lawsuit.
Drinks: To ensure everyone is on the same level as us, we enforce an 8-drinks-per-person minimum. (Seriously, though, your ticket was $10...buy a drink.)
Parking: Park for FREE at Wild Card Boxing behind the Three Clubs. Or pay for parking. We don't care.
Doors: Doors open at 7pm. Get there early. An amazing Magic Castle magician named Lauren Cohen will perform miracles right at your table. She's much classier than us.
Show: The stage show starts at 8pm and runs about an hour. Prepare to have your mind blown.
Contact: Send an email to info@badboysmagic.com, and we'll answer your question—if you're lucky.
Thank you for supporting us, unlike our fathers.
---
February's lineup (subject to change) will feature:
The Sentimentalists (On tour from Canada!)
David Kovac (Magic Castle)

Ithamar Enriquez (Lady Bird, Key & Peele)

And close-up by Lauren Cohen (ABC's Nightline, CollegeHumor)

Hosted by The New Bad Boys of Magic (Daniel Donohue & Eric Siegel), two comedians and magicians who have been seen at Upright Citizens Brigade, Second City, iO, and the Hollywood Fringe Festival.