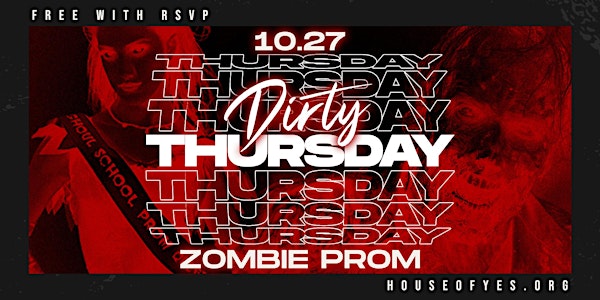 Dirty Thursday: Zombie Prom
House of Yes presents a special Halloween edition of Dirty Thursday with… Zombie Prom! Free with RSVP | $10 Without RSVP
When and where
Location
House of Yes 2 Wyckoff Avenue Brooklyn, NY 11237
About this event
Dying to party? Come dance your brains out. This is going to be a Night to Dismember.
Rise from the dead and dress in your best decaying decadance for this special edition of Dirty Thursday - Zombie Prom.
: : : LOOKS : : : bloody brain-eating baddies. gorey ghouls in gowns. terrifying tattered tuxedos and tiaras. Prom court crowns. Staggering students, cannibal coaches and flesheating teachers. See more inspiration HERE.
🎖 Cash Prizes for best undead looks and Zombie Prom Royalty! 👑
::: MUSIC :::
: : : EXPERIENCES : : :prom pics · brains and beauty bar · blood rituals · undead cheerleaders, jocks, geeks, teachers, and students. games. prizes. undead nonsense.
FREE with RSVP | $10 Without RSVP | 21+
***We love to give free drinks to people in our favorite costume/looks, or those who make us laugh or those who have crazy amazing dance energy. BRING IT.***
YES, we have tables!- contact Reservations@houseofyes.org to book yours 🍾
Subscribe to our email list for first access to events & tickets: bit.ly/YESEMAILS
* * * SAFER SPACES POLICY * * *
House of Yes is a space for everyone to feel welcome. We have a zero tolerance policy for harassment, unwanted touch, and discrimination. Always ASK before touching anyone at our events. If someone is making you uncomfortable, speak to a security guard or ask for a manager. We will believe you, and we will help. All restrooms in our venue are gender neutral. The entrance to the venue is ADA accessible. Strobe lights are used during performances and parties. Find out more at houseofyes.org/SAFER