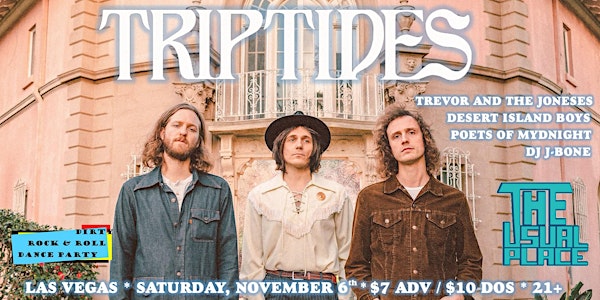 Dirty R&R Presents Triptides, Trevor and the Joneses, Poets of Mydnight
Dirty R&R presents a night of psychedelic and garage rock bands featuring Triptides (LA), Trevor and the Joneses, DI Boys, Poets of Mydnight
When and where
Location
The Usual Place 100 South Maryland Parkway #suite 110 Las Vegas, NV 89101
Refund Policy
Contact the organizer to request a refund.
Eventbrite's fee is nonrefundable.
About this event
Dirty R&R presents a night of psychedelic and garage rock bands featuring Triptides from LA. Poets of Mydnight (featuring Jason Tryp + former members of the Night Times) from Riverside, CA. Local support by Trevor and the Joneses playing their first concert in 3 years, and Desert Island Boys.
BANDS
TRIPTIDES - West coast psychedelia trio from LA on Greenway Records, Hypnotic Bridge Records
https://www.facebook.com/Triptides
https://triptides.bandcamp.com/
TREVOR AND THE JONESES - Psychedelic folk garage rock from Las Vegas
https://www.trevorandthejoneses.com/
DESERT ISLAND BOYS - 3 piece desert surf punk from Las Vegas
https://linktr.ee/Desertislandboys
POETS OF MYDNIGHT - Psychedelic garage rock from Riverside, CA
DJ J-BONE spinning all vinyl between the band sets
Saturday, November 6th
8:30PM
$7 Advance Tickets
$10 Day of Show
21+
Advance Tickets available at dirtyrockroll.eventbrite.com or Day of Show at the door.
TRIPTIDES
Among the newest generation of bands in the tradition of West Coast psychedelia, Triptides have blossomed into the role of elegant adventurers.
Led by guitarist, keyboardist and singer Glenn Brigman, with drummer Brendan Peleo-Lazar and bassist/guitarist Stephen Burns, the trio is continually discovering their sound through a complex map of familiar influences and bold choices in tonality, structure and texture.
This is a transformation long in the making. Starting in 2010 in the college town of Bloomington, Indiana, Brigman was making albums as Triptides with roommates and friends in a raw, Beach Boys-meet-Cleaners-From-Venus cassette-induced haze. Their albums Psychic Summer, Sun Pavilion and Colors made a mark and paved the way for greater things.
As the band moved West, so did their influences, and Los Angeles brought out a more sophisticated element in Triptides. Doors-inspired organ flourishes and driving, Stereolab-esque movements melded with the spirit of The Byrds in the Fifth Dimension to bring a potent melodic punch in the form of 2017's Afterglow and 2018's Visitors. All the while, the group developed their live sound touring and playing festivals in the US and Europe. 2018 also brought about Brigman's collaboration with L.A.'s Samira Winter. Triptides and Winter created the tropicália-inspired Estrela Mágica and toured the US, now with Burns and Peleo-Lazar bringing an exciting new dynamic to the band.
As a trio on stage and in the studio, Triptides have opened up a new sonic world. Their live sound is bold, dynamic, synchronized chaos. On their records, they are adventurous and surprising—winning Shindig! magazine's Single of the Year with the undeniably heady "Nirvana Now"—and forging a unique array of other singles throughout 2019 and 2020.
Triptides' new LP Alter Echoes, forthcoming from the acclaimed Alive Naturalsound Records, captures the trio at their strongest yet: at Hollywood's Boulevard Studios—a room that has experienced sessions from The Standells' Dirty Water, Pink Floyd's The Wall, and Steely Dan's Aja. That history and spirit is gloriously evident on Alter Echoes, which is a powerful blend of Floyd, Love, Badfinger and beyond. It is with this album that Triptides reveal themselves as the well-travelled adventurers they have become by continuing to push the edges of the definition of psychedelic.
TREVOR AND THE JONESES are an indie psychedelic folk punk alternative garage hard rock and roll headphone-music band that coagulated in Las Vegas, NV in early 2012 when Chris and Trevor were introduced at The Blind Tiger in Las Vegas by the spirit animal of the band, Chuck D. Trevor had just returned from a year of writing/demoing songs in Newport Beach, CA and Chris had just moved from San Diego. They began playing acoustic shows with Chris on a cajon, recording, and plotting the formation of a whole band.
That would happen on Feb. 2nd 2012 with the addition of Joe Lawless, multi-instrumentalist formerly of The Shorewoods and 2-Point Suspicion who met Trevor at a shared gig at the local sex museum. The band played their first show at The Cheyenne Saloon after only an hours worth of rehearsal. Recording of the songs Trevor made up in Newport, what would become debut album There Was Lightning, commenced July 2012 at Vegas' Chrome Werewolf Studio with engineer/producer Brian Garth of the band Black Camaro.
Lightning was released 12/22/12 to rave reviews from local publications such as Las Vegas Weekly, Seven Magazine, and The Citylife(rip), as well as other alternative weeklies, magazines and blogs. "Grooving at The Speed of Light" would be the bands first time hearing one of their songs on the radio when goodman Donald Hickey gave it a spin on the Neon Reverb radio show on 91.5fm in Las Vegas, which began the band getting played on independent, college, and commercial radio(9 out of 10 songs wound up getting played across various stations). The next couple of years would give way to a There Was Lightning vinyl release(on a label that also features Rock and Roll Hall of fame members The Zombies), TV appearances, and loads and loads of shows.
Take You to Stay, the bands second album (recorded mostly at Joes studio), built on the guitar-driven sound of the first with a plethora of new noises and more catchy yet out of left-of-the-dial-field rock and roll. Notably, the first music to feature new bassist the legendary John Fallon of The Steppes who joined in the midst of recording the album.
2020 saw the releases (and worldwide airplay) of the single "Anywhile" and the EP "Get it!" whose title track garnered the band its first Sirius XM airplay by radio legend Bill Kelly. Trevor debuted some new songs for the "Life is Shit Festival" online edition.
Full album number 3 is en route and nearing touchdown with surprises in store.
POETS OF MYDNIGHT (featuring Jason Tryp). An earlier formation of the Poets Of Mydnight featured early Brian Jonestown Massacre & Richmond Sluts member Bradford Artley on Drums. The newly reformed band will perform high energy garage rock & roll covers plus takes of some of founding member Jason Tryp's originals.