Location
The Usual Place
100 South Maryland Parkway
#suite 110
Las Vegas, NV 89101
Refund policy
Contact the organizer to request a refund.
Eventbrite's fee is nonrefundable.
Dirty Rock & Roll Dance Party presents Snooper (Nashville), Fake Fruit (Oakland), Indigo Kidd, Orange Eats Creeps
About this event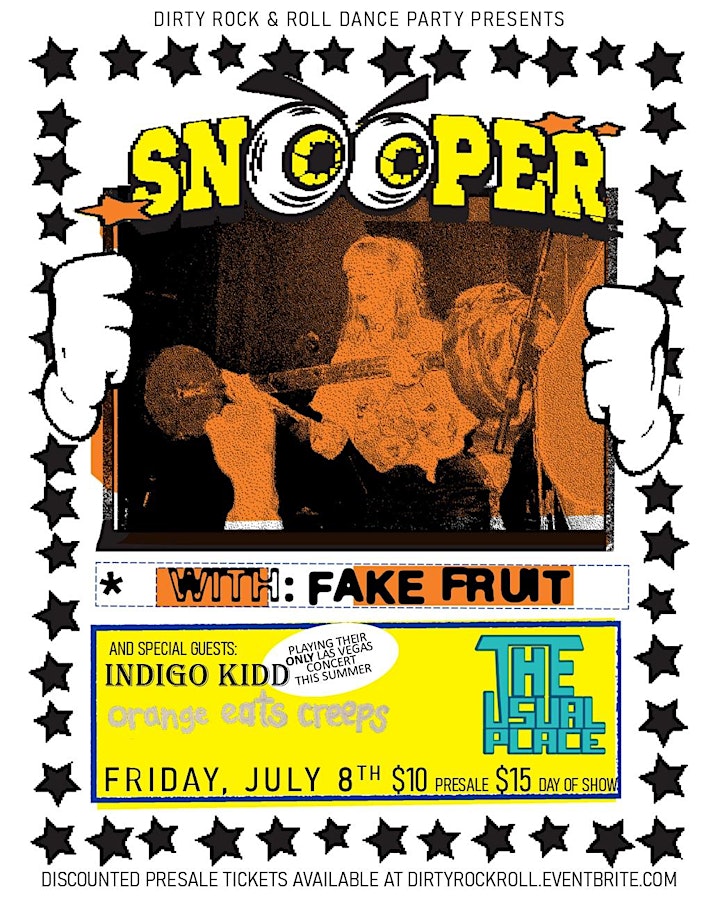 SNOOPER - staccato post punk from Nashville playing playing Mosswood Meltdown 2022 in Oakland
https://www.instagram.com/snooper_7/
https://www.youtube.com/watch?v=tWIeV6LAP_U
https://snooper7.bandcamp.com/
FAKE FRUIT - post punk from Oakland
https://www.instagram.com/fakefruitband/
https://www.youtube.com/watch?v=fMjQP_AUuW0
https://www.youtube.com/watch?v=p-YBK4DlDZA
https://fakefruitmusic.bandcamp.com/
INDIGO KIDD - anthemic pop punk, this is their ONLY Las Vegas concert this Summer
https://indigokidd.com/
https://indigokidd.bandcamp.com/
https://www.youtube.com/watch?v=SjbemEm6POY
https://www.youtube.com/watch?v=J2-AvhLDST4
https://www.instagram.com/indigokiddband/
ORANGE EATS CREEPS - indie noise rock trio
https://www.instagram.com/orangeeatscreeps/
https://orangeeatscreeps.bandcamp.com/
Fri, July 8th 2022
8PM
21+
The Usual Place
100 S Maryland Pkwy suite 110, Las Vegas, NV 89101
$10 presale tickets available until 9PM the night before concert at
dirtyrockroll.eventbrite.com
$15 day of show
*****BAND BIOS*****
SNOOPER is a punk band from Nashville; the brainchild of videographer/visual artist Blair Tramel and Spodee Boy, Connor Cummins. Between Connor's energized drumming and Blair's blunt vocal delivery, the Snooper sound is effortlessly cool (like wearing sunglasses indoors cool) while simultaneously oozing adrenaline. In their short lifespan, Snooper has released music via Australia's Computer Human Records, Italy's Goodbye Boozy Records, and Nashville's Electric Outlet. Debuting their prop-heavy, staccato synched up live set in September 2021, Snooper was the toast of Gonerfest 2021 and SXSW 2022.
"Imagine all the angular Devo worship done in the past few years and imagine all that as a sauce that gets reduced to the most flavorful incantation of. Each song "slaps", is a "bop", and makes you want to hop around with the same frivolity commanded by the Ramones. Check it!" - Goner Records
"SNOOPER's first release is quite an impressive debut. They cover so much ground over the course of these four tracks that I was genuinely surprised to see that the whole EP's running time is just seven minutes and twenty seconds. The inevitable comparison here would be to the CONEHEADS, as they certainly crib a lot from the NWI sound. But they infuse it with enough other influences that it feels like a fresh take. I hear fellow Tennesseeans LOST SOUNDS in their explosive choruses and a little bit of the URINALS in their production. The best track on the EP might be the one that bears the least resemblance to Mark Winter and company. "Running" establishes a borderline Krautrock groove with a simple drum beat, a DEVO-esque bassline, and chanted vocals, then it alternately weaves in a fuzzy surf guitar line and a MINUTEMEN-like funk riff. It really is something. An essential release!" - MRR
*****
FAKE FRUIT distill Pink Flag Era Wire, Pylon, and Mazzy Star to expound on the absurdity of modern day life. Front woman Hannah D'Amato leads the group through three minute clap backs of energetic fand atmospheric post-punk.
[Fake Fruit] "is a whirlwind of biting critique, nervy post-punk guitars, and absurdist humor. Rarely does a first record speak with such a trenchant voice. Their coltish self-titled debut favors spirited punk primitivism and two-minute art-rock tracks—punchy, melodic songs and cutting takedowns of modern frustrations." - Pitchfork
"What is the sound of appearing to not giving a fuck while secretly, honestly giving a lot of fucks? Probably post-punk, and definitely Fake Fruit, a Bay Area group who breathe acerbic new life into a genre that's been boringly rehashed about twenty million times in the last 20 years. Sour and fed up, but never nihilistic, Hannah D'Amato's pithy tales of the unsatisfying vagaries of work, relationships, and literally everything feel potent and comical as she spits them out in her blasé vocal delivery. Yet Fake Fruit isn't just a litany of complaints—it's a lot of fun, too. Post-punk is often produced to sound dry and intellectually removed, but there's an appealing wetness to Fake Fruit's jumpy songs, the watery guitar tones and skittery drums a sonic portal to the emotional messiness roiling just beneath its ambivalent affectations." - Bandcamp "Best Albums of Winter 2021"
*****
INDIGO KIDD
Although grown in a small northwest town, Indigo Kidd truly found its roots in the entertainment capital of the world. The post-punk/alternative-pop trio was warmly welcomed in the Las Vegas scene in 2016 as Eli Curtsinger showcased his nostalgia inducing baritone vocals, emotional lyrics, and shimmering guitar work, cousin Garrett Curtsinger blasted through the reverb with surf-punk beats, and bassist Dalton Willett danced across stage after stage in front of their glistening neon flamingos and marquee lights.
Indigo Kidd's new EP "Tired of Wasting Wishes" is an intriguing look into the band's outlook on the realities of life and coming to terms with your place within it. For the first time, the band brought in outside producers to advise on song structure and to assist in the recording process at Sonic Ranch Recording Studio in Tornillo, TX, the studio responsible for many of the band's favorite records (Myth - Beach House, It's Blitz - Yeah Yeah Yeahs, Hesitant Alien - Gerard Way.) Each of the five songs that emerged stand in their own right and showcase that Indigo Kidd unapologetically knows exactly who they are as they emote complicated and often dark feelings into catchy bops.
The trio began turning heads at the Neon Reverb music festival and was soon after opening for notable acts such as Bad Bad Hats, Starcrawler, and Dave Keuning of The Killers. After three national tours and selling out bigger and bigger Vegas shows, Indigo Kidd seemed on an inevitable rise before the Covid-19 pandemic struck. Now, with the release of new music and a thirst for bigger and better, Indigo Kidd appears back on track as they prepare to return to the road.
*****
ORANGE EATS CREEPS are an indie noise rock trio from Las Vegas