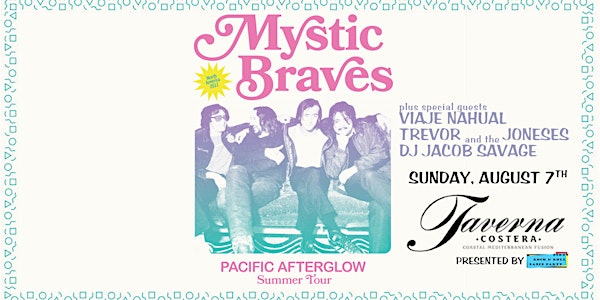 Dirty R&R presents Mystic Braves, Viaje Nahual, Trevor and the Joneses
Dirty R&R presents MYSTIC BRAVES psychedelic rock band on Lolipop Records, from Echo Park, CA on their Pacific Afterglow Summer tour 2022.
When and where
Location
Taverna Costera 1031 South Main Street Las Vegas, NV 89101
Refund Policy
Contact the organizer to request a refund.
Eventbrite's fee is nonrefundable.
About this event
BANDS
MYSTIC BRAVES - 8 piece psychedelic rock band from Echo Park, CA on Lolipop Records
https://www.mysticbraves.com/
https://www.facebook.com/mysticbraves/
VIAJE NAHUAL - Latin psychedelia
https://www.facebook.com/Kurumpaw
https://linktr.ee/Viajenahual
TREVOR and the JONESES - psychedelic pop
https://www.trevorandthejoneses.com/
DJ JACOB SAVAGE will spin vinyl garage/psych inbetween bands.
Sunday, August 7th
8PM
21+
TAVERNA COSTERA
1031 S Main St, Las Vegas, NV 89101
$12 presale price
$15 day of show price
***BAND BIOS***
MYSTIC BRAVES
As they turn to the latest chapter of an already accomplished career, the Mystic Braves embody a decade of boundary-pushing Southern California creativity—from the birth of Hollywood in the early 1900s to the lysergic mania of the psychedelic '60s to the pure-pop bliss of the '80s Paisley Underground to the new wave of streetwise garage rock.
Rising above the heaping piles of garage bands around the world aping the styles of their outmoded heroes, Mystic Braves transcend allegations that they are just another 60s psychedelic band and emerge as a beacon of rock and roll authenticity, their disheveled, freewheeling look and devil-may-care attitude a genuine product of personality and experience rather than revivalist marketing. Mystic Braves deliver that legacy in their records. Last year's The Great Unknown pares down their previous peregrinations—shelving the exotic instrumentation of 2015's Days of Yesteryear and the fuzztone feedback of 2014's Desert Island and 2013's debut Mystic Braves—for classic, unforgettable songwriting. It's not that the Braves have abandoned the weird, but rather the weird is now but another color in a prismatic palette.
They've even got a few new songs already in the works and, above all, a renewed sense of camaraderie. The energy is palpable in their songs and live performances, as prevalent and natural as the effortless swagger that permeates their every move. Mystic Braves are ready to move on.
*****
VIAJE NAHUAL "The shaman's journey/trip" Formerly known as Kurumpaw. Latin-psychedelia pronounced: VEE-AHH-HEH NAH-OOH-AL ☀️
*****
TREVOR AND THE JONESES are an indie psychedelic folk punk alternative garage hard rock and roll headphone-music band that coagulated in Las Vegas, NV in early 2012 when Chris and Trevor were introduced at The Blind Tiger in Las Vegas by the spirit animal of the band, Chuck D. Trevor had just returned from a year of writing/demoing songs in Newport Beach, CA and Chris had just moved from San Diego. They began playing acoustic shows with Chris on a cajon, recording, and plotting the formation of a whole band.
That would happen on Feb. 2nd 2012 with the addition of Joe Lawless, multi-instrumentalist formerly of The Shorewoods and 2-Point Suspicion who met Trevor at a shared gig at the local sex museum. The band played their first show at The Cheyenne Saloon after only an hours worth of rehearsal. Recording of the songs Trevor made up in Newport, what would become debut album There Was Lightning, commenced July 2012 at Vegas' Chrome Werewolf Studio with engineer/producer Brian Garth of the band Black Camaro.
Lightning was released 12/22/12 to rave reviews from local publications such as Las Vegas Weekly, Seven Magazine, and The Citylife(rip), as well as other alternative weeklies, magazines and blogs. "Grooving at The Speed of Light" would be the bands first time hearing one of their songs on the radio when goodman Donald Hickey gave it a spin on the Neon Reverb radio show on 91.5fm in Las Vegas, which began the band getting played on independent, college, and commercial radio(9 out of 10 songs wound up getting played across various stations). The next couple of years would give way to a There Was Lightning vinyl release(on a label that also features Rock and Roll Hall of fame members The Zombies), TV appearances, and loads and loads of shows.
Take You to Stay, the bands second album (recorded mostly at Joes studio), built on the guitar-driven sound of the first with a plethora of new noises and more catchy yet out of left-of-the-dial-field rock and roll. Notably, the first music to feature new bassist the legendary John Fallon of The Steppes who joined in the midst of recording the album.
2020 saw the releases (and worldwide airplay) of the single "Anywhile" and the EP "Get it!" whose title track garnered the band its first Sirius XM airplay by radio legend Bill Kelly. Trevor debuted some new songs for the "Life is Shit Festival" online edition.
Full album number 3 is en route and nearing touchdown with surprises in store.