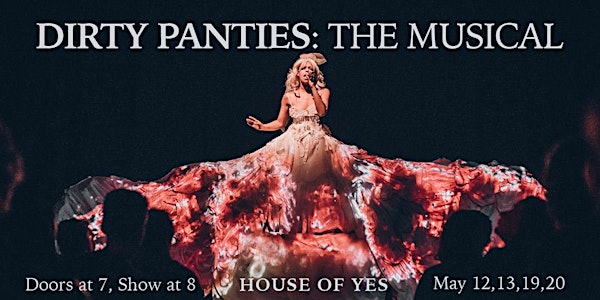 Dirty Panties: The Musical
When and where
Location
House of Yes 2 Wyckoff Avenue Brooklyn, NY 11237
Refund Policy
Contact the organizer to request a refund.
Description
"Imagine a psychedelic trance, but a hundred times more sexy, surreal and terrifying"
Paper Magazine
"The Bushwick hub of sex positivity and creative expression is known for staging genre-defying, psychedelic productions."
Metro
"This raunchy dance-cum-burlesque-cum-neocircus psychedelic performance is about sex work– an issue that's much more socially and politically charged than anything the venue has ever done."
Bedford & Bowery
Dirty panties is about anyone and everyone who belongs to a certain little secret society. A society of sex workers. A society that is actually not so little at all, and contains many of our friends, family and lovers.
Sex work is illegal and stigmatized. But it is more than that. It is beautiful, empowering, confusing, terrifying, fascinating, sexy, ugly and fucking intense. Sex work is so common, we made a fucking show about it.
Dirty Panties is told through a collection of abstract and emotional vignettes of personal accounts and adventures of different sex workers across all parts of the the industry. Every single piece in the show is written and produced by someone with a history of sex work. Some pieces will be performed by current and past sex workers. Workers that wish to remain anonymous will tell their stories through surrogate performers.
Dirty Panties messes with politics, and flirts with art.
Dirty Panties grabs you by the crotch and the heart.
Dirty Panties is not a musical. Dirty Panties is serious business.
Dirty Panties is an ode to anyone and everyone who has worked, is still working, or loves someone who does.
Show times: Doors at 7 | Show at 8
Friday, May 12
Saturday, May 13
Friday, May 19
Saturday, May 20
21+

Proceeds from the show will be donated to the following organizations
::::::: Red Umbrella Project :::::::
The Red Umbrella Project (RedUP) is a based in Brooklyn, New York and advocates to make policy and systemic change to support the rights of sex workers. We utilize media, storytelling, peer support, and direct action to amplify the voices of sex workers to take greater control of their lives. Our programming supports the development of skills, confidence, and political analysis among our members so that we can better navigate systems of oppression and fight for our rights. We also make referrals to health and social services, and provide in-house counseling, job assistance, and leadership opportunities to our members.
Website: redumbrellaproject.org/
Facebook: www.facebook.com/RedUPnyc/
Twitter: @RedUPNYC
::::::: Lysistrata :::::::
Lysistrata is a sex workers mutual care collective. We are sex workers who are dedicated to providing direct services and funding to other sex workers in need due to the closure of the Adult Services section of Backpage, illness, incarceration, homelessness, or any number of variables that affect their ability to make a living. We are largely funded by higher end sex workers who recognize the difficulties of being a survival worker, but the supply of donations from amongst our own hasn't come close to keeping up with demand.
Twitter: @LysistrataNYC
Donate: @Lysistrata-NYC (venmo)
---
::::::: Community & Accessibility :::::::
This is a space for everyone to feel welcome and loved. Racism, sexism, ableism, homophobia, transphobia, xenophobia will not be tolerated at our House. All entrances and spaces within the venue are single-level and handicap accessible. Gender neutral bathrooms are easily located in the main room.