Event Information
Performers
Location
Eddie's Attic
515-B North McDonough St.
Decatur, GA 30030
About this Event
Dirty Mae
Dirty Mae is an NYC born and bred indie folk band, blending bluegrass, blues, gypsy jazz and Americana roots music. Full of soulful harmonies and foot stomping beats, they're music is at times haunting, and others high energy. They're trombone and banjo combination give a unique New Orleans flair that will leave you swinging all night long.
In less than 3 years together, they're resume is impressive. After headlining Lucille's at BB Kings, LPR & Rockwood Music Hall, they hit over 20,000 views on Scenes Live Sessions, which led to more festival & caught the attention of Counting Crows' lead singer, Adam Duritz, who selected them for his personal music fest, Underwater Sunshine Festival. They went on the co-found the Big Red Fest, honoring women in music, for which they produced and released a must-see music video for their single "Big Red," a fun and feminist retelling of the fairytale Little Red Riding Hood. Most recently, they won the grand prize at the Fingerlakes Grassroots Festival of Music & Dance, landing them a premier spot at the festival's 30th anniversary in 2020.
The band was co-founded by 3 diverse and unique singer/songwriters: California-native Cassie Fireman, Tennessee born banjo/guitar/harmonica player & husband, Ben Curtis, and Ohio piano/guitar/bassist Robin Frost.
Dirty Mae have announced their debut full-length album, Holy Mama, for which they are on an extensive Eastern US Tour. They are thrilled to be coming to Curtis' favorite Southern spot, Eddie's Attic. The new album (set for release September 13th) showcases Dirty Mae's haunting harmonies, raw grit, soulful blues, melodic ballads and, foot-stomping beats.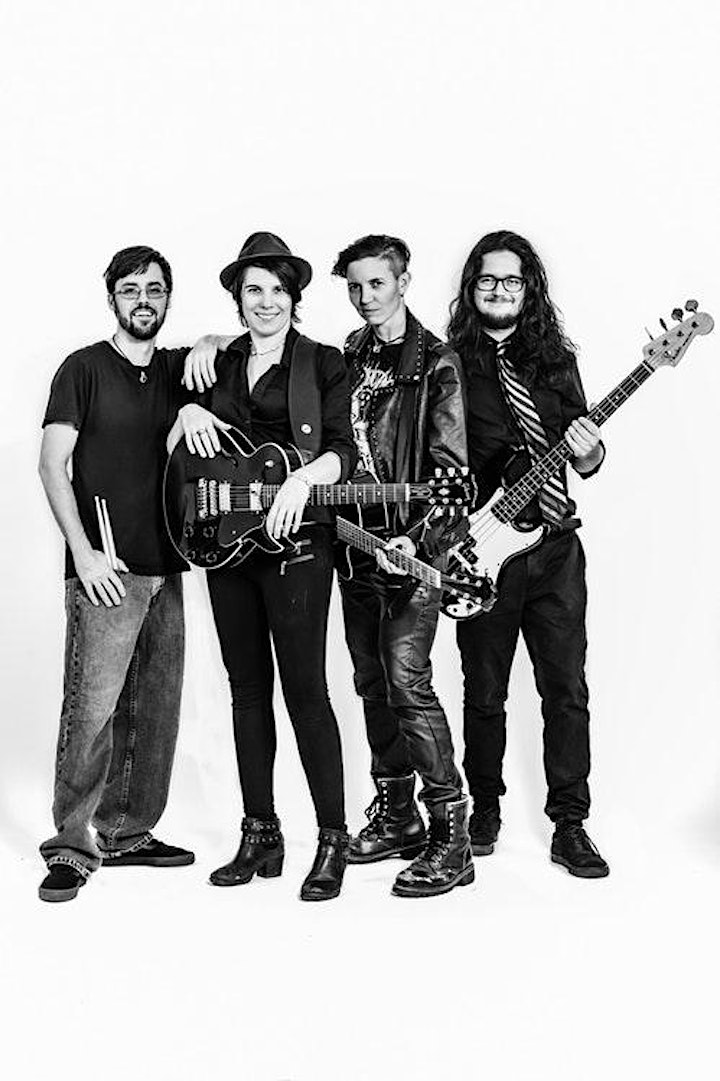 The Ain't Sisters
Forged in the murky depths of a Folly Beach holding cell, The Ain't Sisters have transcended their origins as outlaw street performers to grace the stages of the Southeast with their unique brand of funk-infused, blues-driven Americana.
The duo, composed of Arrie Bozeman and Barb Carbon, blends tight harmonies and smart lyrics with soulful, booty-shakin' acoustic melodies. Both dynamic musicians and songwriters, they share an equal propensity for irony, humor, ferocity, and heart-on-sleeve authenticity.
With common roots in Atlanta, Georgia, Arrie and Barb have been friends and cohorts for over 10 years, but The Ain't Sisters is their first venture as a duo. Together, their musical influences range from Patty Griffin to Prince and from Lucinda Williams to Bird Cloud (seriously, check them out!). Their shared belief system is underpinned by the idea of music as community – that it should be fun and bring people together, and that's exactly what they intend to do! Keep an eye out for The Ain't Sisters, they might just pop up at your favorite venue, or in your living room, or (preferably) out back around your fire pit. Fair warning – they don't stop playing until the sun comes up. YAY MUSIC!
Performers
Date and Time
Location
Eddie's Attic
515-B North McDonough St.
Decatur, GA 30030