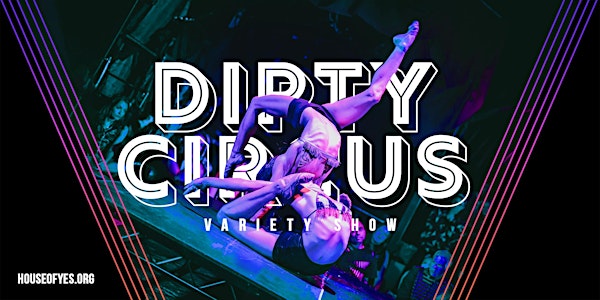 Dirty Circus Variety Show
House of Yes presents Dirty Circus, our longest-running variety show #BESTSHOWSEVER
When and where
Location
House of Yes 2 Wyckoff Avenue Brooklyn, NY 11237
About this event
A variety show dedicated to the raw & the raunchy.
Aerial. Circus. Absurdity.
Skill. Hilarity. Brilliance.
The finest, fittest and most ferocious performers, curated to perfection and presented on our stage for your enjoyment. Featuring drink specials and surprises from Courvoisier!
Created by the House of Yes co-founders: Kae Burke & Anya Sapozhnikova.
Told in 3 acts, not for the faint of heart.
This edition of Dirty Circus features & celebrates Hybrid Movement Company, a Brooklyn-based multidisciplinary ensemble that has taken over a decade of unique performances to venues across all five continents. Their work is inspired by the crossing of cultures and is rooted in collaboration. Some ensemble highlights include the Benois de la dance at Moscow's Bolshoi theater, 'Eudeamonia' at Lincoln Center Jazz, and 'Fluid of Dusk' at House of Yes.
: : : FEATURING : : :
Françoise Voranger
Anthony 'Grasshopper' Mitchell
Andrea Nicole Ortiz
Chauncie Parchment
Graham Reese
Rowen Sadlier
Maks Turner
Live music by Jason Lindner (flymyspschp)
Multimedia by Godknowswhy
TABLES: Email reservations@houseofyes.org to book a reserved table with bottle service 🍾 or text 👉 833-803-0872
SPA SEATING: At every Dirty Circus show, one lucky guest (+ whoever they invite with them) will have the opportunity to have an unforgettable experience of watching the show from the best seat in the house - our vintage clawfoot bathtub! As part of this spa seating, we will pamper you with handmade bubbles, fresh towels, a personal butler, and other surprises. Access to this seating starts at 7:00 pm sharp. Get here early.
SPLASH ZONE: Occasionally, we get extra messy at Dirty Circus. Some acts may include water. We will clearly mark all seats that fall within the splash zone, so you can make an informed decision about just how wet you want to get. 
Doors at 7:00 pm | Show at 8:00 pm
Seating is not guaranteed after 8:00 pm
21+
Subscribe to our email list for first access to events & tickets: bit.ly/YESEMAILS
* * * SAFER SPACES POLICY * * *
House of Yes is a space for everyone to feel welcome. We have a zero tolerance policy for harassment, unwanted touch, and discrimination. Always ASK before touching anyone at our events. If someone is making you uncomfortable, speak to a security guard or ask for a manager. We will believe you, and we will help. All restrooms in our venue are gender neutral. The entrance to the venue is ADA accessible. Strobe lights are used during performances and parties. Find out more at houseofyes.org/SAFER