DIRTY BIRDS TAKEOVER

Saturday, November 10, 2012 at 1:00 PM (EST)
Event Details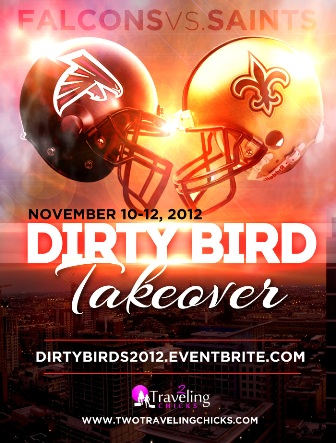 Dirty Birds TakeOver
FALCONS vs SAINTS
New Orleans, LA
November 10-12, 2012
1 bottle of Ciroc PER ROOM for the first 10 paid
SOLD OUT

TRAVEL PACKAGES INCLUDES
Roundtrip motorcoach transportation
Two nights at the Drury Inn & Suites
Free flowing cocktails on Party Bus
Falcons Trivia and Prizes
Falcon Fans Takeover N.O Party at Razoo's
Movies on the Bus
Red and Black Mardi Gras Beads

REDUCED Full Travel Package Cost (as of 10/10/12)
$250 per person - Double (2 in a room)   
$200 per person - Triple (3 in a room)  
$150 per person - Quad (4 in a room)
$400 - Single (1 in a room)   

FULL TRAVEL PACKAGE COST (if reserved BEFORE 10/10/12)
$325 per person - Double (2 in a room)   
$275 per person - Triple (3 in a room)  
$225 per person - Quad (4 in a room)
$475 - Single (1 in a room)   
HOTEL ONLY PACKAGE
$225 per person – Double (2 in a room)
$175 per person – Triple (3 in a room)
$125 per person – Quad (4 in a room)
HOTELS INFORMATION
Drury Inn & Suites
820 Poydras St
New Orleans, LA 70112

Drury Inn & Suites Amenities Include:
-Hot Breakfast
(Belgian Waffles, scrambled eggs, biscuits & gravy, sausage & more)
-5:30 Kickback –
(3 complimentary alcoholic beverages each evening from 5:30- 7:30pm)
-Free Soda & Popcorn nightly 3pm – 10pm
-Free Wireless Internet
-Free Long Distance – One hour every room, every night

BUS ITINERARY
Friday
11:00pm       Pick-up in Decatur (Kroger)
11:30pm       Pick-up in Atlanta (Kroger)


Saturday
12:30am       Pick-up in LaGrange (Location TBD)
6:00am         Arrive at Welcome Center to freshen up
7:00am         Arrive in New Orleans
(Rooms may not be ready, hotel will hold all luggage)
ENJOY YOUR DAY IN NEW ORLEANS!
4:00pm         Check-in at Hotel
6:00pm         Dinner at Bubba Gump Shrimp Co.
(Everyone's responsible for their own bill)
9:00pm         Falcon Fans Takeover N.O Party at Razoo's
Sunday
12:00pm       Game Time
4:00pm         Falcons Fans Take Over Bourbon Street
Monday
10:00am       Check-out
1:00pm         Stop for lunch/dinner
4:30pm         Arrive in LaGrange
5:30pm         Arrive in Atlanta

DEPOSIT DEADLINES (for those registering 10/10/12 and later) 
$100 per person – DUE NOW
ALL FINAL BALANCES DUE  – October 30, 2012, NO EXCEPTIONS

DEPOSIT DEADLINES (for those registered BEFORE 10/10/12)
$50 per person – June 30
$50 per person – July 30
$50 per person – August 30
$50 per person – September 30
ALL FINAL BALANCES DUE  – October 9, 2012, NO EXCEPTIONS
IMPORTANT DATES
Due to alcohol being served on the buses, NO CHILDREN ARE ALLOWED
One person in each room will be required to present a credit card for incidentals
Game Tickets are NOT INCLUDED
All payments are nonrefundable/nontransferable
GROUPS
All tailgating and fan groups are welcome to attend, if you have 40 or more members in your group please call us for special group pricing and reserve your own party bus for your group.
CONTACT
Torchia or Sharita
(888) 669-1194
www.twotravelingchicks.com 
Organizer
Two Traveling Chicks, LLC
2 Traveling Chicks, LLC's staff embodies extensive knowledge and experience in the travel industry. With our travel expertise, we will be offering extraordinary experiences in predefined and requested vacation/travel packages for our valued customers.
We provide personal, group, corporate, destination wedding, and honeymoon travel proposals.  We are licensed, bonded, and insured and are looking forward to serving your travel needs.
For more information, contact us at 888.669.1194 or trips@twotravelingchicks.com
Stay connected with us on the following social media pages:
Twitter: @2travelingchick
Instagram: 2travelingchicks
Facebook: www.facebook.com/2travelingchicksllc