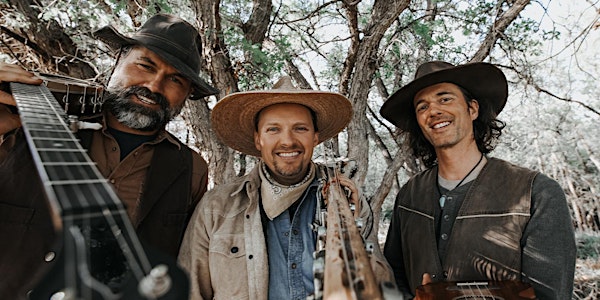 Dirtwire w/ Graham Whorley
THE CHARLESTON POUR HOUSE
UNDER 21 WITH PARENT OR LEGAL GUARDIAN
Location
Charleston Pour House - Main Stage
1977 Maybank Hwy.
Charleston Pour House, SC 29412
Dance, Electronic, Future Revival, Swamptronica, Experimental, Spaghetti-step, Electro-twang
About this event
Dirtwire
Friday, June 24th, 2022
Charleston Pour House Main Stage
8pm Doors / 9pm Show
Tickets - $15
Dirtwire
Dirtwire stands poised between ancient Mother Earth and modern technology, a blend of ethnomusicology and the psychedelic trance state, gut-bucket delta blues and what the band variously dubs "back-porch space cowboy blues, swamptronica, and electro-twang." It's a sound informed by Dirtwire's travels and performances around the globe, where East meets West and North joins South. From the favelas in Brazil, Femi Kuti's Shrine in Lagos, Tokyo's bluegrass clubs, Ayahuasca ceremonies in Central America, Gamelan performances in Bali, desert festivals in the Australian Outback, and the 20th anniversary of Kazakhstan's modernized new capital Astana, the band spreads its message by building bridges across musical cultures in their own unique way. Dirtwire plays an array of instruments both ancient and modern, including West African kamale ngonis, jaw harps, space fiddles, whamola basses, Rickenbacher electric 12 string guitars, bowed Banjos and mouth harps from around the globe, all interwoven into modern laptop beat creation. Hailing from the underground west coast electronic bass music scene Dirtwire finds itself at the forefront of experimental electronic music production mixing in their wide array of world instruments with sampled beats and 808's. Dirtwire's live shows are a communal psychedelic journey, which have been channeled into their latest full-length effort, Electric River.
Graham Whorley
Graham Whorley is a musician known for his soulful mastery of music and looping technology.
Graham was born on the East Coast of America.  He soaked up the local gospel, country, jazz, folk, rock, hip hop, music he heard there and mixed it with his classical music training influences to create his own musical voice.  His following has grown organically from local, regional, national, and now worldwide, with his U.K. Tour in 2022
(NPR) National Public Radio recognized his art and featured Graham in an episode of "Your Day". An international audience is now being exposed to the virtuosity of Graham Whorley, via his TEDTalk. Graham has  Released 8 CD's and multiple singles over his 29 year music career, which can be bought on I tunes or at, www.grahamwhorley.com. Graham has shared the stage over the last several years with Tim Reynolds of Dave Matthews Band, Michael Glabicki of Rusted Root, New Riders of The Purple Sage, Lee Oskar of WAR, Members of The Dirty Dozen Brass Band, Colonel Bruce Hampton, Brock Butler, Delbert McClinton, Keller Williams, Drink Small, and Dumpstaphunk  to name a few. Graham will be touring around America throughout 2021 and then will be doing a U.K. tour in 2022.