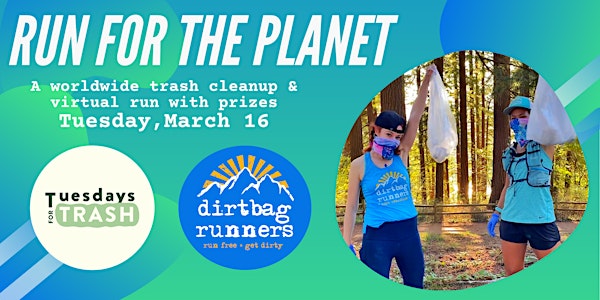 Dirtbag Runners: Run for the Planet Clean-Up & Fundraiser
Run for the Planet - A donation-based virtual run / hike / walk to clean up our local communities and promote a healthier home for us all.
Refund Policy
Contact the organizer to request a refund.
About this event
What if every time you ran by a piece of trash, you picked it up?
We are engaging directly with our world every day. We see the trash. Let's start picking it up!
Run for the Planet is a worldwide annual event organized by Environmental Conservation Organization Tuesdays for Trash in collaboration with Dirtbag Runners. On Tuesday, March 16th, participants around the world will be joining together for a community led or individual run with the intention to pick up trash seen along their chosen route -- whether it be around their neighborhood, a trail or city streets.
Your donation of $1 (or more!) will go to The Greenbelt Movement, an environmental organization that empowers communities, particularly women, to conserve the environment and improve livelihoods, and you'll be entered into a raffle for prizes. Please sign our Liability Waiver before registering. It only takes 1 minute.
During this event, all are encouraged to stream, post, and discuss their findings on personal social media platforms while tagging both organizations or using #DBRxT4T to increase awareness about the issue.
Participants who donate and / or submit their videos to us or tag us on social media will randomly be selected to win various prizes including a TimBuk2 bag, Guayaki Yerba Mate beverages, DBR hats and T4T / DBR stickers.
Help us clean the planet! All it takes is carrying a small bag in your pack and using an old glove or one you don't mind getting dirty. Just be mindful to not touch anything hazardous or dangerous.
Please tag @DirtbagRunners and @TuesdaysForTrash on Instagram when you share your journey!
Please enjoy our video below (from our 2020 event) showcasing the steps to a successful and safe clean-up!