Description
Close out our Dirt to Dish Weekend with a free screening of Dirt! The Movie.
Dirt! The Movie Synopsis
DIRT! The Movie – narrated by Jamie Lee Curtis – tells the story of Earth's most valuable and underappreciated source of fertility — from its miraculous beginning to its tragic degradation. This insightful and timely film tells the story of the glorious and unappreciated material beneath our feet.
But more than the film and the lessons that it teaches, DIRT! The Movie is a call to action. "When humans arrived 2 million years ago, everything changed for dirt. And from that moment on, the fate of dirt and humans has been intimately linked."
This event is part of our Conversations at Copia: Dirt to Dish Weekend. Join us for more events throughout the weekend!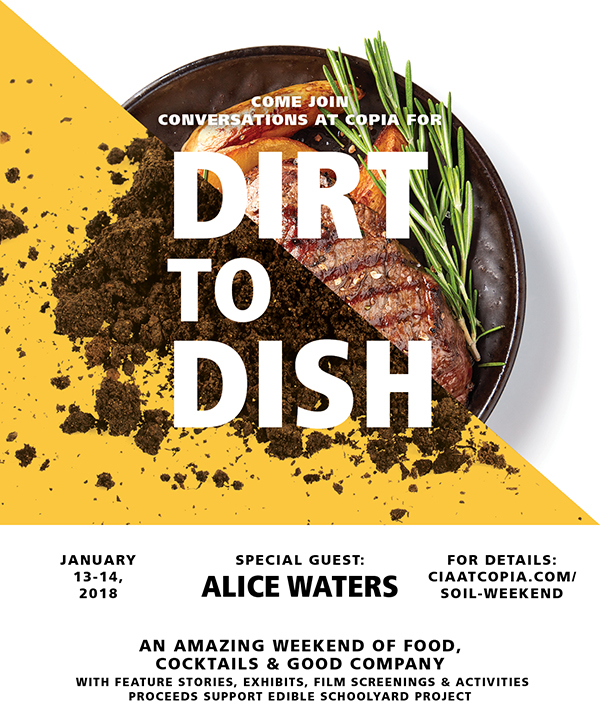 ---

Proceeds from the event will go to support The Edible School Project.
The Edible Schoolyard Project envisions gardens and kitchens as interactive classrooms and a sustainable, delicious, and free lunch for every student. We inspire, train, and support communities as they develop sustainable edible educations programs rooted in shared standards of practice and justice.


---

About Conversations at Copia
Conversations at Copia are monthly events held at the CIA at Copia that explore important topics that impact our everyday lives. Curated by the Lexicon of Sustainability, Conversations at Copia features special guest speakers, film screenings, art exhibits, culinary activities, tasting and sensory explorations, and dining experiences all centered around a new thematic topic each month.