A Jazz and Funk Performance That Will Move Your Soul!
About this event
Dirk Quinn Band will be performing at Rivet: Canteen & Assembly on Friday, October 15th, starting at 9PM. Doors at 8PM. Join us for an amazing evening of music with the Dirk Quinn band, fantastic drinks, and awesome food!
About The Artist
Dirk Quinn Band
The Dirk Quinn Band is a high energy funk / jazz band based out of Philadelphia that travels as a 4-piece all over the country. As seasoned touring professionals, they have been fortunate enough to play some of the best venues and events in North America and now they are bringing it to the Rivet stage!
⚙️ Listen to Dirk Quinn Band's Music
⚙️ Dirk Quinn Band's Official Website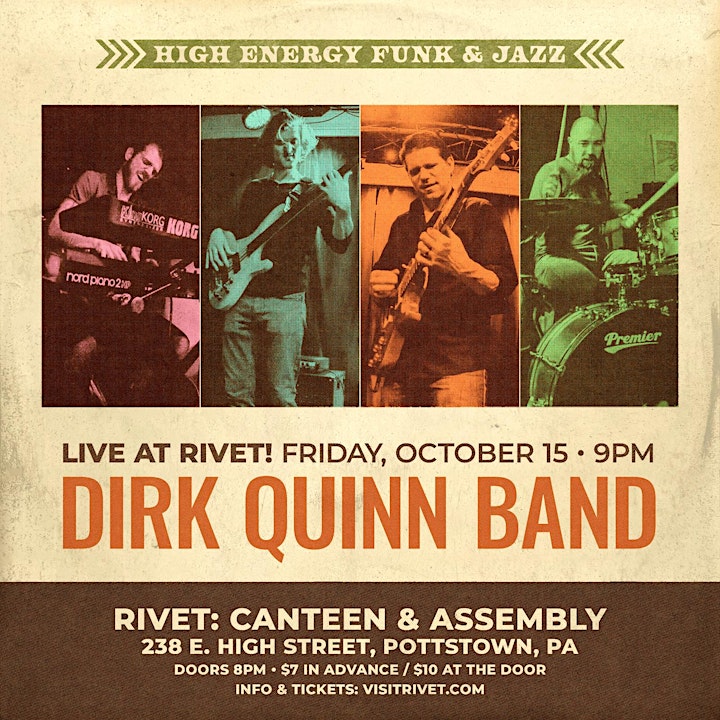 Event Details & Tickets
👉 Doors: 8:00 PM / Show: 9:00 PM.
👉 Tickets: $7 in advance / $10 at the door.
⚙️ Music lovers under the age of 21 are allowed to attend shows with a parent or guardian over the age of 21.