Refund policy
Refunds up to 1 day before event
Eventbrite's fee is nonrefundable.
You're invited to the next Film Fatales workshop!
About this event
Join Film Fatales for an interactive Directing Actors workshop with Judith Weston moderated by Daniela De Carlo.
For many filmmakers, collaborating with actors is the last frontier—the scariest part and the part they long for—the human part, the place where connection happens. Come witness legendary acting and directing coach, Judith Weston, school us on the challenges of the actor-director relationship, the pitfalls of "result direction", how to break down a script, how to prepare for casting sessions,and when, how and whether to rehearse. Judith's students have included Alejandro G. Iñárritu, (The Revenant, Birdman) Ava DuVernay, (When They See Us, Selma), Taika Waititi (Jojo Rabbit, Thor: Ragnarok) and Hanelle Culpepper (Star Trek Picard, The Flash).
This private workshop will be a fully interactive session. Capacity is limited. Plan to show up as fully as if we were together in person. This event will be accessible with live captioning and a video replay link will be shared after for those unable to attend live. See you soon!
Judith Weston has followed her love of storytelling and acting to a full, rewarding life as a sought-after coach and teacher to first-class filmmakers and actors around the world. She has written two books. Her beloved classic Directing Actors, a bestseller ever since it was first published in 1996, has now been released in a 25th Anniversary Edition, fully revised and updated. Meanwhile, a lightly revised and updated version of the original edition is available as an Audiobook, narrated by Judith. Her second book, The Film Director's Intuition, is still a favorite for many readers. These books bring hope and focus to directors, actors, screenwriters, and other film industry professionals. They are required reading at film studios, on the sets of television series, and at most film schools
Her directing students include Alejandro Iñárritu (director of The Revenant, Academy Award winner for Best Director, and Birdman, winner of the Academy Award for Best Director and Best Picture); Ava DuVernay (director of When They See Us, nominated for 16 Emmys, and Selma, nominated for a Best Picture Oscar); Steve McQueen (director of Small Axe and Best Picture Academy Award winner 12 Years a Slave); Taika Waititi (Jojo Rabbit, Thor: Ragnarok, Hunt for the Wilderpeople, Boy, Flight of the Conchords); Deniz Gamze Ergüven (Handmaid's Tale, Mustang, nominated for Foreign Language Oscar); David Chase (creator/writer/director, The Sopranos).
Judith's international presence includes 17 years of workshops at the Binger FilmLab in Amsterdam. Other European cities where she has taught are Berlin, Cologne, Dublin, Stockholm, Lund, Copenhagen, Helsinki, Milan, Strasbourg, Belgrade, Utrecht, Geneva, Zurich, and Penzance. Plus, in Canada: Toronto, Vancouver, Winnipeg, Halifax, and St. John's. And other cities of the world: Sydney, Auckland, Wellington, and Cape Town, South Africa.
Directing Actors has been translated into German, Japanese, Spanish, Finnish, Korean, Greek, Polish, Kurdish, Farsi, Estonian, Traditional Chinese, and Simplified Chinese.
She has been on the faculty of USC, the American Film Institute, and the Los Angeles Film School; she has been a guest lecturer at UCLA, Film Independent Project Involve, Tisch School of the Arts Asia, Cal State Universities at Long Beach and Northridge, Cinewomen, and Women in Film.
For 30 years Judith maintained a full schedule of classes, workshops, and special events in Los Angeles. Then in 2015 she closed her studio, but although she has stopped running a studio, she hasn't stopped giving support and guidance to filmmakers. She offers one-on-one consultation for directors and writer-directors. Since the 2020 pandemic, she's been doing Zoom workshops for schools, festivals, and organizations—Tisch/NYU, UNCSA, UC Riverside, GA Southern U, FSU, Kings College London, Directors Guild of Canada, New Orleans Film Festival, Sony TV Diverse Directors Program, Film Hub/BFI, Pixar.
Judith is married to John Hoskins: John is Judith's secret weapon; nothing is possible without John. They share a home and garden in Venice, CA. They create together; they support Judith's clients together; they travel together.
Originally from Argentina, Daniela DeCarlo worked her way up from P.A. to writer/director/producer, collaborating along the way with a myriad of industry heavyweights such as Alexander Payne, Martin Scorsese, Peter Bogdanovich, David E. Kelley, and Tony Scott. In 2010, she helmed the romcom "Qualquer Gato Vira-Lata" for Buena Vista International, which opened wide in Brazil to unprecedented box office success. Daniela was one of six Hispanic directors on the feature drama "Blue Lips", highlighted by Cannes' Cinefondation head Georges Goldenstern at Ventana Sur – Latin America's biggest film market in 2012. The following year, Daniela was awarded with the NBC/Universal Directing Fellowship and appointed to the USA Network show "Royal Pains." As a recipient of the inaugural NBC Female Forward program, Daniela recently helmed an episode of the primetime show "Chicago Med", and her latest feature, "The Blackout", will be released next month by Gravitas Ventures. Under her banner MOON LODGE PICTURES, Daniela has created a coveted biopic series about Xuxa, the most famous Brazilian pop-star of all time. Daniela will exec produce, write and direct, in partnership with Xuxa and the prestigious production company Gullane Filmes. Daniela lives in Los Angeles and is repped by Paradigm Agency.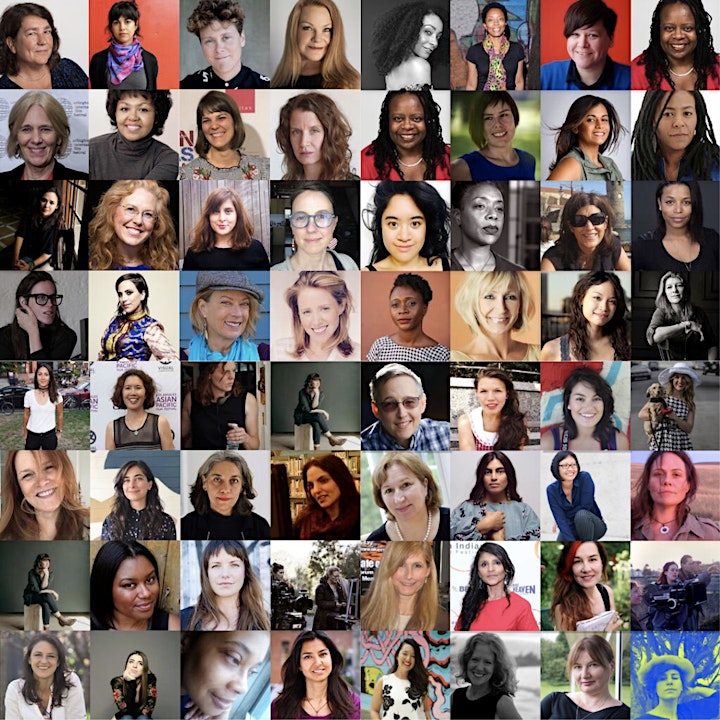 Upon arrival at this private workshop you will be placed in a waiting room until the event begins. Plan to log in a few minutes early to check your tech to make sure you don't miss anything. Please mute your audio and adjust the lighting in your space so other participants can see your face.
We are committed to creating a safe space where filmmakers can gather and support one another. Please conduct yourself as if you were at an in-person professional networking event. Be respectful to other participants. Keep discussions civil and courteous. Do not screenshot, record, or take notes without consent. Avoid assuming people's needs, gender identities, and/or backgrounds.Creating an inclusive space requires acknowledging existing power dynamics. If you are from a dominant or privileged identity please practice making space, through listening, unseating yourself, and passing the mic. If you are from a historically marginalized group, please practice taking up space, sharing your ideas, and raising your voice.
Please contact us with any questions. Thanks for joining us!
Film Fatales organizes panel discussions, educational workshops and networking mixers focused on amplifying marginalized voices in film and television. Capacity is limited. The session will be recorded for those unable to participate in the live program. Your participation constitutes your consent to being recorded and photographed during the event and to Film Fatales sharing those recordings and photos with the world. Please contact us if you require an accessible accommodation.