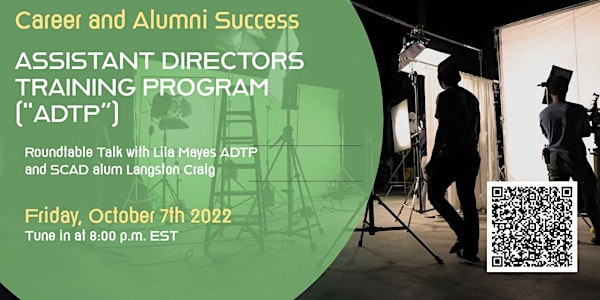 Directors Guild AD Training Program, Virtual Info Session for SCAD Alumni
Please join us for a virtual information session on the Directors Guild Assistant Director Training Program!
About this event
Join us Friday, October 7th at 5:00pm PT/8:00pm ET for an online information session and Q&A on the Directors Guild AD Training Program.
This program provides select candidates with education, training, and paid experience in professional settings to assist in the development of successful Assistant Directors within the Film & TV industry. Upon completion of the program, graduates are qualified to join the Directors Guild of America as Second Assistant Directors.
Join Lila Mayes, Program Administrator for the DG Producer Training Plan, and Langston Craig, Director, SCAD alum and graduate of the Directors Guild AD Training Program, as they discuss the program in depth, including opportunities, application requirements and deadline, best practices for the application process, and a general Q&A session.
For more information on the application process and deadline, please head to: https://www.trainingplan.org/
This event is free and open to all interested SCAD alumni. Questions? Contact Jimmy Benedetto, Assistant Director of Career Services, at jbenedet@scad.edu
-
Zoom information for day of-
Click the access link at the top of the page, or head to:
https://us02web.zoom.us/j/84574527923?pwd=K1JHNlVhWVVDcWd5MFdNYXdOUnFkZz09?
Meeting ID: 845 7452 7923
Passcode: 445652