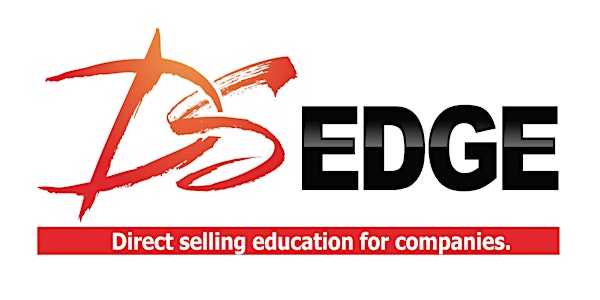 Direct Selling Edge Conference For Companies #28
Join us for the most information-packed two-day school for new and established network marketing, social selling, and affiliate companies.
When and where
Location
Drury Plaza Hotel Franklin 1874 West McEwen Drive Franklin, TN 37067
About this event
Top industry professionals from all facets of the direct selling channel come together to host the Direct Selling Edge Conference on September 29-30, 2022.
Learn from industry experts as you begin or continue the journey to build and grow your company.  With so many moving pieces, it's easy to get overwhelmed with details.  By making a small investment for travel and the low cost of a ticket, you'll walk away with the right information and know EXACTLY what needs to happen next to get your business off the ground or to grow it faster.
We're so confident in our content that if you feel unsatisfied after the event, we'll give you a full refund, no questions asked.  We look forward to meeting you. We'll be covering the following topics:
MLM Compensation:  Learn the differences between the many different forms of compensation, what makes a compensation plan good, and how to design a compensation plan for your company.
MLM Legal:  Learn the challenging legal obligations required of all direct selling companies.
Legal Insurance:  Discuss several simple methods to legally fortify your business from regulators and class action attorneys.
MLM Software: Explore the technology needs of all MLM and direct selling companies.  Learn what matters most when shopping for software.  Discover what you need to do and know before you select the right MLM software for your business.  It's information, not a sales pitch.
Direct Selling Operations: Launching Your New Business Efficiently And Effectively: Operational excellence depends on being efficient and consistently meeting strategic goals within established timelines and cost constraints. Come prepared to learn the best strategies for a successful new company launch through project planning and project management.
How to Avoid the High Cost of Miscommunications: The most recent studies state that leaders who discount soft skills like communications, training and storytelling do so at their own peril. The cost to a company of 500+ employees is approximately $6,253,000 per year in reduced productivity, brand degradation, employee retention and lost business. As a startup, midsize business, or Fortune 500 direct sales company, can you afford the high cost of miscommunication of your brand story, new product launch, or compensation plan? Learn about the gaps that lead to miscommunication in hybrid and remote working models of a direct sales company, the three costly assumptions about communication, and more.
Strategic Execution: Making Your Initial Vision Not Just A Reality, But A Success: Sometimes envisioning the "next big thing" for your business is the easy part, but how do you take that idea from concept into a successful reality? The go to market strategy of an initiative for direct selling companies can be complex but absolutely necessary to be successful. In this session we will identify the key elements of a strong go to market strategy and walk away with a template you can apply to new concepts for years to come with your business.
How Your Sales Force Can Make Your Good Comp Plan Bad: You've done all you can to design a legal compensation plan. Is that enough to protect you from violations of regulations? The answer is "no." You need to monitor what members of your sales force say about your compensation plan. Your good plan needs to be protected from bad sales force behaviors. Learn how to do that in this session presented by a Compliance Expert.
Compliance Administration: Learn from the nation's top MLM compliance administrator about specific strategies to go about building a solid compliance record with your sales force.
Recruiting and Building Your Sales Force:  In the beginning, it's your company's responsibility to recruit.  It's faster when you have your initial leaders in place.  Learn how and what to do to find them.
Better Business Decisions With In-Depth Analytics: The future is analytics. The winners in a competitive environment are the ones who use analytics to make better and faster business decisions. Data driven decisions don't rely on guessing, it is all about hard facts. You will learn about the latest analytics technology in the direct sales industry and how you can apply it to your company's growth.
Panel Discussion:  Get fast answers from our speakers to your questions on topics presented, or on topics of your choice.   
Personalized Sessions: Schedule personal sessions with our faculty members during the evening hours between 5pm and 7pm.
And much, much more!
Remember to book your lodging room at the Drury Plaza Hotel Franklin.
See What Others Have Said
The conference has been a true game-changer for us!  As a first-year old direct sales company, the things we learned here been key in preventing us from making some costly mistakes.  I would highly recommend this conference to any person with a desire to be successful in direct sales.  Adrian Alvi 
What a great group of speakers!  Jay Leisner is a great teacher and has a strong, experienced perspective on Direct Sales.  I learned a lot from Kevin Grimes and Jeff Jordan that I needed to learn.  Scott Burnett and Troy Dooly were very inspiring and personable.  Donna Marie Serritella was a perfect afternoon speaker to keep us engaged and interested.  I also enjoyed the experience to be able to ask everyone questions afterwards. Denise Davis
Having been at numerous conferences, I have rarely attended one where all of the speakers had such great content, passion and energy!  If you are considering starting an MLM company, there is no better resource to use than this.  Tony Stewart
The DS Edge was a home-run for the preparation of my business launch.  The knowledge and motivation of each teacher has helped to give me the "edge" I need to be successful.  I left feeling equipped with the right tools to launch my business confidently.  Melanie Kittrell
Great conference.  Certainly worth the time and the investment.  Knowledgeable speakers.  Relevant information.  Very interesting and useful information.  Never dull.  Thanks!  David Malpas
I went to another company's conference last spring. I learned more in the first two hours of this conference than I learned in two days with the other one. The content shared was detailed and specific. I now know how to proceed with our company.  Gwen Wolken
The conference was jam-packed with practical information on how to start and improve a direct sales business. Thank you very much for putting out such good training sessions and value. We appreciate it!  Andrew Khong 
The quality of the presenters was top notch. Every session was valuable and we learned an enormous amount in just two short days. I would recommend this conference to anyone starting a direct selling business. We are at the very early stages of building our business and found this conference a huge help setting out critical path and priority tasks.  Cathy O'Donovan
Great job at this event. You all have provided excellent information for startup companies. You all gave a good overview in your areas of expertise and I would recommend this conference to anyone looking to start a direct sales company. For those of us who have been in the industry like me, this was an excellent refresher course. Reinforcing the basics is always helpful and critical to new companies. You covered what people need to know to start their companies.  Ray Grimm, Jr.
I've been in the profession for 13 years and learned a lot. This direct selling school was presented by experts whose knowledge you can trust and who genuinely care about your success and the success of the industry. These people are knowledgeable and authentic.  Rodney Brandt
This conference was exactly what our business needed. It was very educational and the speakers are all wonderful. If you have questions, this is where you need to come to get them answered. It really is priceless information.  Shaina Hayes
I wanted to thank you for the conference.  I come from a Real Estate background and have attended many conferences in the past. I was prepared to hear sales pitches from multiple presenters. I was expecting to be coaxed into buying multiple books and cd's. Well, what I got was the exact opposite!! I got an overload of information about the MLM business. I thought this event was so worth every bit of the money we paid to attend. The speakers were engaging, full of information, and eager to answer any and all questions.  Ty Jackson
I attended another conference recently and by comparison I was impressed by the level of relevant detail that was provided at the Edge Conference. It was very informative and more than worth the cost.  Doug Weick
Thank you again for sponsoring the Conference. It was probably the best money I've spent to date during my research phase of this business.  Al Ramirez
Definitely worth the money.  As a matter of fact, after 30 minutes, I think I got my money's worth.  I found out that my business plan was not legal and by the end of this, I've learned all the tools and information to make this work.  It's a really good program.  Zach Taylor
Thank you for the most crucial information supporting my Party Plan Business.  This 2 day class was exactly what I needed!  Great job by everyone!  Absolutely every aspect of my business was covered.  Thank you again. Cheryl Wollrab
I was amazed at the information.  I thought it was going to be a broad stroke event to get you with different vendors.  I was very surprised to see all of the targetted topics, how in depth they went into discussing very important issues, for anyone whose considering getting into the MLM business as a startup company.  Mike Duke
It's been a very good conference really on the nuts and bolts of trying to figure out how to turn a company into an MLM.  I think these people are very talented and knowledgeable and will really help you to build your business and help you to move forward.  Susan Averett
Jay, Kevin and all other other speakers provided us with great information, in-depth, thorough, and painted a perfect picture for us so that we have a good sense of what we're getting into.  I want to thank all of them for their time, their effort, and for providing myself and my wife with the information that we need to go forward with our company and make it grow.  Thanks a lot.  Stanley Chang
As a former distributor, as a board member for a large network marketing company, as now an owner of a network marketing company myself, this conference has been extremely helpful.  Great speakers, great content, A to Z, everything that you need to know as a startup.  Brad Doyle
Attending the DS Edge was different from any other MLM conference I had been to before.  I've been to other conferences,  They try to sell you services, they do give you information, but the difference with this one was we actually left with actual steps, tasks we can take, things we can get done to make sure we are successful, so I highly recommend it.  It was a great use of time.  Bethanie Nonami
Thank you for the excellent conference.  We were both thrilled that our investment of time, money, and energy were not wasted.  This conference was full of critical details that are going to help us with the success of our venture.  Initially, I was a bit skeptical considering the other conference we attended really offered no nuts and bolts.  This conference gave a great amount of detail.  Conferences like this are difficult in that your emotions and up and down the entire time between I can do this and this is impossible.  It was a huge relief to find out that we were not alone and that most of us all face the same emotions.  I cannot thank you enough for your honesty and candor.  We are taking all your ideas into consideration.  Have a great afternoon.  Terry Wallen
We found the presentations and the one-on-one discussions to be very beneficial and have spent a lot of time this week reflecting upon our business model.  Ron Chandler
I believe this conference is a must for anyone looking to start a network marketing company.  Steve Carmack
Excellent conference.  Speakers provided great information that was practical and concise.  Exceeded my expectations!  Doreen McMorran
This was very informative and educational.  The speakers were experts.  I would highly recommend this two day conference to anyone looking to build a direct sales company.  Terry Howlett
The conference helped us to meet professionals in the industry to build our support team.  It was a nice combination of great material and personal networking that will be beneficial for the growth of our business.  Julie Haushalter
This conference was absolutely amazing.  I was beyond blown away at the amount of valuable information provided by the conference speakers.  I also really enjoyed the one-on-ones with the presenters to ask more detailed questions.  It was such a great investment and I got much more value than I could have imagined.  I also enjoyed interacting with the other entrepreneurs wand bouncing ideas off of each.  Absolutely a wonderful experience.  Great job!!  Pamela Davis
 We Want You To Be Happy
Again, if you're not happy with the content, we'll give you your money back, no questions asked. Our goal is to overwhelm you with value and give you the information and insights you need to get started.  Get your tickets today!