Direct Impact Holiday Marketplace 2017 | Fair Trade, Local, B Corp + more!
Description
We're back for our 2nd annual Direct Impact Holiday Marketplace showcasing a variety of conscious shopping at the Presidio Sports Basement! We're excited to introduce you to some new faces in addition to bringing back some favorites that offer a direct impact to the local community.
Enjoy a variety free local tastings as we screen Fair Trade Certified's short film and an introduction to 1% for the Planet. Shop our curated marketplace of Fair Trade Certified products, B Corp certified companies, Bay Area businesses, 1% for the Planet and other commerce supporting our local community or a cause. Now you can spend the dough and feel good doing it!
5:30pm - Pre-shop the Direct Impact Marketplace
6:30pm - Enjoy a tasting of local treats (while supplies last)
7:00pm - Fair Trade Certified's short film + 1% for the Planet short film
8:00pm - RAFFLE + Shop the Direct Impact Marketplace
Local Tastings:
Purity Organic
AlterEco
Fetzer Wines
Fort Point Beer
La Cocina
JamNation
Patagonia Provisions - bars and Long Root Ale (!)
Three Twins
Bare Snacks
Regrained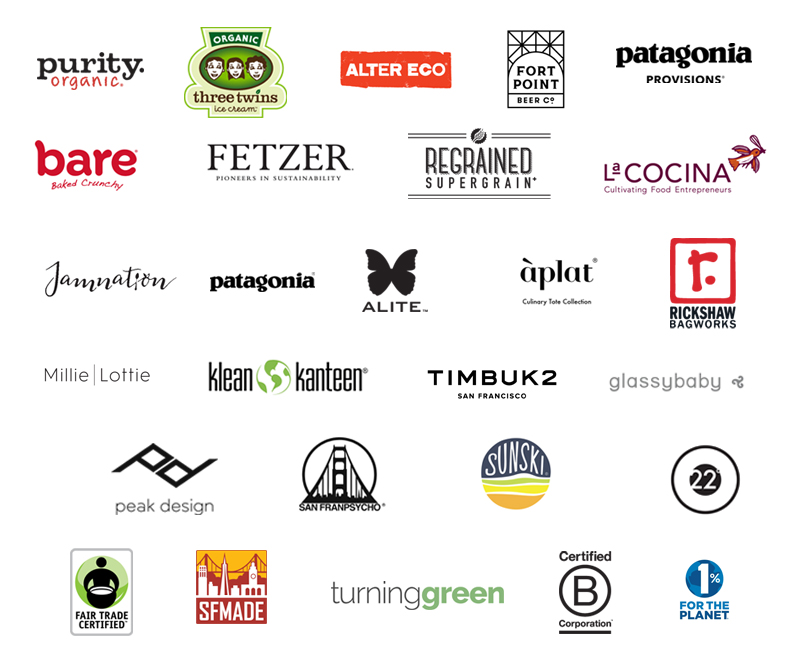 When you choose Fair Trade Certified, B Corp, 1% for the Planet or locally made products you are directly impacting the lives of the people who make and sell your products. These are mothers and fathers and students—all looking to improve their lives and the lives of their families, while investing in the process of how our goods are made. Stay and watch our Fair Trade and 1% for the Planet short films and learn how conscious shopping can affect the world.
Fair Trade Certified - Products were made with rigorous social, environmental and economic standards work that promote safe, healthy working conditions, protect the environment, enable transparency, and empower communities to build strong, thriving businesses.
B Corp Certified - For profit companies certified by the nonprofit B Lab to meet rigorous standards of social and environmental performance, accountability, and transparency.
1% for the Planet - Businesses commit to giving 1% of total sales each year to give back to approved environmentally-focused organizations.
*Any donations will go directly to Turning Green, a Bay Area based non-profit organization devoted to education and advocacy around environmentally sustainable and socially responsible choices for individuals, schools, and communities across the nation.*
SAVE PAPER! Please DO NOT print your Eventbrite ticket.