Description
Join us for our 2017 Westbrook Lecture:
Dire Predictions: Understanding Climate Change
by Dr. Michael E. Mann, Pennsylvania State University
Saturday, November 11, 2017
Museum opens at 1pm; talk begins at 3pm.
Annual Member Reception follows the talk - free for members, $10 for guests.
Devastating hurricanes. Record-breaking temperatures. Melting polar ice caps. Climate change is already having an effect on our everyday lives, but many people don't understand the science behind it (and some don't even acknowledge it is real). For our 2017 Westbrook Lecture, renowned Pennsylvania State University climate scientist Dr. Michael E. Mann will explain the solid evidence confirming climate change and its human influences—from instrumental measurements to computer-modeled predictions. He will also describe the frightening impacts of climate change, some of which we are already experiencing, and possible solutions to the problem. The Wagner's museum will be open from 1 pm until the talk begins at 3 pm. Our Annual Member Reception will take place after the talk and will include a book signing with Dr. Mann. The reception is free for members, $10 for guests. We strongly encourage you to RSVP separately for the member reception by calling Alison Hansen-Decelles, Development Manager, at 215-763-6529 x11.
About the speaker: Dr. Michael E. Mann is Distinguished Professor of Atmospheric Science at Pennsylvania State University and director of the Penn State Earth System Science Center (ESSC). In addition to his numerous media appearances and citations, he has received several honors and awards including: the National Conservation Achievement Award for science by the National Wildlife Federation in 2013, the Stephen H. Schneider Award for Outstanding Climate Science Communication from Climate One in 2017, and he was a contributor to the Intergovernmental Panel on Climate Change (IPCC), which was awarded the Nobel Peace Prize in 2007. He has authored more than 200 peer-reviewed and edited publications and published three books: Dire Predictions: Understanding Climate Change, The Hockey Stick and the Climate Wars: Dispatches from the Front Lines, and most recently, The Madhouse Effect with Washington Post editorial cartoonist Tom Toles. He also co-founded the award-winning science website RealClimate.org.
About the Annual Westbrook Lecture: Dr. Richard B. Westbrook, Trustee of the Wagner Free Institute of Science from 1884 until his death in 1899, established the Westbrook Free Lectureship as a means to encourage open discourse on scientific subjects, especially "disputed questions in science and theories of Evolution." Since 1912 when the series began, Westbrook lecturers have included some of the most distinguished scientists and scholars of the past 100 years, among them oceanographer Sylvia Earle, anthropologists Nina Jablonski and Margaret Mead, and educator John Dewey.
About the image: Blodget, Lorin. Climatology of the United States. Philadelphia : Lippincott, 1857. From the Wagner Free Institute of Science library.
Organizer of Dire Predictions: Understanding Climate Change
Founded in 1855 in Philadelphia, the Wagner Free Institute of Science is dedicated to providing free public education in science. Its programs include free courses and lectures, field trips and lessons for children and museum tours for all ages.The evening science courses are the oldest program devoted to free adult education in the United States.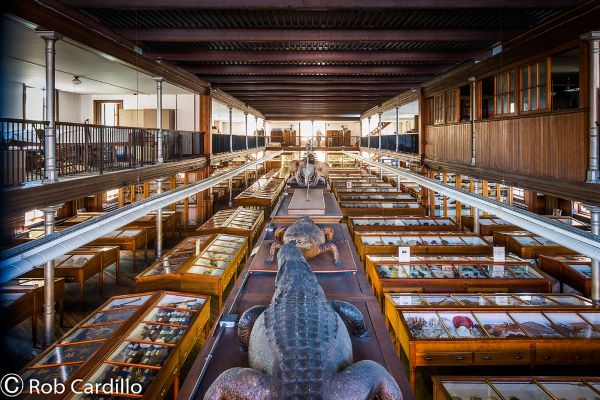 The Institute's Museum houses more than 100,000 natural history specimens, a collection begun by founder William Wagner in the early 19th century and expanded by the renowned scientist Jo
seph Leidy in the 1880s.Completed in 1865, the Wagner's National Historic Landmark building is essentially unchanged since the late 19th century and includes a Victorian exhibition hall filled with fossils, shells, minerals and mounted animal skeletons and skins displayed in original wood and glass cabinets. The Museum is typically open to visitors Tuesdays - Fridays, 9 AM to 4 PM but is currently closed because of COVID-19. In the meantime, we hope you'll join us online!