DIPLO w/ DJ Barry Carew, DJ Lesage, DJ KU, DJ Kid-u-not at The Kennedy

Wednesday, December 22, 2010 at 9:00 PM

-

Thursday, December 23, 2010 at 3:00 AM (EST)
Event Details
LIMITED TICKETS NOW AVAILABLE AT THE DOOR! GET HERE EARLY!!!!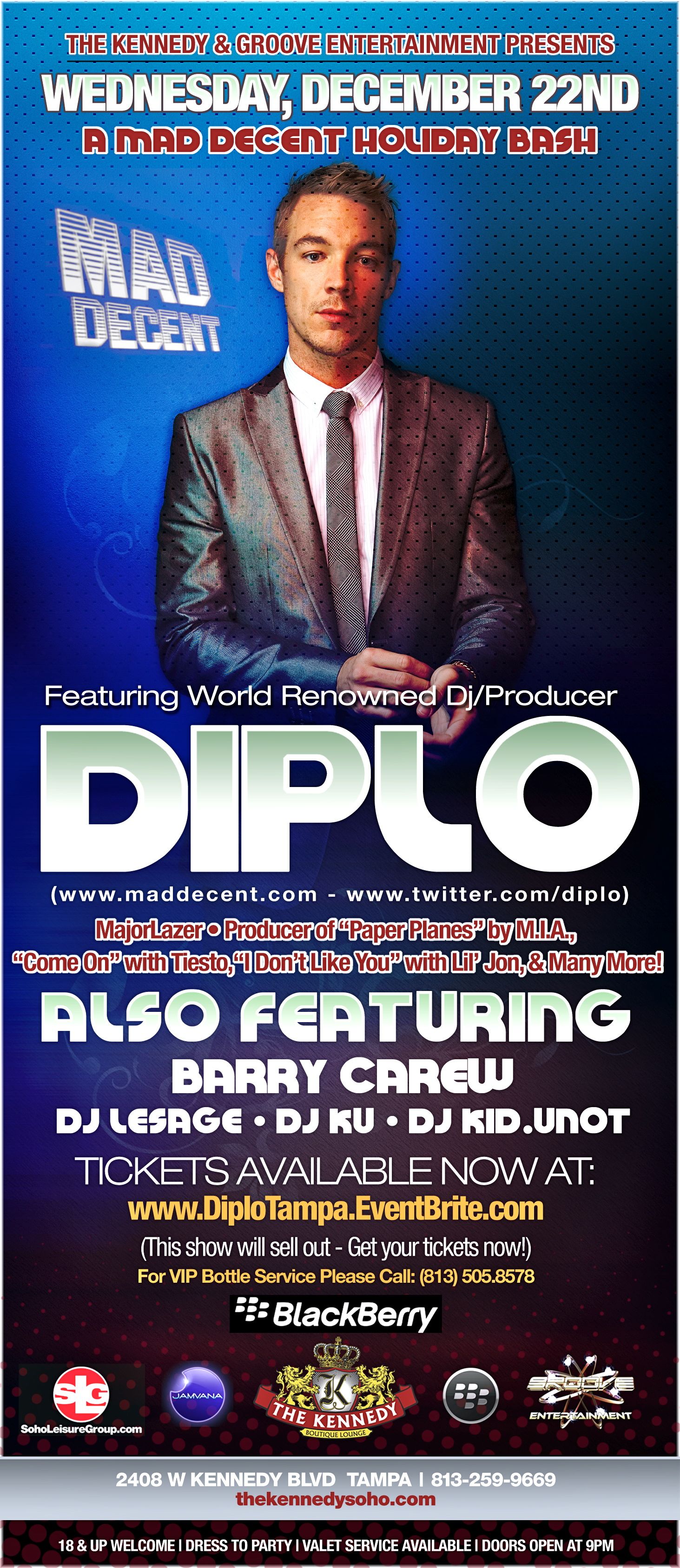 One of the hottest DJ's and Producers in the WORLD! "DIPLO" will be making a holiday stop in Tampa FL on Wednesday December 22nd, 2010! You cant make it through a single club night in the world without hearing the sounds of DIPLO! Now Come See Him Live!

He will perform live at The Kennedy! Dropping a legendary set of Electro, House, Dubstep, and whatever else he feels like giving you! 

Along with newely voted Dj Of The Year by Pulse Magazine DJ BARRY CAREW! http://www.facebook.com/djbarrycarew or http://www.soundcloud.com/barrycarew
TICKETS ON SALE NOW! ALSO TABLES AND BOTTLE SERVICE VIP AVAILABLE:
PLEASE CALL 813-505-8578 Groove Ent. 

With two areas of pulsing Electro, Dance, Dubstep, MashUps, & More this party is one for the record books! 

DJ Lesage of Tha Mixfits will be rocking sets along side Dynasty Events All Star DJ KU. Opening the night is Tampa's "So U Think U Can Dj" Winner- DJ KID U NOT. 

This event will have massive light shows, lazers, extreme sound and the legendary sounds of DIPLO! 

More info on DIPLO at http://www.maddecent.com/diplo 

Doors Open 9pm get in early to avoid long lines! 

Pre Sale Tickets Available http://www.diplotampa.eventbrite.com/

Get your tickets ASAP this event will sell out!!! 

18+ Welcome,
21+ to drink. 


DIPLO!!!
Known internationally as a tastemaker and a figurehead amongst the world's most cutting edge DJs and producers, in just a few years Wesley Pentz (better known as DIPLO) has experienced a quick shot ton the top of an underground circuit running through nightclubs and chart-topping hits with refreshing irreverence.Known internationally as a curator amongst the world's most cutting edge DJs, producers, and musical movements Wesley Pentz (better known as DIPLO) has experienced a variety of successes. The last few years have been spent running through the club circuit and having chart-topping hits with refreshing irreverence.

Check These Videos:

http://www.youtube.com/watch?v=ObKnaZ4Gljo

http://www.youtube.com/watch?v=GaMUaxHO8GY

http://www.youtube.com/watch?v=gujB7A5ycew

Or GOOGLE "DIPLO" or YOUTUBE "DIPLO" Enjoy The Ride If You Dont Know the sounds! 

Pre Sale Tickets Available http://www.diplotampa.eventbrite.com/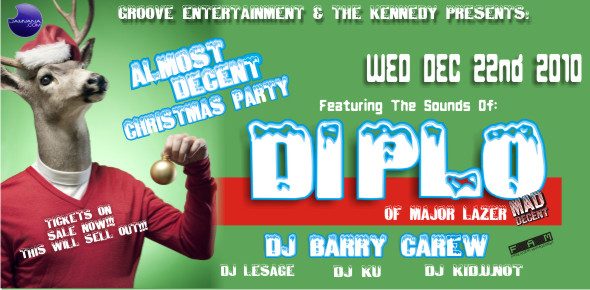 One thing of which Diplo (aka Diplodocus, Wes Diplo, and Wes Gully) cannot be accused is being afraid to experiment with new music. With his mash-up mixtapes, he found and created a sound where his musical tastes -- '80s pop, electronica, Dirty South hip-hop, and his major influence, Miami bass music -- intersect. His attention-grabbing projects Hollertronix, with partner DJ Low Budget, and the Piracy Funds Terrorism, Vol. 1 mixtape, with elusive British-Sri Lankan MC M.I.A., made a heavy impact on the alternative electro-pop scene, amassing him rave reviews from music critics and indie kids alike, including Spin magazine, which named him DJ of the Year in 2005. Diplo was born Thomas Wesley Pentz in Tupelo, MS. Although he lived in a few different cities in the South, he mainly grew up in south Florida. He spent his youth in his father's bait shop, fixated on manatees, alligators, and dinosaurs with hopes of becoming a paleontologist. However, he wound up pursuing an education in film studies, starting at a couple Florida colleges but then finishing up his undergraduate degree in Philadelphia at Temple University in 2003. Before his move to Philadelphia, Pentz had moved temporarily to Japan to escape daily life in America. From Japan, he sent a demo tape of his beat concoctions to Will Ashon, founder of U.K. independent hip-hop label Big Dada Records, and once signed to the label, he relocated to Philadelphia. To support himself, during and after graduating from Temple, Pentz took on a few different jobs in Philadelphia: social worker, after-school mentor, movie theater employee, and gig-by-gig DJ. He was barely able to pay the rent, and the frustration was stunting his musical development (although he does credit one of his musical epiphanies to the after-school students who exposed him to crunk and Baltimore club music). Thus, Diplo and like-minded DJ Low Budget pooled their resources to start up their own club nights in Philadelphia, which they branded Hollertronix. It simply began as a fun night of genre-warping dance music, but it blossomed into an underground subculture drawing out crowds from all over the East Coast. Under the Hollertronix moniker, Diplo and Budget released the highly praised Never Scared mixtape; it was listed as one of the New York Times' top albums of 2003. The following year, Big Dada released Diplo's solo debut album, Florida, a more downtempo piece focusing on melody and instrumentals that was a departure from the melee of mashed-up vocals and beats. His unrelenting work ethic produced a considerable number of acclaimed mix CDs and 12" records; however, none of them accumulated more interest and Internet chatter than the 2004 Piracy Funds Terrorism, Vol. 1 mixtape that introduced M.I.A. outside of U.K. borders. Developing a yearning to produce more worldly music, he also began to throw his energy behind the Brazilian youth- and street-based music known as funk carioca (also referred to as baile funk), a derivation of Miami bass music. So, it was no surprise that when he established his own label, Mad Decent Records, around 2005, his first signee was the funk carioca group Bondo do Role. Becoming an internationally recognized artist, Diplo developed a knack for championing new world music that seems natural given his dynamism and boundless musical outlook.
When & Where

The Kennedy
2408 W. Kennedy Boulevard
Tampa, FL 33609


Wednesday, December 22, 2010 at 9:00 PM

-

Thursday, December 23, 2010 at 3:00 AM (EST)
Add to my calendar
Organizer
FREE AGENT MANAGEMENT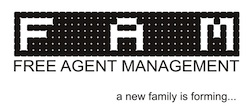 DIPLO w/ DJ Barry Carew, DJ Lesage, DJ KU, DJ Kid-u-not at The Kennedy