Description
Run away with the Circus!
Fire eaters, contortionists, whip crackers and high voltage daredevils perform inches from your table while you dine on the finest Middle Eastern food you've ever tasted.
This is the PERFECT Valentine's Dinner.
Appetizers
House Made Hummus & Fattoush
Main Cours

Riz bi lahme - Tender braised beef served with seasoned rice
Marinated chicken breast served in a creamy mushroom sauce
Roasted potatoes and a medley of steamed broccoli, cauliflower and carrots
Dessert
Assorted Mini Pastries and Fresh Sliced Fruit
Everything is served family style. Plenty of food for everyone!
Vegetarian and Vegan options are available by request.
Give us a call for special dietary needs.
---
Our circus performers feature an award-winning fire eater from Chicago and a troupe of acrobats from Grand Rapids performing LIVE while you dine.
EVERY SEAT IS A FRONT ROW SEAT!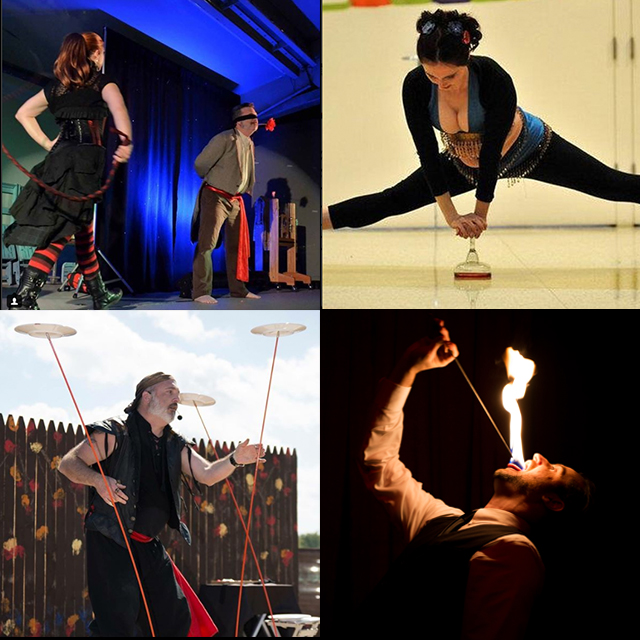 ---
Learn to Eat Fire! Chicago's own FreakShow & Tell will be demonstrating a unique combination of science and freakshow by eating fire and then….. EXPLAINING how fire eating is done.

Meet the Electric Man! FreakShow & Tell will demonstrate how Nicola Tesla ran over 100,000 volts through his body, lighting lightbulbs and even torches with his bare hands. You must see to believe!

See the Contortionist! Bendy, flexible and seemingly from another world - our contortionist moves in ways which no human should be able.

Hear the crack of the whip! Over 717 miles/hour and only inches from his face. Knotty Bits Sideshow is coming from Grand Rapids and bringing AMAZEMENT to all.

Marvel at the Plate Spinner! If you have never seen a plate spinner perform, here is your chance - a classic of Vaudeville brought to life before your eyes!
This event promises to be unlike any other event you have ever attended!