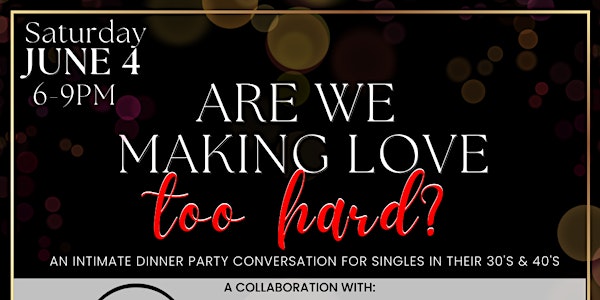 Dinner Party Conversations x Speed Date RVA
A fun, exclusive, and intimate dinner party for social singles in their 30's and 40's to discuss today's current dating climate.
About this event
Please do not purchase a "ticket" from this site. Read more.
We are so excited for this collaboration with Dinner Party Conversations! Are you a single person in your 30's or 40's who has a lot to say about the current dating climate? We would love to have you at the dinner table!
You'll enjoy:
- An evening with other local singles
- Great conversation/banter
- 5 Course Meal by Chef Pleasants & Chef Kartez
- Wine, cocktails, giveaway & more!
Learn more and apply for consideration here: https://www.jotform.com/form/221256140345143
Those selected will be given the location and more details.