Join us for a great meal on the diamond as you listen and dance to some great live music from Riverside's own Pat Lowell.
About this event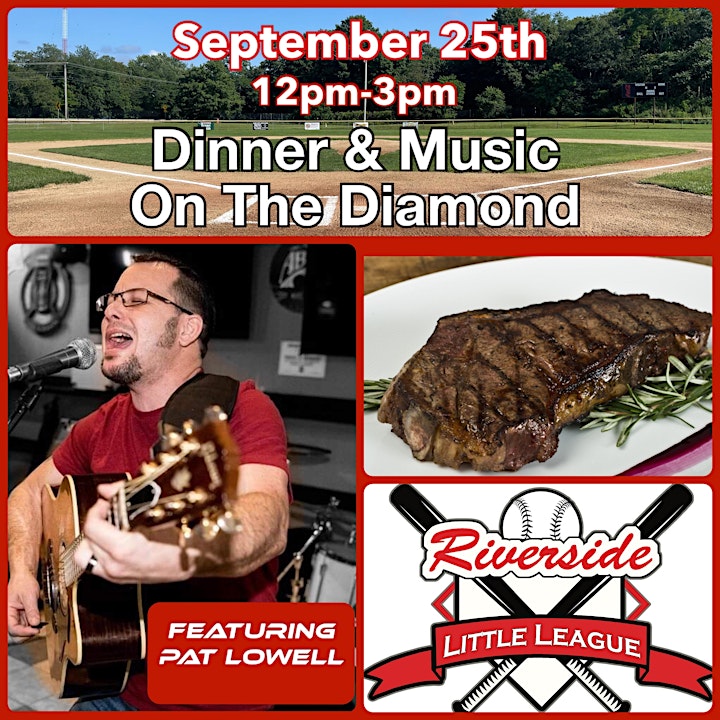 Pitch in for the Home Team and help raise money for Riverside Little League.
Join us on September 25th for an afternoon lineup consisting of a steak dinner (steak, potato, salad, and a roll) and dancing around the diamond to the sweet sounds of music provided by Riverside's own Pat Lowell.
Dinner and Music on the Diamond will provide a unique experience to catch up with friends and teammates as you enjoy a delicious meal prepared by our friends from Stevie D's Riverside Tavern while you sing along to some great music.
Two Ticket Packages Available
Dinner & A Show - $25.00 - This package includes your admission to the concert and a great steak dinner (Salad, Steak, Potato, and a Roll). (Limited to 150 tickets)
Concert Only - $15.00 - This option will guarantee you a spot on the field to enjoy the music of Pat Lowell. Please note, there is no food provided with this choice. The Riverside Little Concession stand will be open during the event and offer a number of food, snack, and drink options for sale (Cash and Venmo accepted).
**Kids 12 and under are free to attend, unless they plan to have a steak dinner, which would require a dinner and a show ticket purchase**
Draft Beer for Sale
In addition to preparing the steak dinner, Stevie D's Riverside Tavern will be on hand selling multiple varieties of draft beer to those of 21 years of age or older.
Seating
Reserved seating is not available. Limited table seating will be provided, we ask that once your meal is complete, that you allow others to sit down to eat. Since only limited seating will be available, we encourage folks to bring their own chairs to use for the show.