Dinner & Music, Blues, R&B & Rock @ Brewbakers Backroom an RDM Production
Actions and Detail Panel
Dinner & Music, Blues, R&B & Rock @ Brewbakers Backroom an RDM Production
Fri, Apr 21, 2017, 6:30 PM – Sat, Apr 22, 2017, 1:00 AM EDT
Description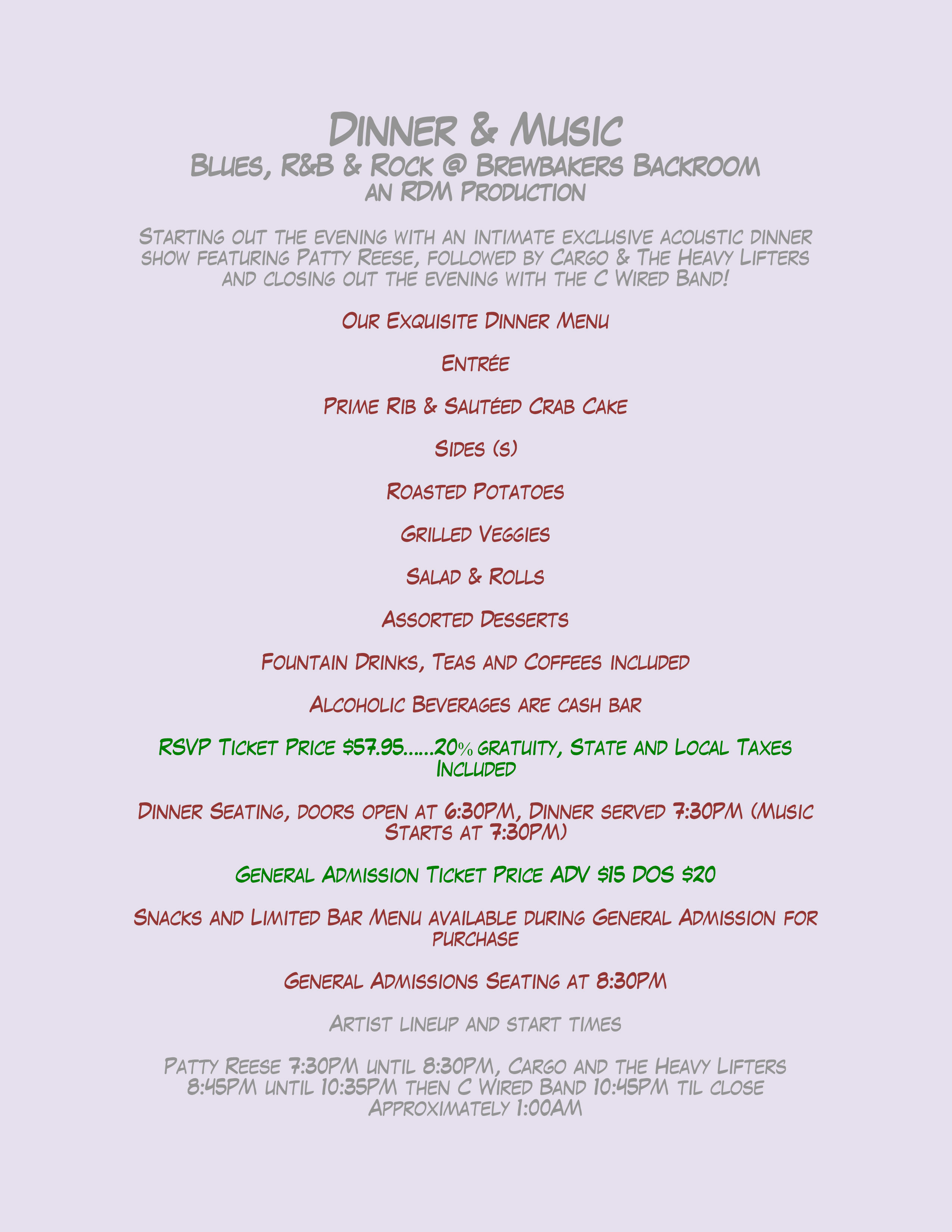 FAQ:
All Ages Event during dinner accompanied by an adult, after 10:00PM must be 21 or older.
Banquet style dinner seating....you may be sharing a table and make new friends! Note: we will make every attempt to keep parties together, you may also send us a note if you have a group that would like to sit together. Must have purchased tickets in order to accomodate request.
Venue is located on the Winchester Walking Mall and Street Parking and Park House Parking is available near the venue.
Dinner and General Admissions Tickets may be refunded up to 10 days prior to the event, no refunds can be issued after April 11th, 2017.
Contact the event organizer through our Eventbrite's contact page.
About the Artists!
Patty Reese
"Let In The Sun just keeps delivering song after song with clever, timely subjects and solid musical prowess."
Patty Reese has been a favorite of critics and fans in the Mid-Atlantic Region for many years. Her work has been recognized by the Washington Area Music Association which has awarded her 17 WAMMIES, including Artist of the Year, Songwriter and Album of the year, and Roots Rock Band & Vocalist.
Patty and her band have performed at major venues and festivals in the US and abroad. She has also supported international headliners including Beth Hart, Dr. John, Tab Benoit, Delbert McClinton, Greg Allman, Buddy Guy, Aretha Franklin, Little Feat, Ruthie Foster, Peter Wolf of J.Geil's Band, Deanna Bogart, and more.
Cargo and the Heavy Lifters
Cargo and the Heavy Lifters perform a broad range of music from Blues to Soul to Rock to Country. The music is a mix of original and covers that span 50 years of American music.
The group was built around the vocal stylizations of Randy McCargo. McCargo spent nearly four decades as a back-up singer and sound engineer. He began his career with DC area bands, and worked his way up to supporting internationally renowned performers and Grammy winners including Double Trouble, Shania Twain, and Ann Wilson of Heart.
The group was founded shortly after the loss of McCargo's cousin and local Blues legend Chris Polk. Deacons bandleader John O'Connor and McCargo originally met in 1996 when Polk and O'Connor formed the Deacons. At Polk's funeral, O'Connor and McCargo discussed Polk's long-time dream of building a group around McCargo's exceptional voice, and decided to honor Chris by making that dream a reality. Since the group's debut in the Summer of 2015, they have filled nightclubs and concert halls to maximum capacity with excited fans young and old.
O'Connor dissolved his own group, the Deacons after 19 years, hundreds of performances, and 4 CDs, to focus exclusively on building Cargo and the Heavy Lifters. O'Connor called on former Deacons John Sterling, Jim Wilson, and Shawn Paxton to join the project. The result of this union combines an amazing vocalist with superlative musicianship that yields energetic and dynamic performances that are unforgettable.
C Wired Band
"Your lyrics are like Bob Dylan and Leonard Cohen only with better music behind them" – AS
C Wired is one of the few area bands who can hold a crowd for 3 hours with original music, C Wired writes original classic rock oriented grooves, ballads, and funks. After recording his debut release Ride Your Horses album in Nashville last year, the C Wired Band has been impressing audiences interested in listening to quality original music that you can dance and laugh to. Song subjects are based on adult contemporary life experiences and a mix of spiritual reflection and mature adult themes. Audiences who walk in aloof regarding original music leave requesting that the band return as soon as possible.
Lern more about our very special artists:
Patty Reese go to pattyreese.com

Cargo and the Heavy Lifters go to cargoheavylifters.wordpress.com
C Wired Band go to c-wired.com