Dinner in the Sky LA - Opening Night hosted by Destination Luxury

Friday, July 1, 2016 from 8:00 PM to 9:30 PM (PDT)
Event Details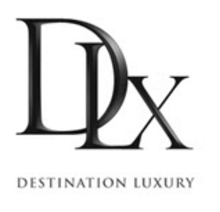 Imagine dining 150 feet in the air, overlooking a magnificent LA skyline. Tickets to the opening night of Dinner In The Sky Los Angeles are available exclusively through Destination Luxury.
Each seating will hold 22 people. Seatings at 8 pm, 9:30 pm and 11 pm and STILL AVAILABLE. The first seatings at 5 pm and 6:30 pm have SOLD OUT. 
This one of a kind month-long dining experience suspends diners, chefs and servers on a platform giving them an exhilarating view while enjoying a masterful culinary feast.  Guests will have their choice of daily dinners, complemented by lunch and brunch options on select dates.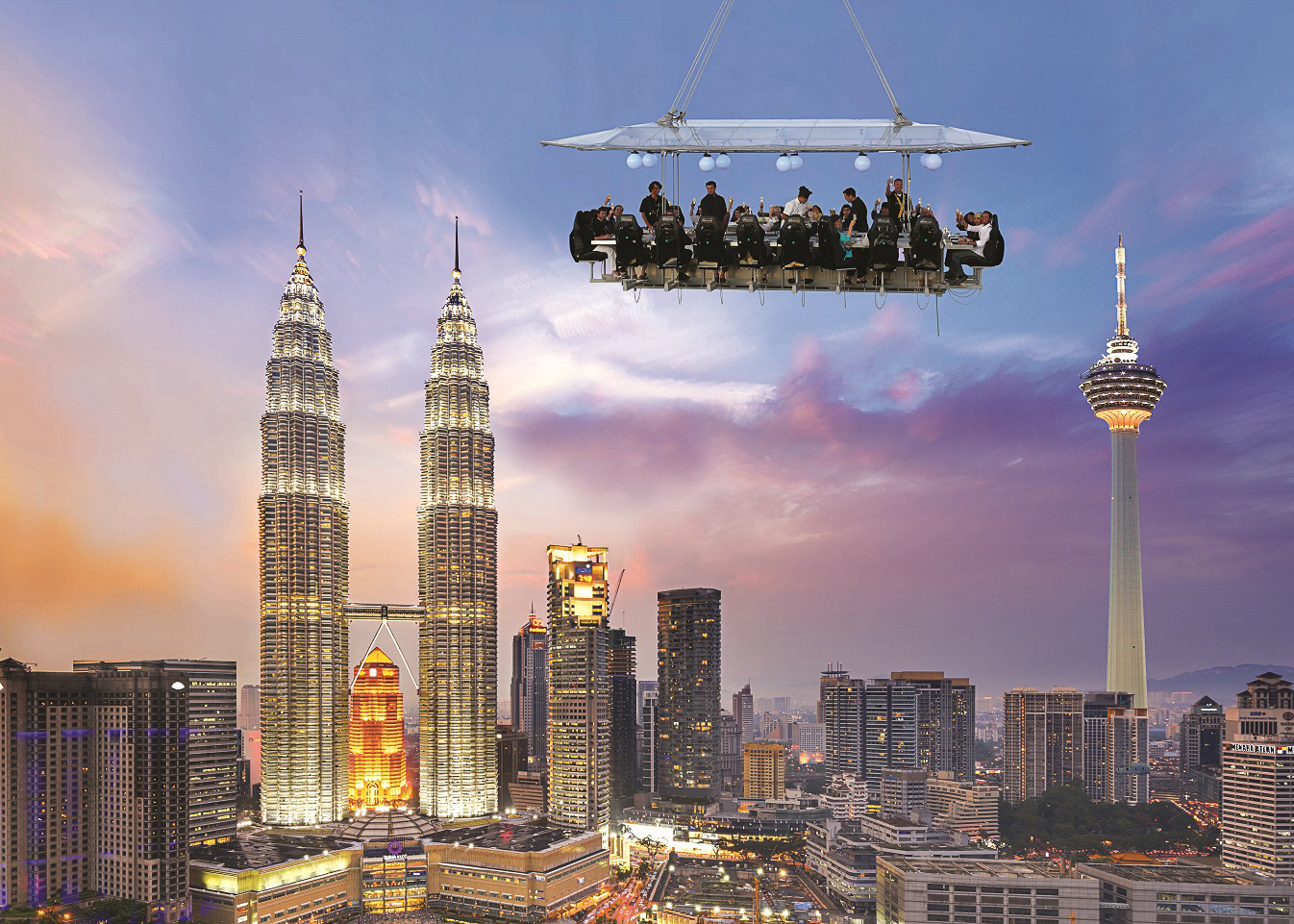 "Dinner In The Sky is a once in a lifetime opportunity that awaits Angelenos, and is sure to be an unforgettable experience, whether done as a social outing or a corporate incentive," says Alexander Mayer, President of 2Spicy Entertainment Inc. 
 Brought to you by 2Spicy Entertainment Inc., Dinner In The Sky will be the first of its kind in Los Angeles, California. Already a well-known brand of entertainment, this innovative Belgian-based experience has hosted more than 5,000 dinner events in 40 cities around the world. Iconic locations have included the Kuala Lumpur Tower, the Marina of Dubai, Villa Borghese in Rome, Athens, Copacabana Beach, and Cape Town. Forbes magazine has named it one of the world's most extravagant meals.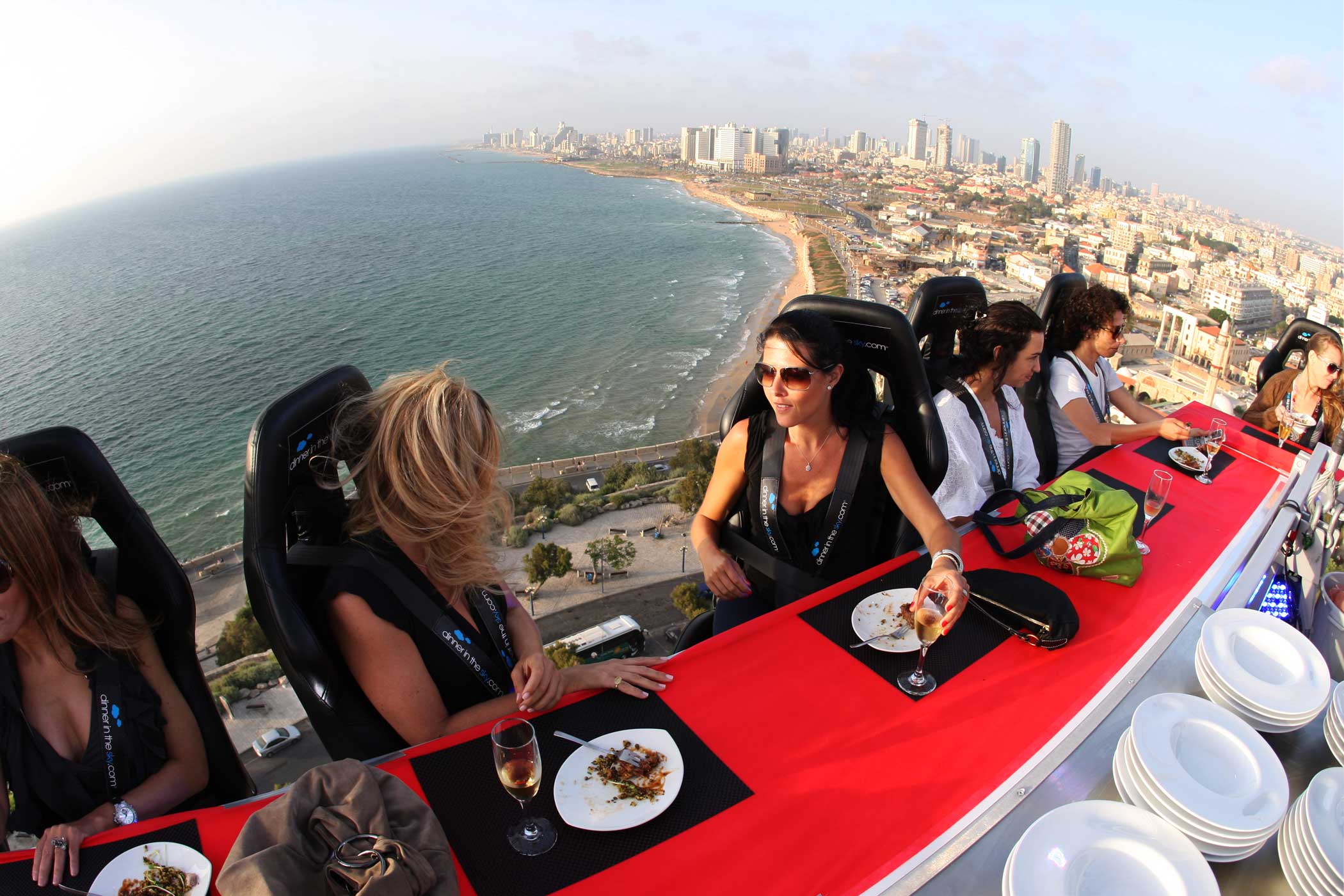 This unique dinner experience – which began in May, 2006 in Brussels, Belgium – uses a crane to hoist diners, table and waiting staff 150 feet into the air, and will give diners a spectacular panoramic view of the second largest city in the USA.  Dinner In The Skyguests can expect to marvel at the view AND take their culinary experience to new heights with exquisite food served by Hollywood's hottest culinary mastermind, Chef Keven "Cheven" Lee.
Dinner In The Sky observes its safety measures with extreme attention to every detail. While seated, guests will wear safety belts. A standing presenter and crew are secured by safety harnesses at all the times during the flight. A safety supervisor will brief guests about all of the safety regulations prior to the flight and will be in constant communication with the crane operator and ground crew.
This experience has been approved by TÜV SÜD, the German organization that validates the safety of products of all kinds to protect humans and the environment against hazards.Dinner In The Sky will also be operated under the guidelines of OSHA (Occupational Safety & Health Administration).
This four course extravagant dinner in the sky starts at $500 for opening night.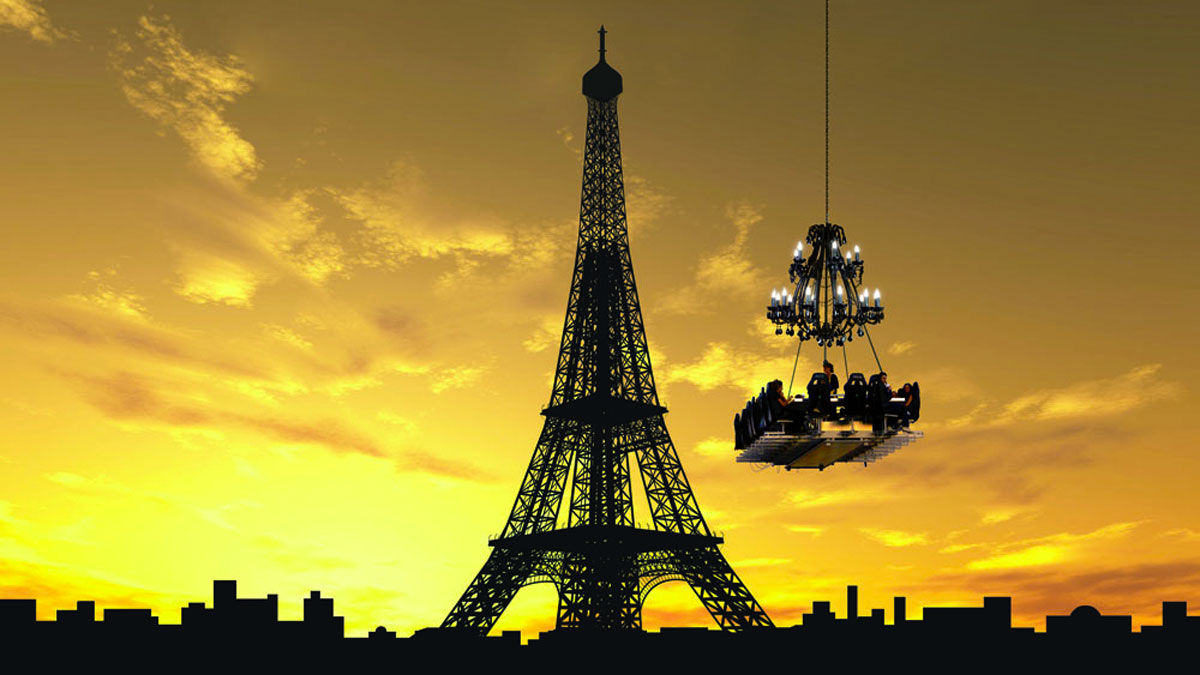 I would like to organize a custom Dinner in the Sky experience.
Please email us at d@destinationluxury.com.
 Is there an age limit?
Anyone above the age of 16 with a minimum height of 4.8 feet (145cm) and a maximum weight of 330 lbs (150kg). Guests must be in good health and free from, but not limited to heart conditions, back problems, neck problems, broken bones, recent surgery and high blood pressure. Pregnant women are also not allowed to experience Dinner in the Sky.
Can someone with a disability participate?

Experience is possible for wheelchair users and people with mild disabilities BUT please write to us in advance BEFORE purchasing your seat with a detailed explanation on your condition for our safety officer to evaluate and advise accordingly.
How long does each experience last?
The dining experience in the sky (4 / 5 course meal) will take approximately 1 hour. Guests are advised to come early to prepare at the lounge area.
What if I need to use the restroom?
All guests are recommended to use the restroom prior to taking their seats. However if there is an emergency and you need to use the restroom during your flight, the table can be lowered down. We do not recommend this though, as the other guests will have to wait for you before being lifted into the air again.
What happens if I am late?
The table will take off as per schedule and your admission will therefore be considered as forfeited. Please note that no refund will be given. To be fair to other guests, the table will not be lowered once it has been lifted into the air, until the experience ends.
Is there insurance?
We have a public liability in place for the event. However, like most outdoor experiences, you will be required to sign an indemnity and waiver form. Failure to sign (and agree to) the indemnity & waiver form will render your admission as forfeited with no refund given.
Is the seat transferable?
Seats purchased are not transferable to another person. Consideration for transfer will however be given if you can provide evidence of double purchase, illnesses or other related emergencies. A written request to transfer will have to be submitted to the organizer via email: d@destinationluxury.com at least 24 hours before the affected session. The organizer will evaluate the request and reserves the right to make all final decisions on this.
When & Where

Los Angeles Center Studios
1201 West 5th Street

Los Angeles, CA 90017


Friday, July 1, 2016 from 8:00 PM to 9:30 PM (PDT)
Add to my calendar
Organizer
Destination Luxury is the ultimate destination for all things luxury. Our mission is to capture the most exclusive of locales, events and people in alluring, poignant and inspiring features and produce events with the featured brands. With more than 267,000 fans on Facebook, Destination Luxury has become an established social media leader in the world of luxury and all that it inspires.